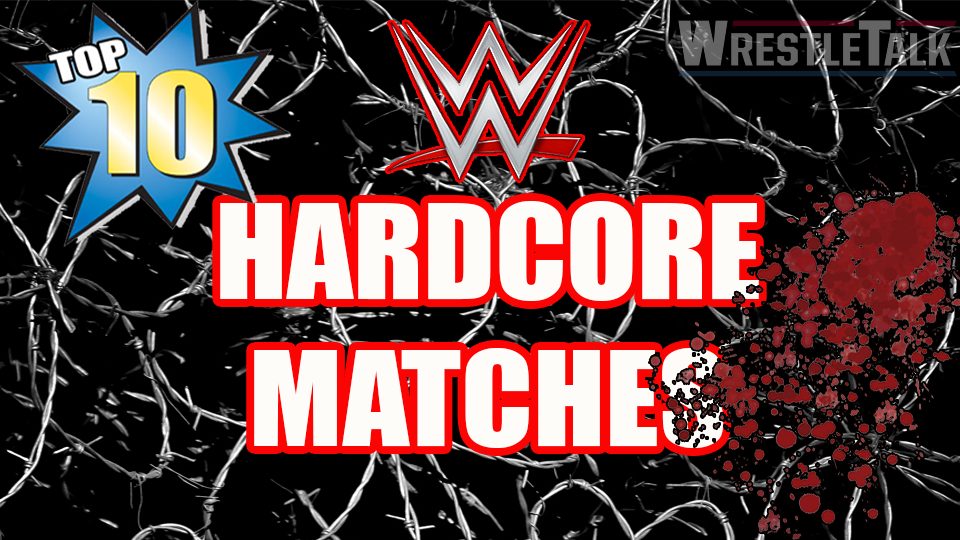 WWE Extreme Rules 2018 is tonight… and there are barely any actually extreme matches on the card. Hooray! Luckily for WWE, their history is littered with brutal, hard-hitting, bloody matches that can help fulfill all of our feral, macabre desires. You all make me sick, you really do. So, in celebration of the least-extreme Extreme Rules Pay-Per-View in history, here are (in no particular order) some of the finest examples of when WWE went hardcore.
10 – Kane vs Big Show vs Raven – WrestleMania X7
I figured I had to include at least one Hardcore Championship match on this list.
WrestleMania X7 saw ECW alum and shopping cart enthusiast, Raven, defend his Hardcore Championship against The Big Red Machine, Kane, and The Big Un-Friendly Giant, The Big Show.
This match has everything that made the Hardcore Championship great; a wild chase around the arena, backstage brawling through hallways, locker rooms, and even a wall (literally, they go through the wall) and loads of inventive spots, including a golf cart crash that almost cut power to the entire broadcast. It's wild, it's crazy, it's a lot of fun.
Kane won the match following a massive elbow drop off the stage to win his first and only Hardcore Championship, bringing to an end what could be the best Hardcore Championship match of all time. If you haven't seen this, check it out.
9 – TLC 2 – WrestleMania X7
Another match from WrestleMania X7 and, whilst the first Hardcore match is a lot of silly fun, this one is just plain brutal.
World Tag Team Champions, The Dudley Boyz – Bubba Ray and D-Von – defended their titles against their sworn rivals, The Hardy Boyz – Jeff and (Non-Broken/Woken) Matt – and Edge and Christian in the second ever TLC match.
The three teams had squared off just months before in the first TLC Match at SummerSlam 2000, not to mention in a triangle ladder match at the previous year's WrestleMania. However, on this night, they took the action and violence to a whole different place.
With too many high spots to even begin recounting, this match sees all six men take a year's worth of bumps in about fifteen minutes. Even the people interfering in the match – Lita, Rhyno, and Spike Dudley – get destroyed, with Spike Dudley hitting a Dudley Dog onto Christian from the apron to the floor through a table. That's just one example of this match's brutality.
This bout is like a car crash in Formula One – terrifying for all involved, but damn entertaining to watch. Also, Jeff Hardy taking that Spear from Edge whilst dangling 20ft in the air is one of the best moments in WWE. Ever.
8 – Johnny Gargano vs Tommaso Ciampa – NXT TakeOver: Chicago II
In the modern PG Era of WWE, it's hard to find a hardcore match that's worth talking about. This, however, is definitely worth talking about.
From the most recent NXT TakeOver event, former friends and now bitter enemies, Johnny Gargano and Tommaso Ciampa, took each other on in a rematch from their 5-star classic at TakeOver: New Orleans, this time in a Chicago Street Fight.
Whilst the first Ciampa-Gargano NXT match was exceptional (and also a hardcore match), this one took the violence, not just to the next level, but to the level above that.
The two men told a brilliant story in the match; animosity that had been building for over a year boiling over into a full-on war between two of the best wrestlers WWE currently have on their books made a match that deserved its place as the headliner of the show.
This match had not one, but two unbelievable spots in it – the first saw Johnny delivering an Air Raid Crash to Ciampa from the top of some equipment cases through a table and then second saw Ciampa DDT Gargano onto the exposed wooden surface of the ring to pin him for the win.
Another amazing match between these two with a hardcore stipulation that was used to the full extent. Can't wait for these two to get to the main roster and be completely watered down.