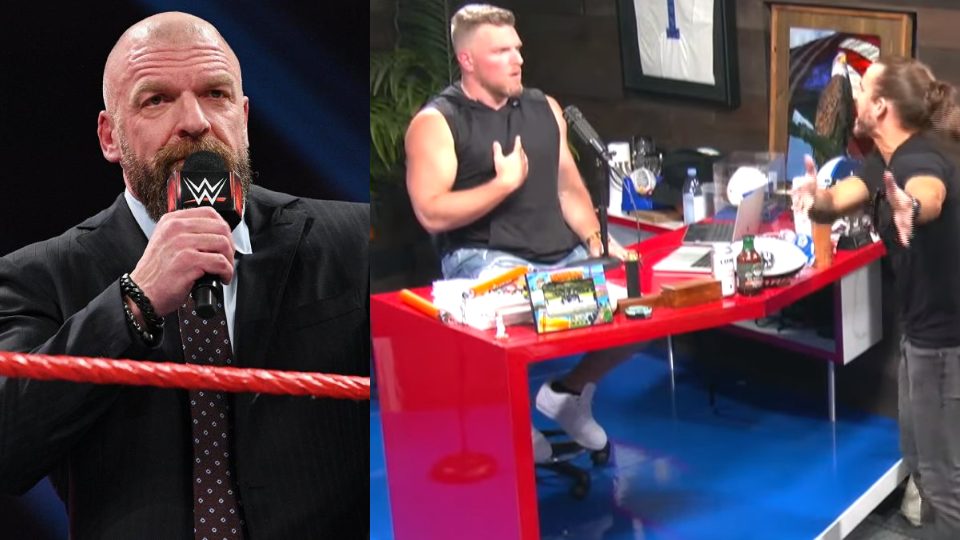 Triple H has commented on the recent confrontation between Adam Cole and Pat McAfee that saw Cole blow up and storm out of their interview.
In what seems to have been a work, McAfee took several jabs at Cole, with the final straw being the fact that he's a relatively small pro-wrestler. This led to Cole shouting a number of expletives, knocking over parts of the set, and then leaving.
McAfee recently had Triple H on his show to address the issue, and he said:
"I like both of you guys, you're both good guys and very passionate. To me, this is all a misunderstanding. You guys have had a relationship for a while, positively and then becoming negative. It started from a place of you participating in [NXT] shows and you've had interactions from the showbiz side. Sometimes, those lines get blurred and you guys had a relationship that became somewhat more contentious behind the scenes. It was a budding irritation that was interesting for people.

"I apologize for Adam coming on your show. He is the nicest guy in the world. He comes on your show, there's an interaction where I believe Adam is being a little overly sensitive and you being Pat McAfee, a professional button pusher. You needle people for a living. I didn't ask him to put out an apology or do anything. He's a grown man responsible for his own actions.

"To me, this is two guys — I'm sure you've had this on your teams, the guy you don't get along with and the guy you almost come to blows with becomes the guy you're closest to. I think that's what this is. At some point, sooner than later, you guys should get together, sit in the same room, be honest with each other, and have that conversation."
If this is an angle like it seems to be, it'll be interesting to see whether it gets addressed on NXT TV. Cole recently lost the NXT Championship to Keith Lee who is moving into a program with Karrion Kross so he doesn't have anything else going on right now.
Stay tuned to WrestleTalk.com for any further updates on the issue.
Transcription via Fightful