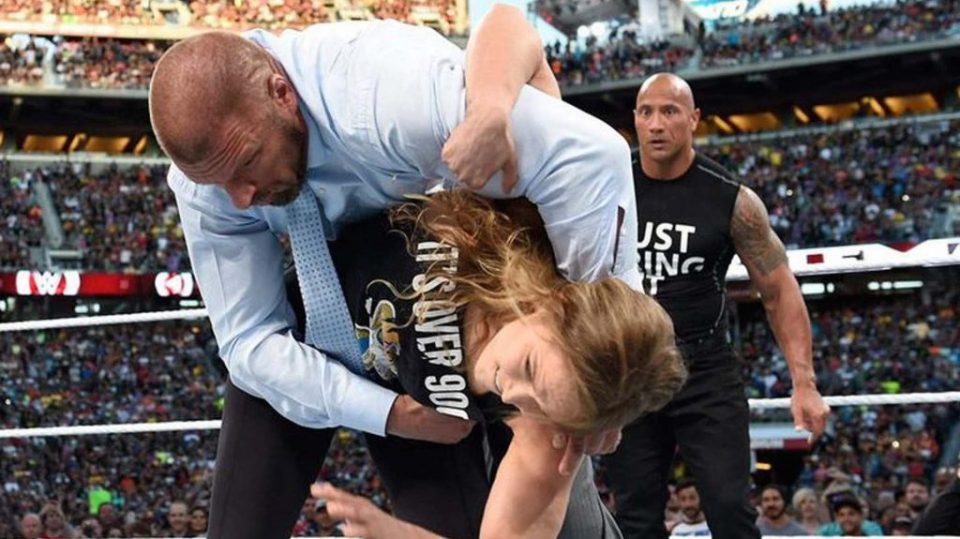 In the main event of WrestleMania 32, Triple H defended the WWE Championship he won at the 2016 Royal Rumble against Roman Reigns.
However, Triple H has revealed that while he was supposed to wrestle a member of the legendary Anoa'i family on the "grandest stage of them all", it wasn't supposed to be Roman Reigns.
Speaking on the WWE Network series WWE Untold, Triple H revealed that following a confrontation with The Rock and Ronda Rousey at WrestleMania 31, he was supposed to square off with Dwayne Johnson at the next year's big show:
"I was already booked to work with The Rock at the following year's WrestleMania and we'll build it for more than a year. That was the intent, belief, everything else. Just as time went on, Rock's schedule changed later in the year and we weren't able to do the match for the following year's WrestleMania one-on-one against The Rock."
The Rock did have a match at WrestleMania 32. However, instead of against a fellow-former WWE Champion in Triple H, it was a six-second squash match against The Wyatt Family's Rowan.
Speaking of his match with Sting at WrestleMania 31, many people have criticised the company's decision to have Triple H defeat the WCW Icon. During the WWE Untold episode, "The Game" addressed said criticism:
"You know there are people who'll say, 'Well…', I should've put him over to give him the moment and that's arguably — to say that you should've… The Rock situation made that impossible, which didn't happen, but that's the truth of it. Are there things that could've been done differently? I don't know that it took away from anything."
Although we didn't get to see The Rock and Triple H square off at WrestleMania 32, I'm sure if the Crown Prince gives Vince McMahon enough money, the match will be booked for WWE's next tour of Saudi Arabia later on this year.
Thanks to Fightful for the transcription.