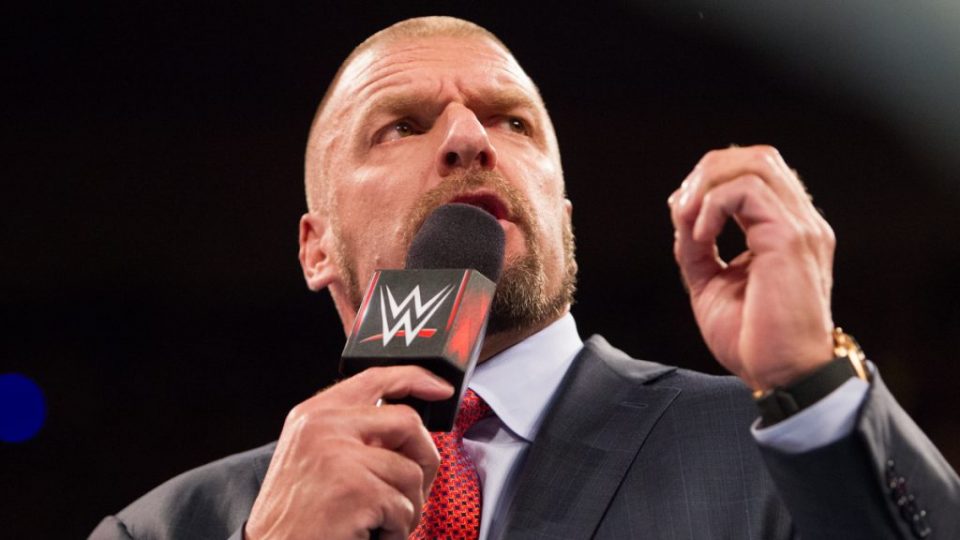 Triple H has claimed that NXT UK TakeOver: Cardiff is not WWE's way of retaliating against AEW and NJPW shows taking place on the same day.
Eyebrows were raised when WWE announced during this past Saturday's NXT TakeOver XXV that the second NXT UK TakeOver would take place on August 31.
That is not only the date of AEW's second major pay-per-view All Out in Chicago but also NJPW's standalone UK event Royal Quest in London.
Fans immediately speculated that WWE had picked the August 31 date in response to those shows, both of which are major competitors to WWE in their own way.
AEW is obviously shaping up to be a WWE rival on a global scale while the NJPW show in England is going to be far bigger than any NXT UK event held in the country.
For WWE that's a problem because the UK is a market the promotion has been trying to stamp its authority on for the past two-and-a-half years.
However, Triple H during a post-TakeOver conference call denied that WWE's event had anything to do with the existence of the others.
He claims the date has been booked for some time and it was simply not announced earlier because the timing was not right.
"I will just say this to everybody in here, contrary to I'm sure some of the buzz, the date of August 31 is a date we've had for a long time. That building has been booked with us in Cardiff, geez, long before WrestleMania 35, I think.

We just hadn't announced because it wasn't the right time, and you don't want to announce something for a brand six months out or whatever. At least I don't, the way I see it. Tonight was the right night to do it. It had nothing to do with anybody else, to be honest.

We will take place live in primetime in the UK and be on in the afternoon here in the US, so it is what it is."
While it is easy to paint WWE as the bad guy in any situation and believe that everything they do is a petty retaliatory act, the truth is running an NXT UK TakeOver – which will have a fraction of the audience of NJPW and AEW – would not be the response WWE went with if it really was trying to counter-programme those events.
Tickets for Royal Quest are already selling well and the show will likely greatly outdraw TakeOver: Cardiff, while AEW is taking place across the Atlantic and several hours after the NXT UK event finishes. The times don't add up if this was intended to be a counter-show.
Thanks to Cageside Seats for the transcription