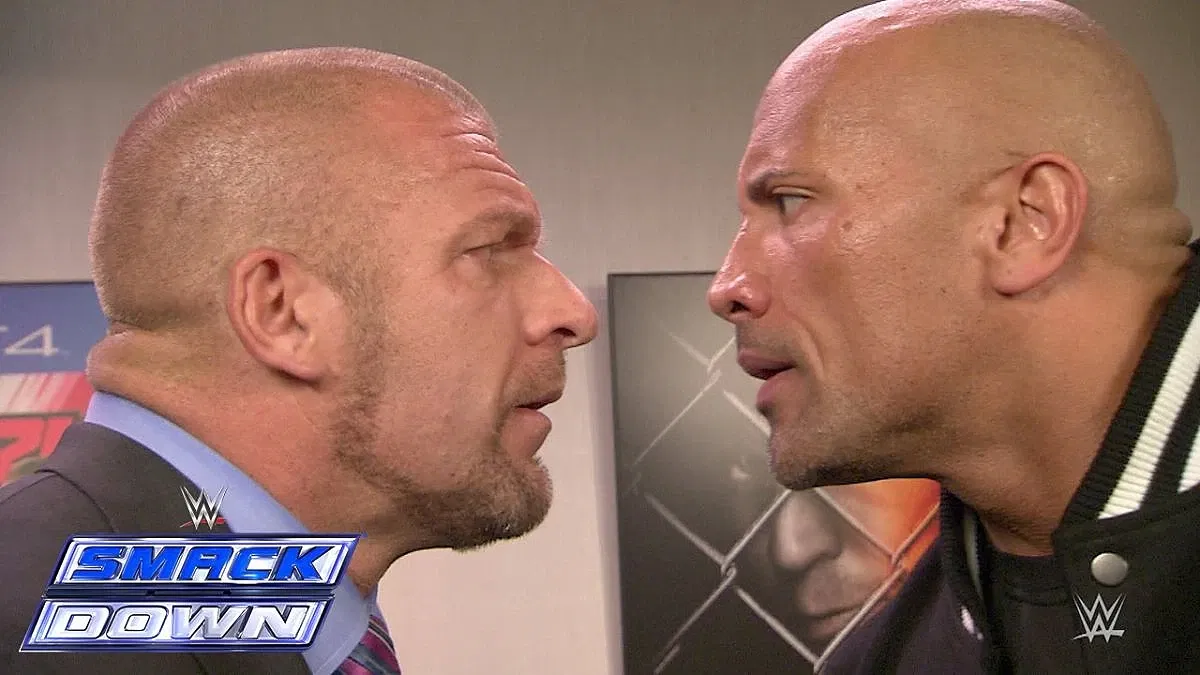 Triple H has reflected on scrapped plans for a WrestleMania match against a WWE legend.
The careers of Triple H and The Rock were always intertwined during their rise up the ranks of WWE.
Now, both men have reached unreal heights with The Rock's successful transition into Hollywood's biggest star and Triple H becoming the head honcho for WWE's creative.
Speaking on LADbible TV's series SPORTbible Stories, the WWE COO was asked to name a rivalry that stood out to him with The Rock being an easy answer for The Game.
He stated:
"The Rock and I is an interesting thing because I come in a little bit before he does as a talent, and I'm Hunter Hearst Helmsley. He comes in as Rocky Maivia. We wrestle over the Intercontinental Title. He becomes The Rock, goes with the Nation of Domination. I transform to Triple H, like we're coming out of these characters, transform to Triple H, DX is formed. We have rivalries over that, so over the Intercontinental Title, then we get into these groups and it's sort of DX versus The Nation. He and I are battling over the Intercontinental Championship again, and he full-blown becomes The Rock, leaves The Nation. I become Triple H, leave DX. We battle over the WWE Championship. Our careers sort of in a way marry each other and are intertwined with each other along the way."
The King of Kings went on to reflect on the nixed plans for a WrestleMania singles match against The Rock and how everything was in place until things changed.
Triple H said:
"We never sort of had that defining WrestleMania moment. A few years ago, we teased he and I wrestling one more time, and it was on that, he came to me and was like, 'Hey dude, I got one more in me. I wanna do it with you. I want you and I to have that WrestleMania sort of moment, and let's do it at WrestleMania. It turned out that it was for the following year, so we had done this video for it, and we're ready to go with it, and somewhere along the time of that year, his movie career sort of changed and he was like, 'Ah man, I'm not gonna be able to do this. The timing just doesn't work out right, and I can't pass up this other opportunity. No problem. But that's really where we were headed."
As previously noted, Triple H has recently touted that "easter eggs" as a new creative strategy to draw hardcore fans.
Stay up to date with the WWE roster's win-loss record (for televised matches) at this link.
Transcription via Fightful
Check out WrestleShop.com for all your favorite WrestleTalk merch, the WrestleTalk Magazine, wrestling shirts for grown-ups, and more!