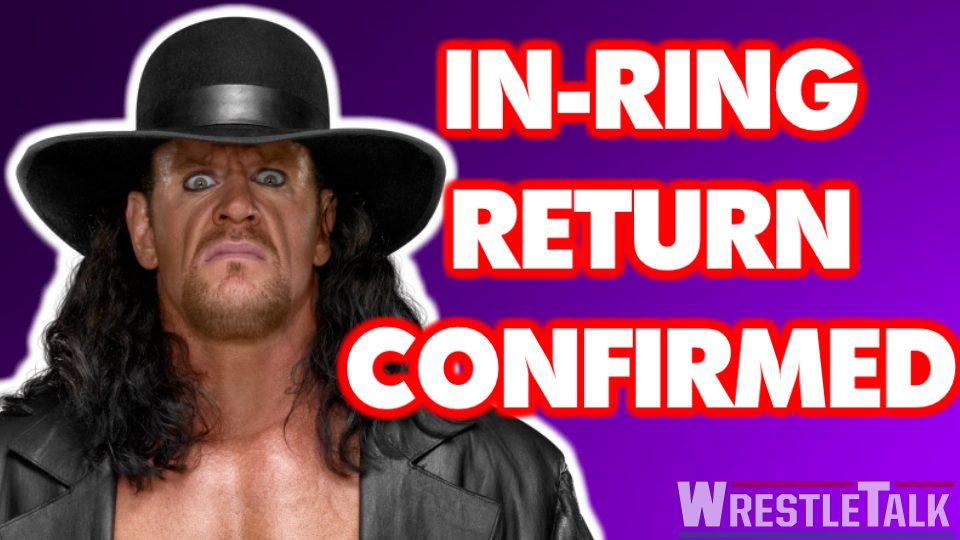 At WrestleMania 33, we thought he'd retired. At Raw 25, we thought he'd retired. We were wrong.
He's had two matches so far this year, and a third has been officially confirmed, as Madison Square Garden announced via Twitter earlier today, that The Undertaker will compete at one of wrestling's most famous venues, for the first time in eight years.
For the first time in 8 years, The Undertaker returns live in action to The Garden on Saturday, July 7th. #WWEMSG pic.twitter.com/0xcQ5CeThO

— MSG (@TheGarden) June 4, 2018
As mentioned, the 'Deadman' has competed in a WWE ring twice already this year, which is the same as the entirety of 2017.
In '17, he competed in the Royal Rumble match in January, before being defeated in the main event of WrestleMania 33 by Roman Reigns, a couple of months later.
It was his slaying at the hands of the 'Big Dog' that we all thought spelled the end of the 'Phenom's illustrious career. He even left his hat, coat and gloves in the ring after the bout was over.
He did however, return in January of this year, at Raw 25, where he cut a promo in the Manhattan Center. A promo which, again, a large portion of the sports entertainment fandom thought was the 'Taker's farewell.
However, John Cena of all people found himself with no opponent for WrestleMania 34, and took it upon himself, out of desperation, to challenge The Undertaker on the 'Grandest Stage of Them All'.
Given his antics following his encounter with Roman Reigns a year prior, the were a lot of rumors suggesting that, while Undertaker would accept Cena's challenge, it would be in the form of his 'American Badass' persona.
This also wasn't the case, as the 'Deadman' did in fact show up in his traditional, more recognizable form, and convincingly beat Cena in a matter of minutes.
Undertaker's most recent appearance at a WWE event was at the Greatest Royal Rumble, held in Saudi Arabia on April 27.
He was initially scheduled to take on Rusev in a Casket match, but his opponent was changed to Chris Jericho.
And then changed to Rusev again.
It as always unlikely that a legend of the same caliber as the 'Demon of Death Valley' would end his career in a frantically-put-together match in Saudi Arabia, and a stage such as Madison Square Garden seems much more fitting.
We don't yet know who 'Taker's opponent (or opponents) will be, but we do know the following will take place at the same event on July 17, at MSG:
Nia Jax vs. Ronda Rousey – WWE Raw Women's Championship
Seth Rollins vs. Elias vs. Finn Bálor – WWE Intercontinental Championship
Other 'Superstars' advertised:

Roman Reigns
Braun Strowman
Bobby Lashley
Kevin Owens
Sami Zayn
Bobby Roode
Jinder Mahal
Sasha Banks
Alexa Bliss
Bayley
Dolph Ziggler
Matt Hardy
Bray Wyatt
As always, the lineup is subject to change.
Are you excited to see 'Taker compete once more? Will this be his final match? Do you just feel concerned for his health and well-being? Let us know in the comments below or on Twitter here.