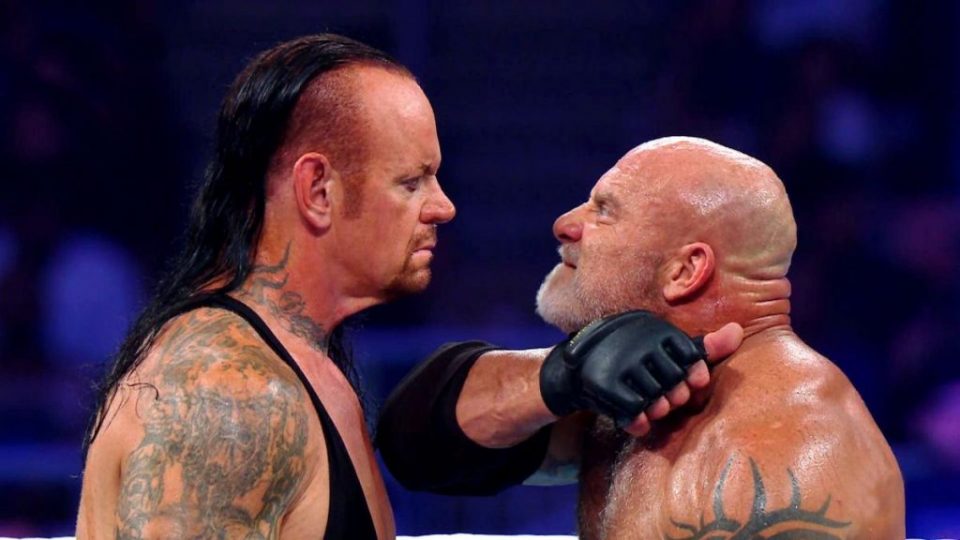 On the latest episode of The Last Ride, the Undertaker and his wife Michelle McCool reacted to the diastrous Goldberg match in Saudi Arabia last year.
The bout featured several scary botches that could have ended with serious injury, with both men seeming to struggle through moves they'd been able to execute flawlessly in previous years, making for pretty upsetting viewing.
McCool commented on the fact that 'Taker was so open about the fact he was banged up after the match, saying:
"That crushed me because I knew how much it would crush him, but more than that his safety. I just knew. I knew when he came inches, centimetres away from breaking his neck. I instantly text out doctors, I was like 'is he ok?'. Normally if he's away and I know something's happened I'll text him like 'babe, you ok?', and it's normally 'yeah I'm good, don't worry I'm good', and I text him like 'how bad is it?', he said 'man, my back is jacked up.' I was like, for him to admit that he was truly in some serious pain, I don't think I could even fathom how bad it really was.

"And I've seen him go through a lot of injuries, and I've seen a lot of scary moments, but that one, man that one got me. That didn't feel good at all. It was hard."
Undertaker was clearly very disappointed with how the match went. He said:
"My reactions after the match, this dejected look on my face, and there was because I was upset. He [Goldberg] was really disappointed. I was disappointed.

"It's just like 'wow, that was really close to being catastrophic'.

"I've got this long flight back to the States and my back's bothering me, and I'm just like 'man, maybe it's time. Maybe you are out of gas, and I've got a wife and kids, and am I risking permanent injury? So, all that stuff comes flooding into your head after something like that happens, and I need to really take a real honest look at this, and assess where I'm at. You know, is it me?"
You can watch the excerpt uploaded to WWE's YouTube channel here:
.