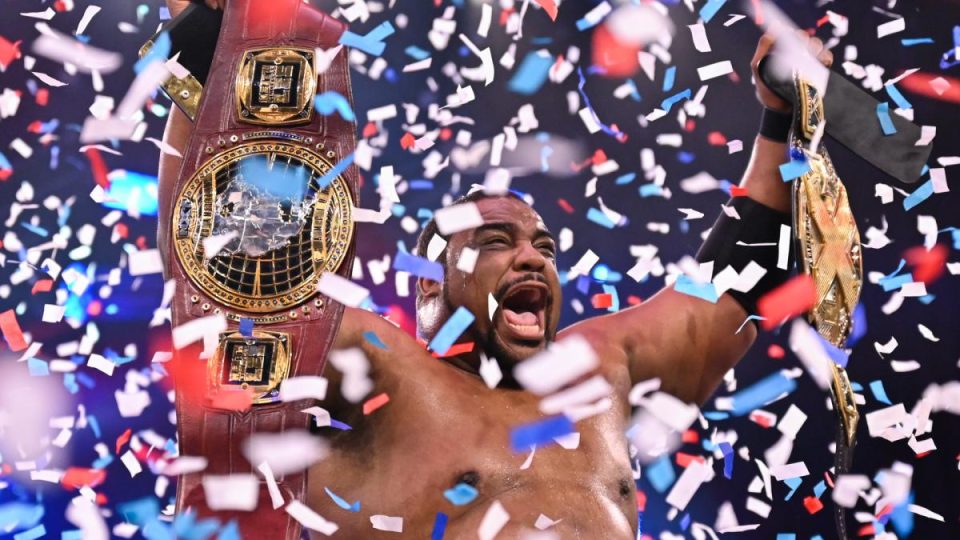 On night two of NXT Great American Bash, Keith Lee simultaneously retained the North American Championship and captured the NXT Championship by defeating Adam Cole in a Winner Takes All main event.
This was a great moment for both Keith Lee and the NXT fans who have been clamoring to see him at the top of the card for months now. However, it was undeniably hampered by the fact that the result was leaked.
The result was actually spoiled by Indus Sher member Saurav Gurjar on his Instagram story. The image posted a week before the show was set to be broadcast clearly showed Keith celebrating with both title belts.
While some speculated that this was a stint to increase interest for their show, it was reported at the time that, unsurprisingly, Gurjar was in hot water with NXT and WWE higher-ups for his mistake.
Now Sean Ross Sapp of Fightful Select (subscription required) had provided a small update on the situation, adding that Gurjar is not expected to land a major punishment for his mistake:
"Fightful has learned that at the last set of WWE NXT tapings, a backstage meeting was held and Indus Sher's Saurav Gurjar apologized for spoiling the results of the title-for-title match before it happened. Gurjar posted a picture of Keith Lee celebrating in the ring with both title belts with confetti falling a week before the title switch aired. We're told there's no significant heat on him, and there's no punishment expected to be handed down,, though he and his partner have not been mentioned on TV since. Indus Sher is a personal favorite of Matt Bloom, who has been a big proponent for them in the past. "
I'm sure the fact that NXT defeated AEW in the ratings that week has helped Saurav Gurjar's cause. I can image WWE higher-ups being slightly more annoyed if fans didn't tune into the show because they knew the result of the match.