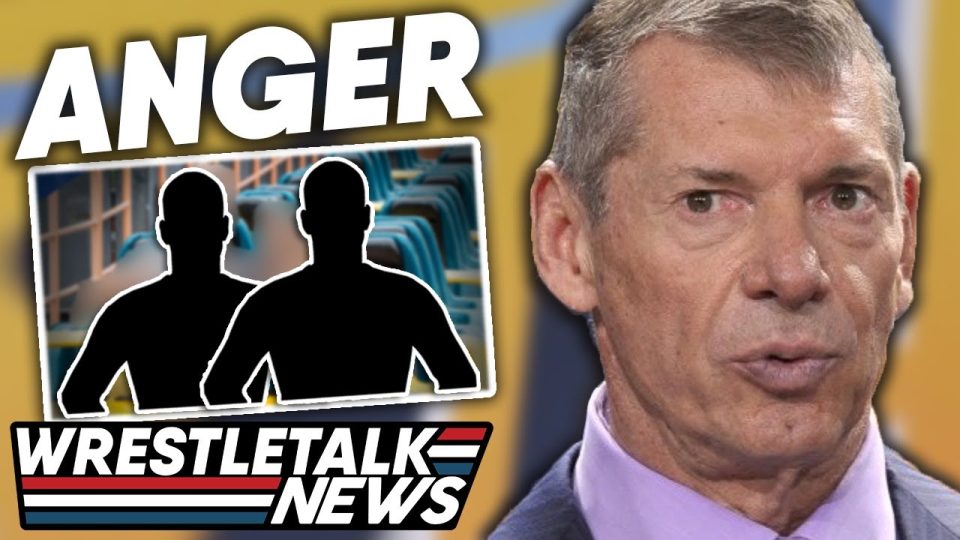 Vince McMahon Angry With WWE Wrestlers
Vince McMahon has a lot of apparent quirks backstage in WWE. It's not a good idea to sneeze in front of him, for instance, as he sees that as a lack of control and deems you weak.
You want to make sure he's not hungry when you pitch him an idea, because he'll just talk about steak and ignore you.
And, my favourite, he never lets his beard grow because, quote, "I can't let it win." The man is at war with his own face.
But, for a change, McMahon's reported anger at WWE talent backstage is more than justified. Especially at the company's most important time of the year: the road to WrestleMania.
Fightful Select – go subscribe to them over on Patreon – is reporting McMahon has "gotten particular" about his wrestlers' conduct and safety again in regards to the coronavirus. Apparently Vince himself has sent several messages "directly or indirectly to talent" in the days ahead of last month's Superbowl, specifically asking them to wear masks at any parties they might attend. There was one incident that really "set Vince McMahon off" where "a wrestler or staff member" was seen at an amusement park unmasked, shortly after Vince had told everyone to take more precautions.
As punishment, some staffers that had photos come out with them not wearing masks have reportedly had "their responsibilities reduced."
Which is vital for the safety of the company and its other workers who follow the rules. As WWE painfully learned on at least three separate occasions last year, just one positive case can spread throughout their roster, taking numerous wrestlers off TV.
It took about half a year for WWE to get this right, as in the initial months of the pandemic, the company allegedly took a more lax approach – like having fans in attendance at the Performance Center while not wearing masks, and continuing to run a full live taping schedule. But ever since then, WWE have treated precautions far more seriously.
Especially because WWE reportedly wants WrestleMania to be the biggest attended live event in the United States since the pandemic began. There's the crazy Vince I know back again!
WrestleMania 37 Update
Florida-based journalist Jon Alba has independently confirmed a report from the Wrestling Observer Newsletter that "#WWE is aiming for about 45,000 people per night at Raymond James Stadium for #WrestleMania."
Last month's SuperBowl was attended by 25,000 socially distanced fans, while Alba notes the Texas Rangers are cleared for 40,000 at the start of the season. This would make WWE the highest attended event since the pandemic began if they hit their goals.
The capacity of the Raymond James Stadium is 65,890, but while WWE want 45,000 in attendance each night, that doesn't mean they'll get it – as Mania is typically made up of a large overseas crowd, which have heavy limitations on international travel.
This isn't my first WrestleMania, Alba. I know how this works. 45,000 means about 30, with 28 paid.
If you fancy it, tickets will go on sale tomorrow, March 16th. Ticketmaster's seating guidelines reveals the stadium will have pods that can have 1 to 6 people in. You can only buy a whole pod, and will have to wear a face covering at all times.
Would you attend WrestleMania 37 if you could? And do you think WWE can get that many in attendance while people are still cautious about the pandemic? Let me know in the comments down below, because I'll be replying to people FROM OUTTA NOWHE- Did you just sneeze, dear God, I will end you!
Before we get on with the rest of the episode, I'd just like to say a huge thank you to this episode's sponsor Raid: Shadow Legends! Who just turned two years old.
Happy Raid-day to you, happy Raid-day to you, Happy Raaaid-day. I've got my Orc friends from the game – which is free to play on both PC and mobile – right here with this birthday cake to celebrate it with me. Just gonna get in place to blow out the candles. I sure hope no-one else gets in there and blows them out ahead of m-
OH MY GOD, OH GOD THE PAIN.
Where's Eddie Kingston to dive on top of you when you need him?
From what was just a bunch of cool character art and an idea, Raid: Shadow Legends has become the number 1 RPG in the US with over a million players every day.
And it's because Raid is constantly updating and improving, adding new champions all the time so you can tweak your perfect roster. And the champion designs are just. So. Cool.
There has never been a better time to start, as Raid is marking the anniversary with six straight weeks of tournaments and events, and by releasing the first Champion from the new Shadowkin Faction, which I can't wait to see.
So get started right now by downloading Raid using WrestleTalk's special links in the video description below or by scanning my QR code, where you'll get 100,000 silver, 50 gems, three ancient shards and the free epic champion Jotun!
All this treasure will be waiting for new players here in the inbox for the next 30 days!
Comment down below once you've downloaded Shadow Legends, and I'll reply telling you to Raid that Raid. Support WrestleTalk, Support Raid: Shadow Legends!
Leg Slap Ban Update
Back to WWE and their extra safety precautions on the road to WrestleMania, Vince changes his mind and attitude so much, it's hard for the locker room to take him at his word anymore.
The Wrestling Observer has added to last week's report on thigh slapping being banned in WWE – which is the trick of wrestlers slapping their leg to realtime overdub their strikes with better sounds. Apparently, a sign was put up backstage that read "Do not slap leg when kicking". Which WWE's wrestlers totally took on board, and continued to slap their leg anyway, with Jey Uso slapping his leg in the Daniel Bryan cage match.
People backstage in WWE have expressed frustration to the Observer, pointing out with all the things wrong with the company's product right now, why focus on leg slaps? Apparently the story going around is that "a big wrestler did [a thigh slap] sloppily on SmackDown and Vicne reacted by wanting it banned."
However, many aren't treating it that seriously, as they're seeing it as just another one of McMahon's passing obsessions – like that one time he banned wrestling from happening in the commercial breaks, meaning every match that wanted to go longer than one segment had to become two-out-of-three falls. That was an actual thing that happened. Relatively recently.
Vince McMahon, Surrounded By Glad-Handing, Nonsensical Yes-Men
And according to reports, the number of people with enough power backstage to challenge Vince over these inconsistent, temperamental reactions are becoming fewer and fewer.
In another hiring move seemingly designed to quell dissent, it was revealed last week that John Laurinaitis has been hired as the new General Manager of Talent – a role he pretty much had by another name nine years ago. Backstage sources told the Wrestling Observer that Laurinaitis getting this very high-profile job back was because he "always has a smile for Vince and won't challenge him." Laurinaitis is, of course, the man called out by CM Punk in his infamous pipebomb promo for being one of McMahon's "glad-handing, nonsensical, yes men."
The mentality behind the hiring is seen as the same as Bruce Prichard being promoted across Raw and SmackDown creative, as "Vince is right now a guy who wants to be told everything is great… So he's more and more surrounding himself with people who won't challenge him and will feed the idea the company is more popular than ever and television ratings don't mean what they used to."
But at least there's no more leg slaps, guys. That'll turn the ratings around!
AEW Revolution Success
Noted t-shirt company AEW, however, has found quite a bit of success with thigh slapping, as WrestleNomics' Brandon Thurston has estimated their Revolution pay-per-view last Sunday got 125,000 buys and made over $5 million – meaning, if correct, the company beat its pay-per-view record of 105,000 buys for Double or Nothing 2020. Which is incredibly impressive, as while many other media properties – not just wrestling – have found their audience decline during the pandemic. For AEW, at least in this instance, they actually increased it.
Why do you think the pay-per-view did so well? There was the Sting match, the fact it was on a Sunday rather than their normal Saturdays, the Exploding Barbed Wire Deathmatch stipulation. Or, what I reckon drove the most interest, the tease of a Hall of Fame worthy signing… that wasn't CM Punk. Let me know in the comments down below.
And AEW have already got their next big pay-per-view sorted. Miro vs Jim Cornette.
Miro vs Jim Cornette
On his review of Revolution, wrestling booker genius turned controversy machine Jim Cornette called Miro, the former Rusev in WWE, "a f**king goof" with "no idea how to get over" in AEW. Cornette then turned his promo sights on everyone currently involved in Miro's storyline, playing 'say what you see' and calling Orange Cassidy "a guy that sticks his hands in his pockets," Chuckie T a "guy that looks like he cuts his hair with a pencil sharpener," and Kip Sabian "a f**king kid that looks like he's in middle school." But for Penelope Ford, the only woman in the storyline, he called her Kip's "slutty girlfriend." Which isn't her character.
Miro immediately fired back in a string of since deleted tweets:
"@TheJimCornette , if You call Penelope Slut again I'll come like Gods wrath on you! You understand. I'll personally drive to Your BASEMENT."
"People like @TheJimCornette bring not only pro wrestling down, but young women and men get abused and name called for 40 views on YouTube."
It must be noted, Miro did say Dave Meltzer was going to hell last Summer, but he did then apologise.
And, of course, Cornette replied:
"Bluto, somebody that's known me for awhile better sit down & tell you why you're making a DRASTIC error trying to joust with me before I make you wish you'd never TRIED to learn English. You're a toothless lamb about to piss off a wolf & I just want you to be aware of your peril"
Before teasing his upcoming podcast episode for his full retort:
"Aww, f**k it. This'll be too good to pass up. Somebody tell noted video game nerd and Popeye villain wannabe @ToBeMiro that I'm not gonna waste THIS tonguelashing in pieces on Twitter, it'll come this Tuesday on the Drive-Thru podcast–and it will be glorious. Don't tell Penelope"
And just one last shot: "No, he's not even THAT talented. Just a Great Value brand Ryback on the generic brand show." And then continued to make derogatory remarks about Ford. Be nice to each other, folks.
Huge IMPACT Wrestling News
Over to IMPACT Wrestling, there's been some huge news coming out of Saturday's Sacrifice pay-per-view – which saw New Japan's FinJuice beat the Good Brothers for the IMPACT Tag Team Championships, and Rich Swann beat Moose to unify his IMPACT World Championship and Moose's TNA World Heavyweight Championship.
Following his loss, Moose has tweeted he's going to be taking some time off to rebuild.
This sets up an epic title vs title match for IMPACT's next big pay-per-view Rebellion on April 24th – where Swann will defend his Unified World Championship against Kenny Omega's AEW title… which you've gotta assume Kenny will win to further his belt collector gimmick.
To celebrate Revolution's Gillberg entrance of an ending, Adam Blampied's latest list video on partsFUNknown is all about the biggest pyro blunders in wrestling history. Click the link in the video description below or the i above my head to watch that now, and subscribe to partsFUNknown for all our wrestling lists and video essays. Here's a tease.
Click the video on the right now to watch the 10 biggest pyro blunders in wrestling history! And subscribe to partsfunknown to get all Adam Blampied's videos. And find out the latest on Asuka and why she might be getting pulled from WrestleMania 37 by clicking the WrestleTalk News below that. Remember to support WrestleTalk and download Raid: Shadow Legends using the links below. I've been Mr Davis, Raid that Raid.