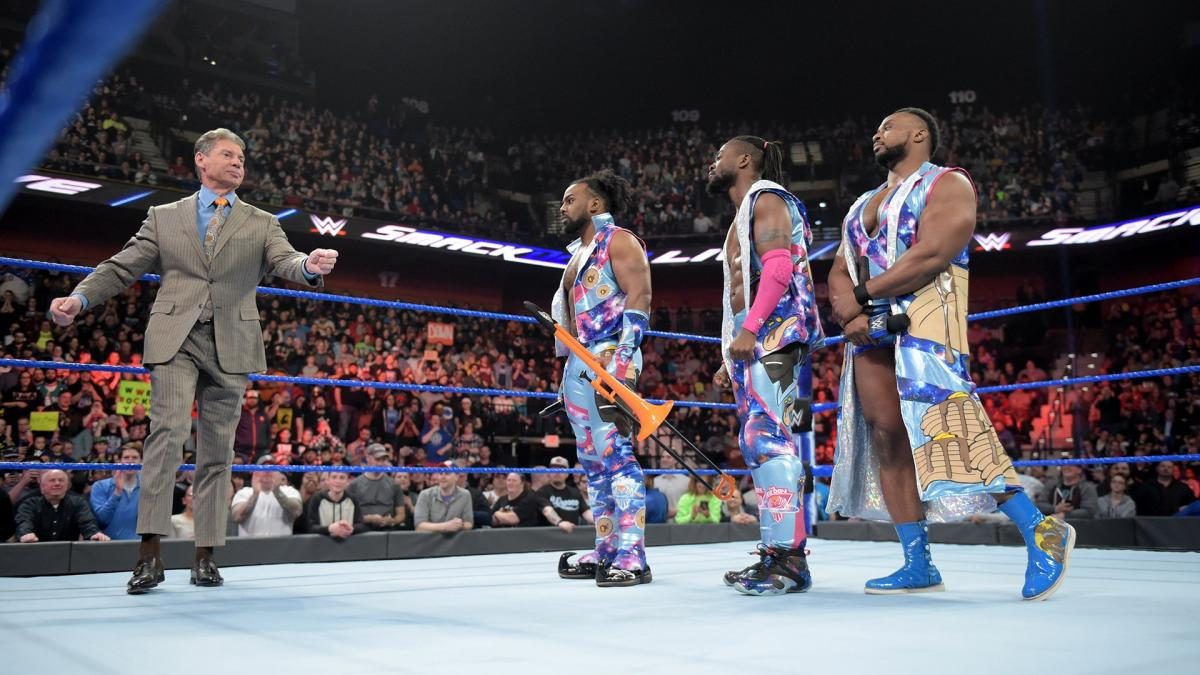 Vince McMahon has banned saying "New Day" on WWE TV, a 16-year-old has signed with AEW, Mustafa Ali has revealed his WWE contract length, and more.
It's Monday morning, and it's Valentine's Day – what better way to start the most romantic day of the year, than by getting caught up on all the latest wrestling news. There are probably quite a lot of ways, actually, but let's do it anyway. I'm Liam Winnard for WrestleTalk.com, and this is our audio news bulletin for February 14, 2022.
Listen to this morning's round-up here:
Vince McMahon Bans 'New Day'
Big E was recently moved back to the SmackDown roster to reunite with New Day shortly after losing the WWE Championship – a decision a lot of people were disappointed with because it was yet another champion who people wanted to see as a consistent main eventer being shoved back into a tag team.
E and Kofi Kington have been relatively successful since he returned, although they did lose to Los Lotharios this past Friday, but another thing you may have noticed this past Friday is that WWE was not referring to the duo as "New Day".
If you look at the on-screen graphics, the YouTube clip of the match, they were only called "Big E and Kofi Kingston", reportedly something ordered by Vince McMahon himself.
Fightful Select reports that McMahon was "adamant" that they shouldn't be referred to as "New Day", although it isn't exactly clear why. Of course King Woods isn't in the fold right now because he's been out with an injury, but when Big E was on Raw and the tag team was Kingston and Woods, they were called New Day.
This is just me theorising at this point, but maybe Vince thinks because Big E was just WWE Champion, his name has quite a lot of weight and potential drawing-power right now, and with Kofi Kingston being a former WWE Champion too, he wanted to make use of that. It'll be interesting to see what happens when Woods is back.
---
16-Year-Old Nick Wayne Signs With AEW
AEW has made yet another addition to its roster, this time in the form of 16-year-old standout Nick Wayne.
Wayne wrestled Christopher Daniels for DEFY Wrestling this past weekend, after which Darby Allin entered the ring and presented Wayne with an AEW contract.
The answer was of course a resounding yes, and more details came to light on Wrestling Observer Radio.
With Wayne still being 16 and therefore still in school, the contract is an apprenticeship type deal where he has to finish school, and then when he's 18, it'll become a full AEW wrestler contract.
This makes Wayne the youngest active wrestler to be signed with the promotion, with Brodie Lee Jr still the youngest, but obviously not an active wrestler as of yet.
---
Mustafa Ali WWE Contract Length
Unfortunately someone AEW might have to wait a while to sign, despite him clearly wanting out of WWE, is Mustafa Ali.
Ali requested his WWE release a number of weeks ago now, but WWE reportedly has no intention of granting his request, because, despite not using him since October after an argument with Vince McMahon, they see "value" in him.
The question was, how long does his contract run for, and therefore how long will he have to wait before he's a free man. Well, it seems like he answered that question himself.
Taking to Twitter, Ali wrote "I'll see ya all in like 2 1/2 years". How depressing.
There's always a chance that somebody with a lot of money who may or may not be named Tony Khan could buy out the contract if he really wanted to, but otherwise, it might be a very long and very lonely two-and-a-half years for Mustafa Ali.
---
Other Stuff
In other little bits of news…
According to PWInsider, Vince McMahon "doesn't think anything is wrong" with the current WWE product, and "he pushes and presents what he likes and wants and nothing else makes a dent in that vision".
Megan Bayne, who won a match on AEW Dark early this year so may have been in line for some kind of push, suffered a torn ACL and is expected to be out for nine months.
Dave Meltzer said on Wrestling Observer Radio that Bryan Danielson has been considered by AEW for a TNT Championship feud.
Samu Anoa'i revealed he's signed a "nostalgia" contract with WWE.
Lita addressed working in Saudi Arabia despite her previous comments being critical of WWE's relationship with Saudi. She said:
"So I will say I was outspoken on the early relationship between WWE and Saudi. 'Oh, they say they want women to wrestle over there, but like, I don't know if I believe it. There's no women on this card.' There's women on the card (now) — and I've talked to the women personally that have been over there. And they're like, 'It's unbelievable. There are women crying, never thinking they would get to see two women be so strong in the ring.' They're like, 'It's really powerful. You're gonna enjoy that.' And so, sure, do they have a long way to go? Do we as a society have a long way to go? Absolutely, but you've got to take the opportunities when they're there."
Kyle O'Reilly said one of the reasons he left NXT for AEW was because the NXT 2.0 locker room "wasn't a very good environment".
Speaking of O'Reilly, the reason he hasn't been on AEW TV as of late is because he's been given time off following the birth of his daughter.
Isiah Kassidy rightfully received a lot of praise for his performance in putting over Keith Lee on Dynamite – including from Dax Harwood and Eddie Kingston.
Mickie James says Nick Khan apologized to her backstage at the Royal Rumble for the trash bag incident.
Former NXT coach Ace Steel has been backstage at recent AEW tapings according to PWInsider.
The Dunkin' Donuts Center in Providence, Road Island announced that WrestleMania Backlash will be taking place there on Sunday, May 8.
Following her outing on Dynamite last week, AQA, formerly Zayda Ramier in NXT, has officially been signed by AEW.
Killer Kross, the former Karrion Kross, will be making his MLW return at SuperFight on February 26.
On the outlandish prospect of Shane McMahon potentiall joining AEW, Tony Khan said he would "certainly" take the call, but isn't sure Shane would be a good fit.
WWE reportedly offered Rok-C a contract after she attended a tryout this past December and then another tryout more recently.
On this past Friday's 205 Live, after teasing for a while he wanted to change the show's name because it promotes exclusivity, Joe Gacy said that the show is where NXT talent goes to "level up", but he said level up in a way that it was teasing something, which I took to assume meant Level Up would become the new name for 205 Live. That seems to be confirmed now as WWE filed to trademark "NXT Level Up" last week.
And according to the Wrestling Observer Newsletter, the real reason TJ Wilson AKA Tyson Kidd hasn't been backstage at WWE shows recently is because he's recovering from a neck injury – of course we wish him all the best with that.
Be sure to stay tuned to WrestleTalk.com throughout the day to keep up with all the news from the world of pro-wrestling, and I'll see you tomorrow morning for another round-up.