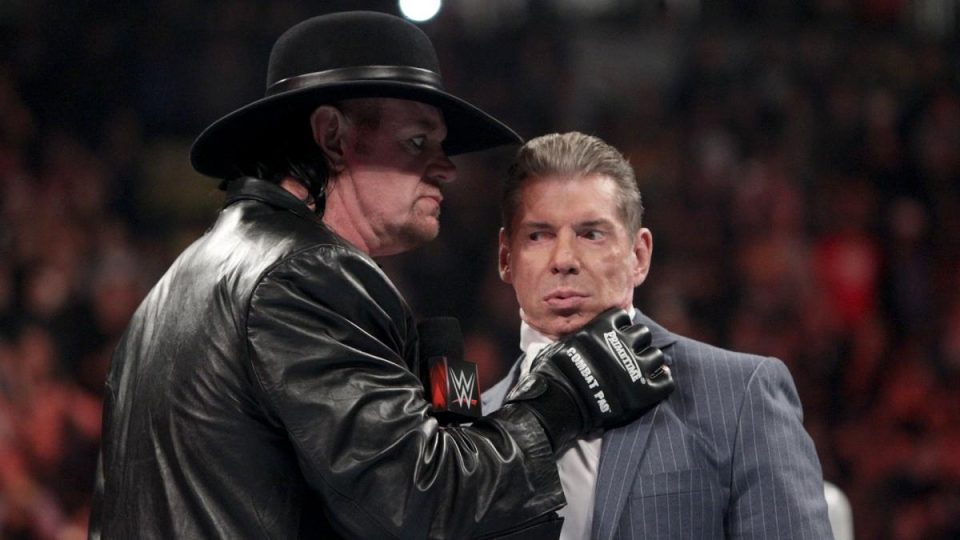 The relationship between Undertaker and Vince McMahon has been documented a lot recently, but what it became is a stark contrast to what it was at first.
On the latest Something to Wrestle podcast, Bruce Prichard said that McMahon didn't see anything special in the Undertaker at first, and actually refused to meet him, seeing him as just another basketball player with red hair.
Prichard explained:
"'Taker had a dislocated hip, but he worked the match anyway because the next day he was supposed to meet with Vince. That didn't happen and it didn't happen because Vince looked at The Undertaker and thought, 'ah, he's just another tall basketball player with red hair, I don't see anything special in him.'

"First of all, he's working with Luger. So, come on, that's like working with a broomstick that doesn't have any bristles and is nailed to the floor. That meeting was canceled and I begged Vince to please meet with Mark Calaway because they were in a show in the [New Jersey-based] Meadowlands, I believe, and I offered to get The Undertaker there. I said, 'look, I'll get this guy there, just meet him.' I didn't know him. I mean, I didn't know him from Adam. But I'd spoken to Mark and I was a big fan of Mark's work, plus in my head, I had an idea as to what to do with him. So I had an idea, and that was the talent, in my head, that could pull off that idea."
The Last Ride documentary series on the WWE Network gave us a peek behind the curtain – well, much more than a peek actually – and we saw the very unique relationship that 'Taker and McMahon have to this day, so it's interesting to look back and think that it might never have happened.
Transcription via Fightful