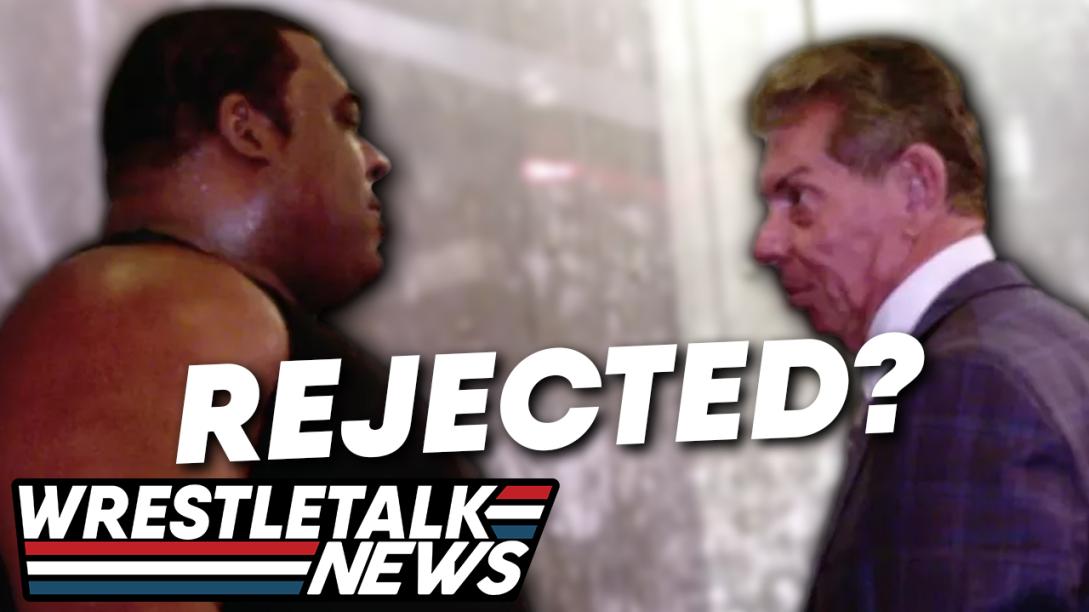 Another day, another WWE star that Vince McMahon can't quite wrap his head around.
After Dave Meltzer revealed recently that Vince reportedly "does not see anything in Aleister Black or Andrade."
Comes news that Keith Lee's main roster push could be faltering because Vince has once again lost interest – I've met toddlers who are easier to entertain.
Ringside News who have a good track record for backstage reporting are saying that McMahon is unsure of Lee and doesn't see the "spark" in him. I'm concerned for Vince, because your man's got cataracts.
One of the specific things called out in the article was Lee's promo style – which is one of the most unique in WWE and produced some absolutely epic moments during his NXT run.
Vince reportedly thinks that they haven't "caught on fire", I would argue that they are not the sort of brash, explosive promos of a Rock or Stone Cold, they're the kind of promo you sit in awe of as to how cool and unusual they sound.
Then again Vince isn't loving loads of people's promo, according to a WWE writer only a select few names have stood out: including Roman Reigns, Paul Heyman, Randy Orton, Edge, The Street Profits and Lacy Evans.
In terms of Keith: from these reports Vince seems to have it in his head that Lee needs work, which would be why he sent him to the Performance Centre for more training.
And Keith's big PPV moment at Elimination Chamber is up in the air too as he hasn't been seen on TV in two weeks even though he is set to go up against Bobby Lashley and Matt Riddle with the US Title in the balance, though per some reports he may be removed before Sunday.
WWE Awards Staff $3,000 Bonus
Meanwhile in WWE's topsy-turvy world of corporate joy.
Wrestlenomics' Brandon Thurston is reporting that WWE issued a large number of employees a stock award "valued at $3,000", which comes according to multiple sources within the company.
As we discussed in the news last week 2020 was a very profitable year for WWE so this could be a way of sharing some of that wealth without actually sharing actual wealth, more the promise of wealth if the company continues to do good.
The promise of potential Benjamins is a double-edged sword though because this info also comes in light of Employees learning on Friday that actual Benjamins in the form of "salary raises and promotions" had been put on hold. 
Potentially because WWE had a weaker fourth quarter last year even though they made record breaking profits overall.
WWE Concussion Lawsuit Put Before Supreme Court?!
Maybe WWE are saving funds in the case of a renewed legal battle with Konstantine Kyros – the attorney who brought the concussion lawsuits to federal court in 2018 – though Kyros was actually ordered to pay WWE's legal fees after it was concluded that they had no idea blows to the head caused chronic traumatic encephalopathy, so they won't be worried about that, it was just a convenient segway.
Kyros is not giving up though even after his appeal for the cases was denied by the 2nd US Circuit Court of Appeals in NEW York, he is now filing to put some of the cases to the Supreme Court, according to the Associated Press.
Is WWE worried? Are they f***
Longtime attorney for the company Jerry McDevitt issued a statement on the proceedings saying: "The large majority of requests are denied, and the Supreme Court typically takes cases presenting some issue of national import where the courts in the various federal circuits differ on some specific issue of federal law."
AEW Management Explain Sting Powerbomb
If you watched Dynamite this week you were likely shocked as I was by the moment in which Brian Cage easily picked up and powerbombed 62 year old Sting in the centre of the ring.
Especially as it was Seth Rollins' powerbomb variant, the buckle bomb that caused Sting's retirement in 2015.
During Dynamite's post show the notion of just how much AEW were going to let Sting do and what kind of risk they would tolerate came up, and Shivs was on hand to offer some answers.
Though he said he was "shocked, to be honest with you" that the old crow took the bump in the first place he said that Sting would only have been involved in the spot "because he obviously wants to. And obviously he thinks it's good for business. And by the way… as scary as that may be, and I know what you're getting at, he's ok. So there you go".
Sting is obviously trying to build the hype for his comeback match at Revolution, but it is worth noting that this is his first bump since signing with AEW and being on TV for two months now, so to a degree they are protecting him.
The Street Fight itself being a good way to limit the amount of serious bumps Sting has to take as Team Taz can focus on chucking Darby Allin through stuff for most of it.
Former NXT Champion Returning To NXT
Over the fence there is a rumour that a former NXT Champion could be returning.
Andrade, who hasn't been seen on the main roster since the Draft in October, posted on his Facebook a picture of him holding the NXT Championship with three fist bump emojis.
He's posted these sorts of pictures before mind, like when Zelina Vega was released from WWE so it's not proof, but considering Tyler Breeze and Balor both made their made way back to the developmental brand it's a possibility.
Reason for Scrapped NXT Match
Following on from the heartbreaking events at NXT TakeOver: Vengeance Day, NXT attempted to keep the momentum going with some huge matches and segments lined up – including Karrion Kross vs Santos Escobar and Kyle O'Reilly & Adam Cole's fallout. While the latter took place, the former was pulled from the show, with the Cruiserweight Champion instead cutting a video promo saying he was going home because Kross threatened him.
If this seems like a flimsy excuse, that's because it is! It's now been revealed that that promo was just a way to try and include a storyline reason and delay the match for a week, because there was something else going on. According to Dave Meltzer on Wrestling Observer Radio, the anticipated bout was pulled for medical reasons:
"There was a medical reason I heard yesterday, Tuesday, that the match wasn't gonna take place. So it's a storyline out of necessity not a planned storyline. The match was supposed to happen on tonight's show and it could not. I was really surprised that they announced it for next week, but they did."
With the match instead being announced for next week's show, it seems the medical issues can't be too serious as NXT higher ups have faith they'll be resolved by showtime next Wednesday.
Kyle O'Reilly Update
Instead on the show, fans were treated to even more heartbreak, with Adam Cole doubling down on his betrayal of Kyle O'Reilly, delivering a brutal brainbuster to the ring steps. As we covered in yesterday's WrestleTalk News episode, fans and wrestlers alike were legitimately terrified for O'Reilly's condition as they did a stretcher job for him after the show went off the air.
Rumours circled on social media of something more serious, but reports surfaced that as it turns out, Kyle is just really good at wrestling and sold the beatdown like a champion.
O'Reilly himself has now commented on the situation, and it should further ease any worries any fans still had as it seems to be more in character than anything:
"Thanks everyone for checking in, your love and support truly means the World. I was placed on a stretcher last night out of concern for my neck after receiving a brainbuster on the steps. Thankfully I can move around somewhat OK today but I may need some time to heal."
"As much as that hurt and sucked last night, the betrayal was worse. Coming back from this stronger and with a thirst for revenge. Best served cold."
AEW & NXT Viewing Figures
The fallout from Vengeance Day and the promise of a follow-up on the Cole/O'Reilly situation helped buoy this week's episode of NXT to 713,000 viewers, up by 155,000 on the previous week, while AEW Dynamite, which featured Sting taking a powerbomb and the announcement of the Exploding Barbed Wire Match between Kenny Omega and Jon Moxley, also increased slightly to 747,000 viewers. As usual, Dynamite about doubled the viewers in the key 18-49 demographic.
Now here with a few thoughts about WWE managing to troll themselves on Twitter is Simon Longden and ScreenGrapple.
At 4pm UK time today it'll be time for another CineMania over on Cineworld's YouTube channel, where host Luke Owen quizzes Oli Davis, Chopper Pete, Daniel J. Layton & Scott J. Davis on all things movies!
What are your thoughts on the above story? Let us know in the comments on Twitter or Facebook.