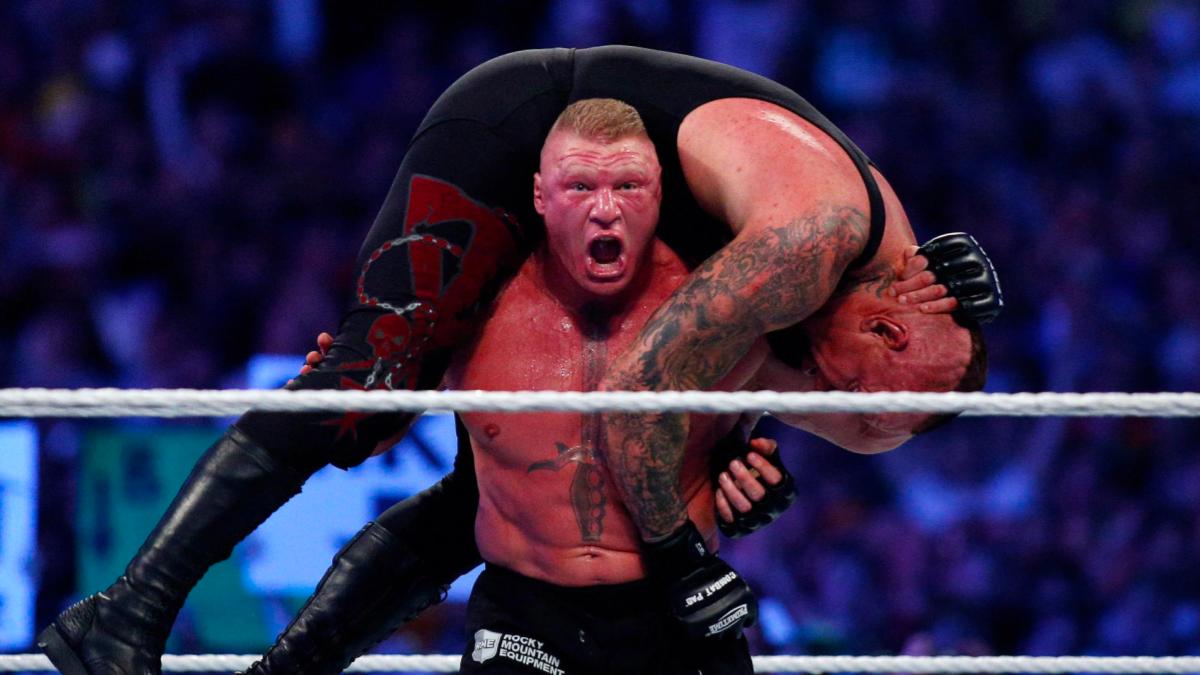 Vince McMahon had two other names in mind before Brock Lesnar to break The Undertaker's WrestleMania streak.
At WrestleMania 30, Brock Lesnar defeated The Undertaker to end his vaunted WrestleMania undefeated streak at 21-0. Since this legendary night, many fans have debated if Lesnar was the correct choice to end the Streak after WWE invested so much into it.
In a new interview with Ariel Helwani, The Undertaker revealed there were two other names that were considered to break his undefeated WrestleMania streak. He said:
"By the time we got to WrestleMania, we pretty much knew what was going to go down, but there were a few people I guess that he wanted to break the streak. (Vladimir) Kozlov, he wanted him. It was early on, and I think he wanted Edge to go over and Edge refused."
"He said, 'No. I can't do it.' That's how much he respected the streak and me and what that streak meant to the business. I didn't know that at that time. I didn't know that until years after. That says a lot about the human being he is."
When asked if he feels Brock should have said no to ending the streak, Taker answered:
"It's hard to say. I don't think Brock needed it. I think Brock was a major attraction, he was a star, and he was made. I don't know that it enhanced him anymore. I think it would have been great for Roman if Brock hadn't already done it."
"It would have been a huge thing for Roman. I don't know that it meant the same to Brock as it would have meant to Roman or anybody else who would have done it because Brock had already been there."
"Brock had already gone off to UFC. He already had all these major accomplishments. I think it could have helped somebody else."
The Deadman continued on to explain that the day of WrestleMania 30 he was told that he was still going over, saying:
"When I got there that day, I was still going over. It's in the early afternoon. I remember sitting in the dressing room and came in, and as soon as he came in, I knew what it was. He changed the finish. I gave him my spiel and what I thought."
"It wasn't no for the sake of not wanting to do the job. It was 'no' in the sense that I didn't feel like Brock needed it. Vince's counter was, 'If not Brock, then who beats you?' Vince can sell ice to an Eskimo. I brought up as many points as I thought, like, looking long term down the road."
"Vince, his deal too is, who down the road? At that point, I'm year to year. I don't know when I'm going to pull the trigger and say enough's enough, so I think he wanted to make sure he got that. I don't think he ever envisioned that character riding off into the sunset with a perfect record."
Taker concluded on by reflecting if he believed that he should have called it a career undefeated at the Showcase of the Immortals, saying:
"I don't know when I'm going to call it a day, but if I was going to do it, I wanted to do it for somebody, like I said, it would be very impactful for that person's career. Selfishly, I mean that would have been great to walk off being undefeated, but that's just not how the business goes."
"There's a lot of people through the years that laid down for me to help me build the mystique of my character and do that, so it's only natural and only right to pay it forward."
"The business itself is bigger than the one character. Brock was worthy of it. He was a huge draw at this point, but I don't think that it helped him the way it would have helped, say Roman at the time."
Transcription via Wrestlingnews.co
Think you're a wrestling mastermind? Well you can prove it by taking quizzes in our brand new quiz section! Don't forget to tweet us your results!