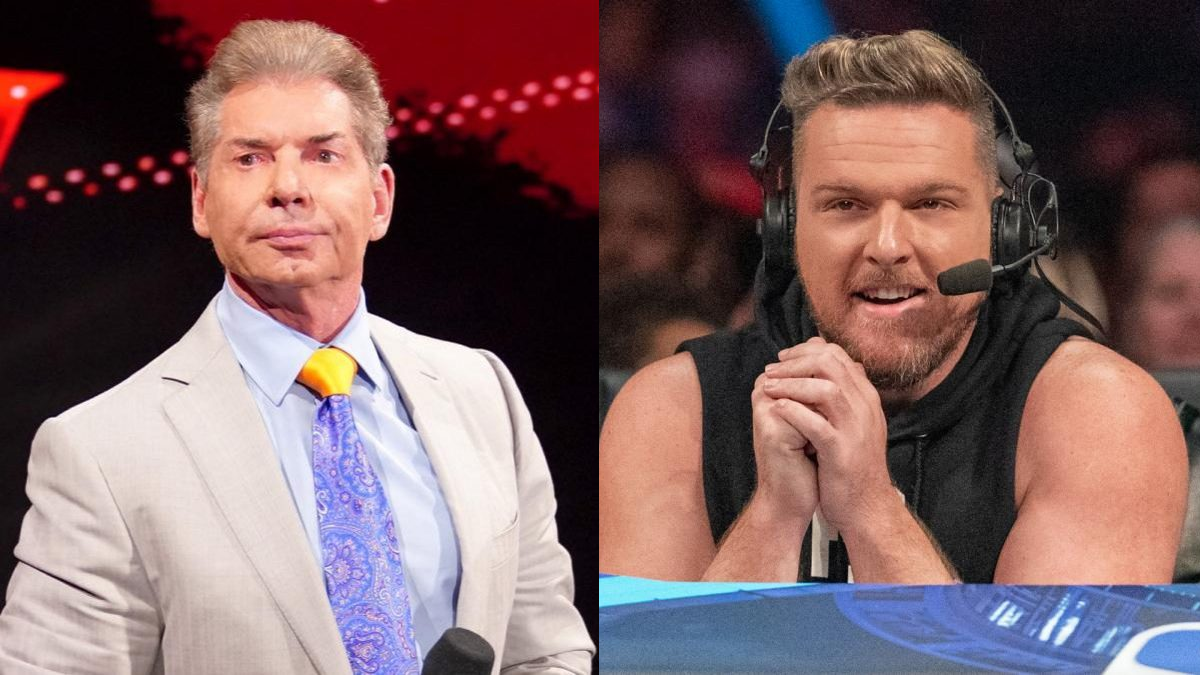 Vince McMahon vs Pat McAfee at WrestleMania 38, an update on Elias' WWE status, a match at AEW Revolution has been changed, and more.
It's Monday, and what better way to start the week than getting up to speed with all the latest wrestling news. I'm Liam Winnard for WrestleTalk.com, and this is our audio news bulletin for February 28, 2022.
Listen to today's round-up here:
Vince McMahon Vs. Pat McAfee WrestleMania 38 Plans
Yes, you heard and read that correctly. WWE is currently planning Vince McMahon vs Pat McAfee for WrestleMania. This was first reported by POST Wrestling after WWE had announced that McMahon will be a guest on the Pat McAfee Show this Thursday.
As it turns out, that appearance will in some way set up this supposed match. Dave Meltzer reported that it's listed as a match and will be advertised a match, but in actuality it'll be a quote "complete smoke and mirrors" event.
It's not clear what exactly that means – it could be cinematic, it could be other people getting involved, but basically, don't expect to see anything resembling an actual traditional wrestling match.
This appears to be yet another stunt aimed to push ticket sales, alongside the return of Steve Austin and matches involving Johnny Knoxville and Logan Paul.
Elias WWE Status Update
Remember Elias? No? Well, he's the bloke that used to play the guitar.
We haven't seen Elias on WWE TV since wayyyyy back in August, and the latest update, or lack thereof, on his status has come to light.
As reported by Ringside News, a tenured member of the WWE creative team said that Elias is in "creative purgatory", and his name isn't even being brought up in creative meetings. There is currently no plan in place for him to return.
There was of course the report a number of months ago from WrestleVotes that WWE had planned something resembling 'Macho Man' Randy Savage for Elias' new gimmick, but it never saw the light of day.
Other than in WWE 2K22, which seems to give away what the attire was going to be before the idea was dropped.
AEW Revolution Match Changed
AEW Revolution is coming up this coming Sunday on March 6, and one of the matches on the card has actually been changed from what was originally planned.
AEW announced this past week a tornado trios match pitting Andrade El Idolo, Matt Hardy and Isiah Kassidy against Darby Allin, Sting and TNT Champion Sammy Guevara.
According to Fightful Select, the original version of this match didn't include Kassidy or Guevara, which would suggest it was initially supposed to just be a tag match with Andrade and Hardy against Allin and Sting.
There was no reason given as to why it was changed, and this is just speculation on my part, but considering Isiah Kassidy's recent perfomances, it wouldn't be a surprise if this was a reward of sorts in terms of getting a spot on the pay-per-view card.
If that's not the reason, it's nice to see him on the show anyway.
Other Stuff
In other little bits of news…
According to statistics collated by the Wrestling Observer there was an "almost unheard of" level of interest in the news that Cody Rhodes had left AEW. It was the second most searched topic on the internet that day.
Ace Steel, who used to be a coach in NXT, has been hired by AEW.
Corey Graves has confirmed that he's been cleared for an in-ring return. This had been reported a while ago but it's the first time he's actually confirmed it.
The Brock Lesnar vs Roman Reigns match at WrestleMania will take place on night two as expected, and will now be a championship unification match.
Dave Meltzer reported that the plan is to unify the WWE and Universal Titles, but another title will be introduced so both brands still have a top champion, because both USA and FOX both want their respective brands to have a champion.
Colt Cabana was off AEW TV for a while recently as he was filming a TV show in Australia, but he returned this past week.
Ticket scalpers are set to make more money from AEW Revolution tickets than AEW itself.
Although it still hasn't been confirmed to anyone, WWE talent do still believe Cody Rhodes is on his way into the company, according to Fightful.
Former NXT referee Stephon Smith has confirmed he's joined AEW after debuting on Dark and Dynamite last week.
Max Caster had a line about Vladimir Putin edited out of his rap on AEW Rampage. The show was taped on Wednesday, and things had heated up even more by the Friday. His line towards Orange Cassidy was "This guy's as popular as Vladimir Putin".
The latest update on Bobby Lashley is, according to Ringside News, that he's trying to get medically cleared for WrestleMania following the shoulder injury that he suffered at Royal Rumble and resulted in him not being able to work at Elimination Chamber.
According to Fightful, the reason Big E and Kofi Kingston rode an ATV into the arena on SmackDown was to help cross-promote a new toy Mattel released.
Becky Lynch was advertised for a house show in Youngstown, Ohio this past weekend but wasn't on the show and no announcement was made that she wouldn't be there or why.
And WrestleVotes reported that, while it is an idea that has been considered, the plan currently is not to induct Undertaker as a sole inductee into the Hall of Fame, and other names are expected to be announced soon.
Be sure to stay tuned to WrestleTalk.com throughout the day to keep up with all the news from the world of pro-wrestling, and I'll see you tomorrow morning for another round-up.