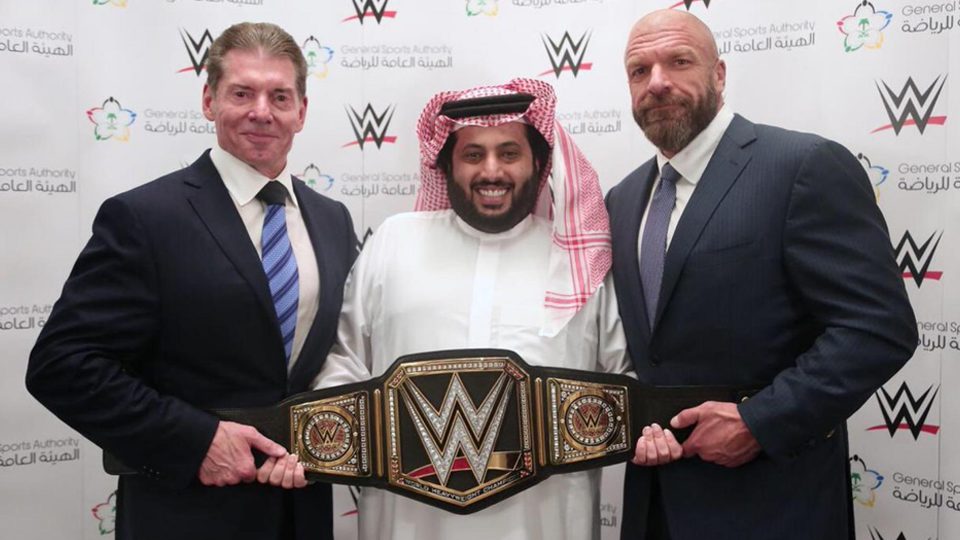 Earlier today the WWE broke the news that their Crown Jewel PPV will go ahead as planned in Saudi Arabia.
At this time of political unrest, and coming on the same day that a Saudi prosecutor remarked that the killing of Jamal Khashoggi was premeditated, there were many who expected answers during the scheduled third quarter earnings conference call. With a statement published on the WWE's corporate website this morning the WWE's top brass refused to comment on the situation at all.
The top brass in question consisted of Michelle Wilson (head of Investor Relations), George Barrios (CFO) and CEO and Chairman Vince McMahon.
After the company had removed the location from the Crown Jewel material it was releasing and froze ticket sales, many hope for an explanation of the decision. Unfortunately this wasn't forthcoming.
After the introductions and statements, Vince wasted no time in setting the tone regarding Crown Jewel for the rest of the meeting. Responding to this question from Brandon Ross of BTIG:
"Saudi Arabia has obviously become, financially, an important market for you over the long term. How do you think about the puts and takes of that relationship? And maybe if you could, take us through your thought process in deciding to keep the event on?"
Vince Responded:
"We're not going to talk a lot about that, it's a very sensitive subject these days, naturally. I think our statement says all we want to say about that today."
The subject came up again later in the call, with a question aimed this time at George Barrios. Jason Bazinet from Citi asked:
"Respecting you don't want to talk about Saudi Arabia. Can you frame what risks, if any, that relate to Saudi Arabia are outside your control? In other words, is there a risk of federal or economic sanctions?"
George responded:
"I think, with the complexity of the situation, as Vince said. All our thoughts are encapsulated in the statement we made."
With the situation as sensitive and complex as it is, it is little surprise that the individuals took the stance they did during the call today. This lack of transparency will do little though to quell the uneasiness felt by many of WWE's fans.
Do you think the WWE should have moved Crown Jewel? Either way, let us know in the comments below, on Twitter, or on Discord!