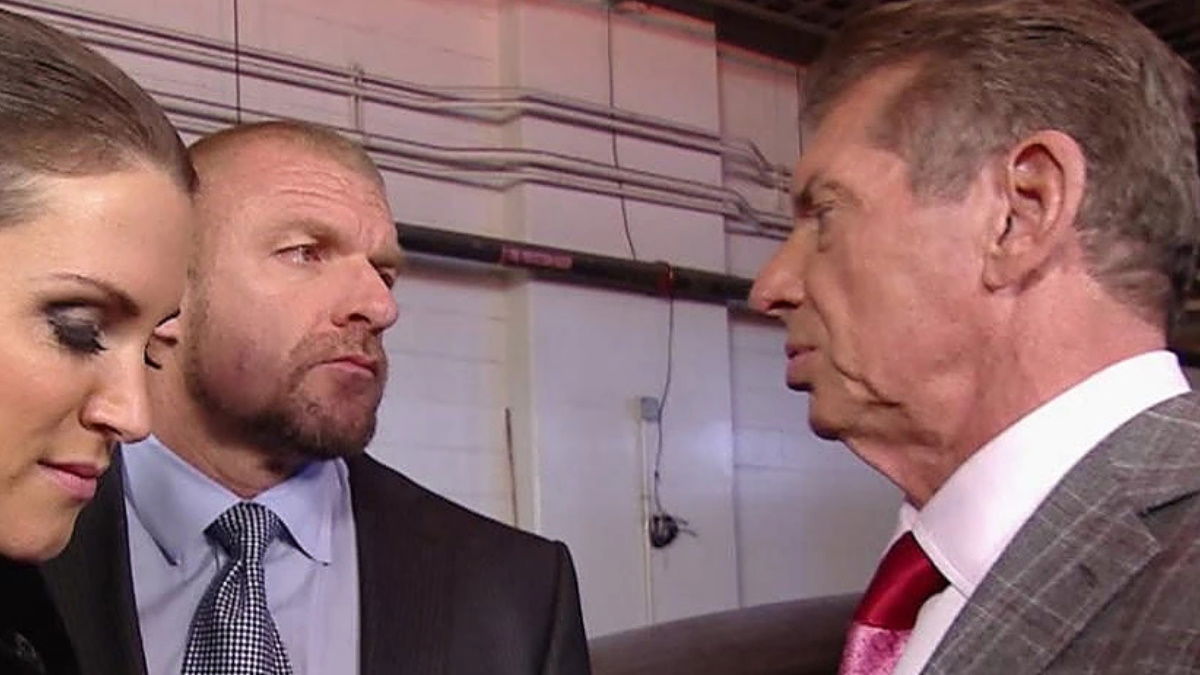 Vince McMahon is back on the WWE Board of Directors, but there may be more to his return than simply facilitating a sale of the company.
Using his power as majority owner, McMahon put himself and former WWE presidents George Barrios and Michelle Wilson back on the company's Board of Directors, disposing of JoEllen Lyons Dillon, Jeffrey R Speed, and Alan M Wexler in the process.
Upon McMahon's return, two further Board members resigned of their own volition, those being Man Jit Singh – who was the one heading up the Board's investigation into McMahon – and Ignace Lahoud.
According to McMahon, his intention upon returning is to facilitate a sale of WWE, and as reported by CNBC, WWE has hired investment banking company JP Morgan to assist with the sale.
However, there could be a lot more to the story.
McMahon has changed bylaws to ensure that no sale and no media rights deals can be completed by WWE without his approval.
He's essentially put himself in as the key person negotiating the deals, which means he can negotiate whatever terms he wants.
Which means… if he wants to be put back in charge of Creative, he can make that a part of the agreement with whoever's buying.
Speaking on Wrestling Observer Radio, Dave Meltzer and Bryan Alvarez explained:
Meltzer: "I think the fact that he is going to be the key person selling, he may be looking for assurances (that he will be in charge).
"The thing with Vince is that, if a deal was good for the stockholders with him not in charge, once it's sold… it's out of his hands, he's never getting back in.
"So he had to do a thing where, 'I will not a approve any sale unless it's the right terms', and they had to kind of accept him back and pretend that everything is all copasetic because he had said basically that any negotiations for the next TV deal, or for the sale, if he wasn't put back in charge, he would hold it up, he would never agree to it. So it's kinda like they were handcuffed in a lot of ways.
Alvarez: "I'm sure when a deal is negotiated, he's gonna try to negotiate his way back in."
Meltzer: "Absolutely.
"The idea of Vince taking charge and everything like that, I don't see that happening for a couple of months, I don't think that's happening this week or anything like that.
"He basically filed a thing that said he's only gonna be working when it comes to the sale or the TV deal, and as long as they are a public company, he does have to actually abide by that.
"But my gut is that once that sale is done, he probably will try to take over and get the Creative back. I think everyone kind of expects that.
"I don't expect those moves to be made right away, but of course Vince wants to be Head of Creative.
"And Vince does have power, as far as to facilitate it, he probably at some point this year will have the ability to do it without it having negative repercussions."
If you use this transcription or any portion of it, please credit WrestleTalk.com and link to this page.
Meltzer added that WWE looks to be trying sell by the middle of this year, which would be before negotiations for the media rights begin.
The new media rights will come into effect in October 2024, so negotiations will likely happen at the latter end of 2023 – at which point, the company would have already been sold and McMahon could be back in charge of Creative if he negotiated that into the sale.
Another option that has at least been mentioned would be the idea of taking WWE private again, which has its pros and cons, as Meltzer explained:
"They are serious about selling now, they're gonna be putting it up, but there's no guarantee that he has to sell. Obviously the sale was his leverage for getting back in.
"There's been talk about going private. Having the Saudi government buy the company and keep Vince in charge.
"Then going private, which has a lot of benefits for them, (but) it takes away a lot. One of the reasons they went public, aside from the fact it made Vince a billionaire at times, and now he's probably worth about $2 billion, maybe more, is that by going public he made a lot of money, but also, by being public, it made the company… they came from the wrestling business roots, which is not really looked well upon in the real world based on the history of wrestling, nor should it have been, because aside from a small handful that you could probably count on one hand if not two, but probably one hand, they weren't the most honest people known to mankind.
"And he thought that by going public – the family did, him and Linda both when they went public – that it would give credibility to the business, stability to the business, it would make them not looked upon so badly.
"But also, if they're not public, they don't have to give out all these numbers anymore, and also, if Vince does something, it's like, it's nobody's business type of thing.
"This situation is because it's a public company, that's why the SEC is investigating, and that's why the Wall Street Journal wrote those articles. If it was a private company, you don't know if they would write those articles."
If you use this transcription or any portion of it, please credit WrestleTalk.com and link to this page.
There are still a lot of unanswered questions, but – and this isn't a surprise to anyone who knows anything about Vince McMahon – it certainly doesn't seem like it's going to be as simple as him walking in, selling, and walking out.
Think you're a wrestling mastermind? Well you can prove it by taking quizzes in our brand new quiz section! Don't forget to tweet us your results!