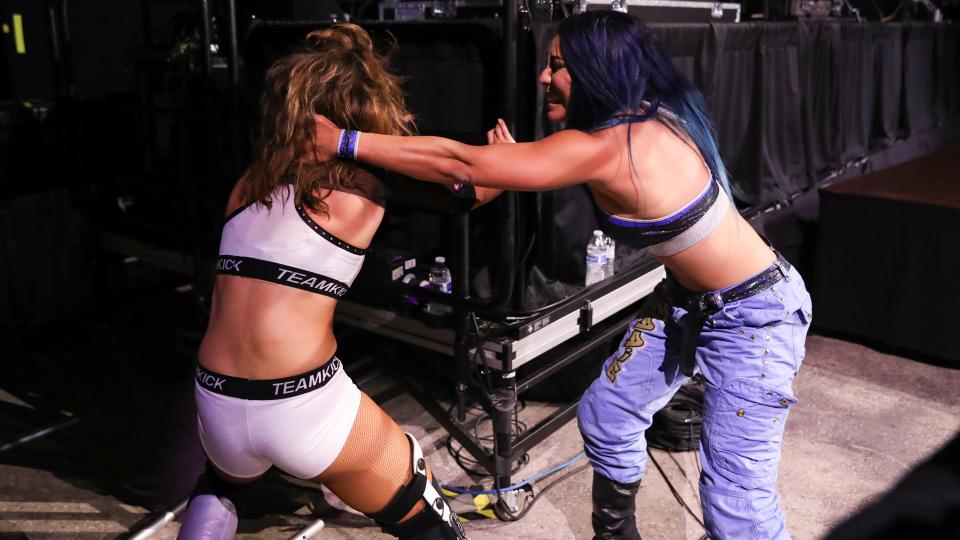 Last night, Mia Yim and Dakota Kai went to battle on WWE NXT.  Dakota Kai came out victorious after she removed the turnbuckle pad and Yim's head bounced off it.
However, Mia Yim would get the last laugh.  After the match, Mia Yim suplexed Kai off the top of a stage through some tables.
https://twitter.com/GIFSkull/status/1205029070154584064?s=20
As you can see, the spot didn't hit the mark. It looks like Yim and Kai came up short.  Kai's head hit off the edge of the table.
On WWE's The Bump, it was reported that it took 8 staples to close the laceration on Kai's head.  Apparently, she is a pretty tough cookie and will still compete on this weekend's live events.
Kai and Yim had beef after Kai attacked Mia Yim and knocked her out of NXT TakeOver: WarGames.  It remains to be seen if this will settle the beef or not.
Most likely, Kai will be looking for some payback of her own after this attack.  The match itself was pretty good last night on the show, but the crowd was pretty quiet until the after match angle.
WrestleTalk will continue to provide updates on the situation as they become available.