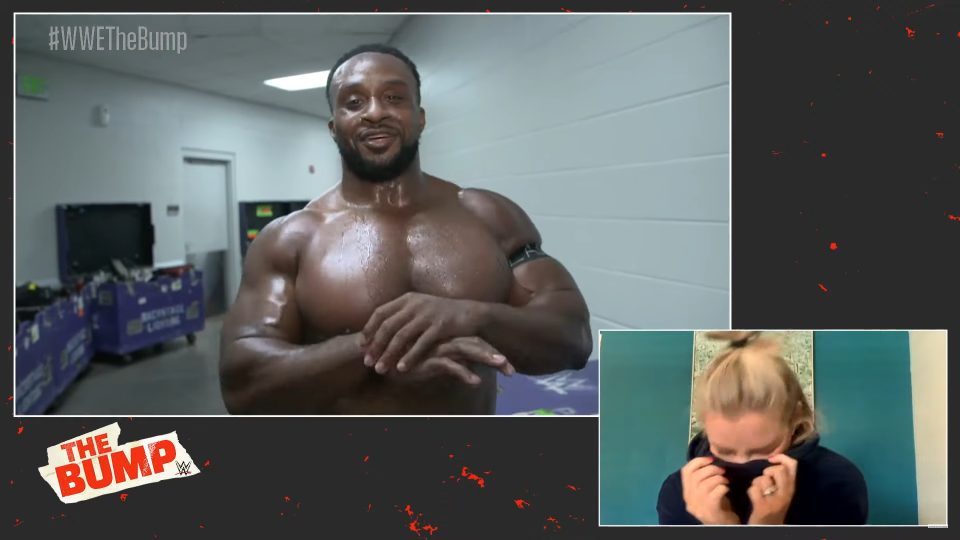 As you probably know by now, Renee Young is leaving WWE, but before she left, she agreed to work through SummerSlam weekend including today's The Bump show.
During the show, several WWE stars said their goodbyes to one of the most memorable and talented members of the broadcast team in the company's history.
Here's what they all had to say:
Miz: "You should be very proud of what you've done here because you've done so much, from hosting your own show on Fox Sports WWE Backstage, to hosting Talking Smack where you were a part of one of the most infamous moments in my career, to you smacking me – I think I still have the handprint right there, to being the first ever full-time female commentator on Monday Night Raw. You are groundbreaking."

IIconics: Billie Kay: "You are an icon, miss. And I don't think we've ever called anybody else an icon before." Peyton Royce: "And don't you repeat it!" Billie Kay: "Yeah, don't tell anyone!" Peyton Royce: "No but honestly good luck with your next adventures, we will miss seeing your beautiful smiling face. We will be watching and we love you."

Big E: "You are one of my favourite co-workers. You always make me laugh. We have the dumbest greeting where we pretend to be vomiting – no-one really knows what it is, it's real stupid."

Bayley: "I will miss moo-ing backstage with you, and I will miss talking about our cool haircuts, having wine, all that fun stuff, but you know if you miss me, you know where to find me dawg! Raw Underground, I challenged you to WrestleMania, I challenged you to Raw Underground, and you up-and-left! Come back dude. What you got Renee? Where's that superkick at, huh? Let's go, let's go, let's go, let's go."

Natalya: "Everything she does, wherever she is, whoever she touches, she makes better. And she always made our locker room, just a better place to be and I love you so much Renee."

Vic Joseph: "I still am going to blow up your phone with text messages, and I'll be looking for cooking recipes, I might even throw one to you just in case, but I can't wait to come out to Vegas to see you. I'll miss you. Good luck with everything."

Corey Graves: " I will forever miss you here at work, but I fully intend on being friends with you for a long, long time, and I might even come to Vegas and have an excuse to gamble away half my bank account in the name of visiting you and your hubs. I love you."

Cesaro: "I don't know what to say. I'm selfishly extremely sad, but I'm very happy for her."

Kevin Owens: "I really wish we had the chance to do more here. But, you will be sorely missed by everyone, I'm sure you know that by now. And wherever you end up, wherever you go, I'm sure you will find great success."

King Corbin: "Enjoy your time away, enjoy your time at home, with the family, with your dogs, and with all that food in the fridge, and we appreciate everything you did here, and enjoy."

Shinsuke Nakamura: "Sayonara. We miss you! Good luck!"
If you use the above transcription please credit WrestleTalk.com and link to this page.
You can check out the video here (it'll start at the right time):
.