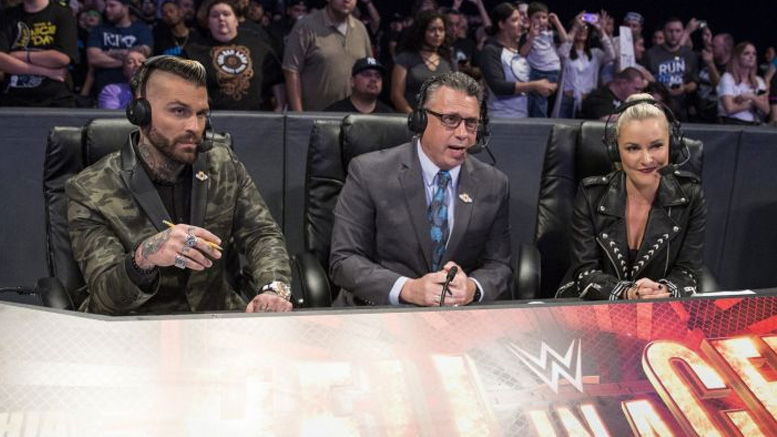 It was a 2 horse race for worst announcer of the year as voted on by the readers of the Wrestling Observer Newsletter. Each year, Dave Meltzer asks his readers to vote on many categories. One such category is the worst wrestling announcer.
Corey Graves and Michale Cole led the way, but Corey Graves was chosen as the worst announcer of the year. Graves and Cole were the only two announcers who got more than 100 votes.
Graves got 474. Meanwhile, Michael Cole finished with 242.
Unlike many of the other lists voted on by the readers, WWE had quite a few names on this list.  Here are the announcers with the most votes:
WORST TELEVISION ANNOUNCER
1. COREY GRAVES 474
2. Michael Cole 242
3. Beth Phoenix 77
4. Renee Young 42
5. Jim Ross 39
6. Mauro Ranallo 38
7. Alex Marvez 36
8. Byron Saxton 35
9. Josh Matthews 18
10. Jerry Lawler 17
Jim Cornette 17
There is some serious WWE hate going on when Jim Cornette can resign from the NWA for his comments, but he still finishes tied for 10th on this list.
In a strange coincidence, Jim Ross, Mauro Ranallo, and even Jim Cornette were also voted into the Top 10 for best announcer.  Here is that list as well:
BEST TELEVISION ANNOUNCER
1. KEVIN KELLY 654
2. Excalibur 146
3. Tony Schiavone 131
4. Mauro Ranallo 105
5. Nigel McGuinness 66
6. Jim Cornette 45
7. Jim Ross 15
Hugo Savinovich 15
9. Don Callis 13
Chris Charlton 13
The Wrestling Observer Newsletter readers certainly like there New Japan Wrestling mixed in with AEW.  Let us know your thoughts about these lists on Twitter.