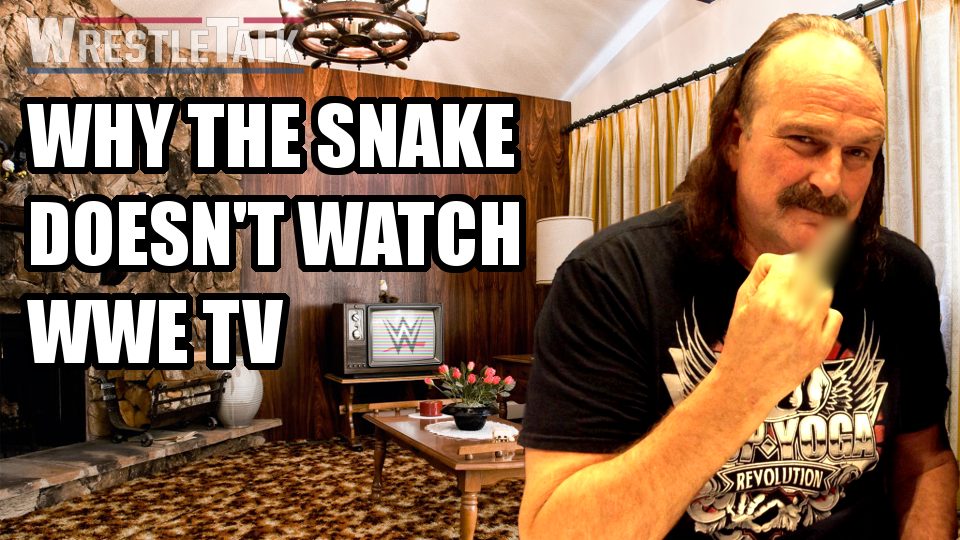 WWE legends being outspokenly critical of the current state of wrestling is by no means a new phenomenon. From the late Bruno Sammartino's blunt rejection of the steroid-fuelled state of 1980s wrestling, to the Jim Cornettes of the world who harshly despise today's industry for not protecting kayfabe, you'll be hard pressed to find a retired superstar who doesn't revel in the superiority of their heyday.
But, in the case of Jake Roberts, the reason he doesn't watch the current WWE product is a little bit different.
In a recent interview with Harry Kettle at WrestleZone, Jake Roberts admitted that he isn't an avid viewer of modern wrestling. For Roberts, it isn't necessarily the direction of the product that turns him off, but rather it is his longing for being in the ring that keeps him away.
"I could say, well, I don't like what they're doing, that's the easy way out, but the bottom line is I don't like watching it because I miss it so much. I know that I watch and I think I'd have done this and I'd have done that, and the next thing I know I'm talking myself into getting back into the ring one more time and I can't do that. My body will not take that. It's like, do you really wanna enjoy your grandkids, or do you wanna sit in a corner and drool. I don't watch it because it hurts."
For the WWE Hall of Famer, modern wrestling isn't the only thing Roberts finds hard to watch. After his most prominent feud in recent history with alcoholism and drug addiction, Roberts struggle with sobriety and journey back to the WWE was chronicled in the candidly dramatic Resurrection of Jake The Snake documentary.
Jake Roberts finds revisiting the acclaimed film just as difficult as watching today's wrestling:
"It's tough, man, it's tough. Because that's who I was. It's not candy-coated, it's not about making money, I didn't make any money off of that film – not one cent. I did it so that I could help others. That's the reason. We do everything for different reasons, and I did it so that hopefully someone won't make the same mistakes that I did."
Though his reasons for staying away from wrestling may differ from many of his WWE Hall of Fame peers, Roberts still can't help but criticize today's young talent with his biggest piece of brutally honest advice:
"I think the one thing I tell them is shut up and get in the car, you don't know a damn thing about what you're doing. They waste so much, they expose so much, you can't build something if you don't believe in something. They don't believe in anything that they do. They're like pinballs out there, they bounce around the ring, there's no pain, there's no sacrifice or loss, and at some point they ring the bell. The most vicious hold in wrestling today is the schoolboy – are you serious? Everything else means completely nothing, including the DDT. I want you guys to keep doing the DDT, because it just tells the world that Jake Roberts is that much better than you! That's right."
While Jake Roberts' in-ring days in the wrestling industry are over, he has found a new sense of purpose in his mission to help others who have shared similar battles in the lifelong grips of addiction. The ability to assist others has admittedly achieved highs for Roberts that no substance has ever compared to:
"That's the reason I still go out and do my comedy shows man, because I go out and encourage people to come and see me after the show if they are struggling and want help. I receive letters and emails all the time from people that have been there, and people that have come out the other side because of me, and because they thought well dammit if Jake can do it I can do it to. Let's do it together. I've done all the drugs you can do, but the best high I've ever received is the one where I'm helping somebody else. That's the greatest feeling in the worldwhen you can raise somebody up and rescue them from the fire. You're facing death here."
Related Content
Do WWE legends like Jake Roberts have a valid point in their criticism of modern day wrestling? Or are they simply out of touch? Let us know your opinion in the comments below, as well as on Twitter and Discord.