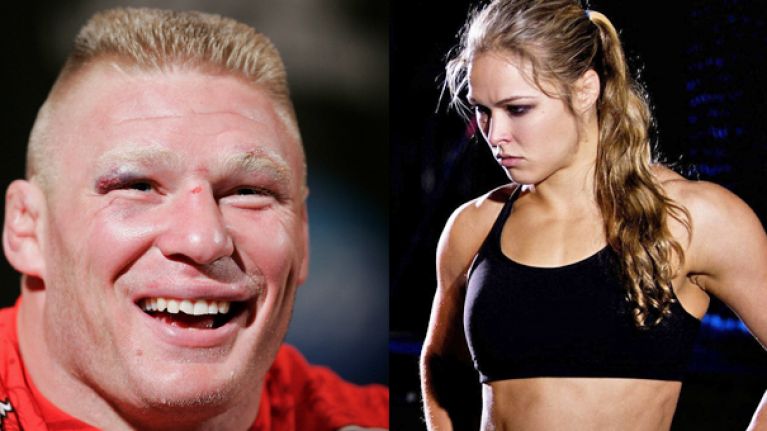 She may wear white and dance with cheering crowds but it seems Ellen DeGeneres has turned heel, if for no other reason than being the reason behind Ronda Rousey's absence from this week's Raw.
Despite promoting Rousey's appearances at every Raw leading up to her first WWE match at WrestleMania 34, the former UFC fighter was a no-show for last Monday's episode of Raw in Detroit, Michigan. While WWE.com maintains her absence was a result of medical testing, another potential reason could be the result of a conflict of scheduling with a taping of Ellen DeGeneres's The Ellen Show which films on the West Coast that she appeared on the same day.
It's unclear if Stephanie McMahon and/or Triple H would have had otherwise appeared to advance their upcoming WrestleMania match against Rousey and Raw general manager, Kurt Angle. While the women's division was not lacking in matches this week, with Jax's squash and Sasha's beatdown both advancing storylines, the road to April 8th gets shorter every week. Rousey will draw attention to the match and the PPV surrounding it but her ability to be portrayed as a people's champion and natural baby-face will require her to be there in the first place.
WWE has since removed the online article that promoted Rousey's Raw appearances. While it is almost certain Rousey will appear on Raw before WrestleMania, consider for a moment how they're booking another match for the grandest stage of them all, that of Brock Lesnar v Roman Reigns. There you have a former UFC fighter who was promoted to appear at Raw no-show, literally the very same episode that Ronda failed to appear. This story line would have the audience not showing up with having zero respect for the WWE or its fans, an aspect desperately laid out by Roman Reign's recent promos against the other UFC bruiser under Vince's employ.
Sure, some fans may have been willing to overlook the parallelism between the Riott Squad and Absolution but just how long before the unfortunate Rousey/Lesnar coincidence becomes seen as reality?