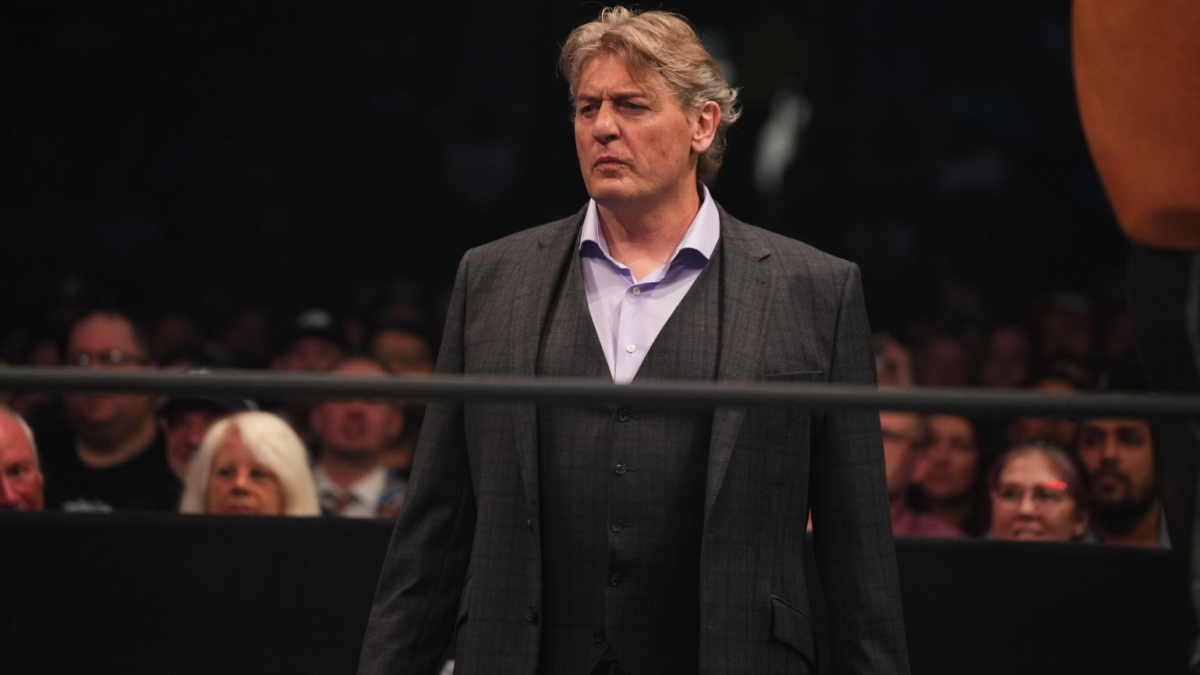 William Regal has gone through a lot of health issues in his time, and he detailed them all on his recent appearance on Talk Is Jericho.
Regal spoke about a neck injury that he had surgery on, which he suffered during a match against Ricky Steamboat in 1993, but he didn't find out about it until 20 years later.
He explained:
"He (Dr Maroon) went, 'I've only seen something as bad as this before, and that person was already in a wheelchair. I don't know how you're walking'. And I'm going, 'Nah, I was just bridging the other day, I do a three-minute bridge every day with my nose touching on the mat. That's what I keep doing'. He said, 'I don't know what I'm looking at'. I go up and have a surgery. It's supposed to be an hour. I wake up, my wife's sat by the bed, I look at the clock and it says 6 O'Clock, she went, 'You were in there four hours'. I went, 'Four hours?'. Then Dr Maroon comes in, he looks like he's ran a marathon. He starts to explain, 'If I'd have known what it was, I'd have gone straight in the back. Eventually we're gonna have to go right in the back'. He saying all these things to me and I'm going, 'What? What? What?', I'm still trying to come out of this haze, right? So, eventually, I find out. They've opened me up and they've found out why the MRI looked so bad is, you can't see it on MRI, I have got a huge big baseball-sized ball of calcified jelly stuff holding my neck together. And it's been like that, after talking, probably from that match with Steamboat (in 1993)."

If you use this transcription or any portion of it please credit WrestleTalk.com and link to this page.
Regal carried on, explaining that he once didn't sleep for eight days due to surgeries from the multiple injuries. He said:
"Whenever NXT did the show in London, we were on the NXT tour, I'd just had the surgery. But I was insistent I was going because we did Blackpool, and it was the first NXT show in Blackpool, and I just couldn't believe it, in my hometown. And I wanted to see my dad before Christmas – I'm over here and he's old and he's over there, and I need to see him, because I might not last (audibly tears up)… sorry, you're becoming my therapist here aren't you.

"So the day before we left, I'm getting my hair cut, and something happened, and I feel this pop in the scar. Again, this'll all tie in later – my heart was causing fluid to gather in my liver. My liver wasn't processing properly, which means I wasn't processing protein properly, and so the scar popped open. So I started just leaking spinal fluid out of a hole in the back of my neck. But I insisted on… I packed it and I went on tour. And when I got there, they're like, 'What are you doing?'.

"It was one of the greatest nights of my life, but also afterwards, I didn't go out or see any of my friends. I had to go back to my room, because the doctor there was twice a day having to pack this thing, because it was just leaking spinal fluid. Well it got to a point where they just said, 'It's too much'.

"We're going to do a TakeOver in London, which I'm really excited about, but this is bad. Dr Maroon again on the phone, I was in Nottingham with NXT. He went, 'Right, I'm gonna tell you this, and there's two things that can happen to you'. I'm trying to think of the name of it, the name slips me now but it's some really serious thing, because if an infection gets in your spinal column, you're done. I don't know why I can't think of the name of it, but you're done. It's wheelchair for you, this is it.

"I did the Blackpool thing, I never got to see my dad, which was bothering me for the whole time. I had to fly back to Pittsburgh, next day they took me to Manchester, flew me back to Atlanta, never went home, straight to Pittsburgh, and I had to sit for eight days… when you have an open wound, they can't re-stitch it up. It has to heal. And with this spinal fluid leaking, the only thing they could do for me, I had to sit upright for eight… they put a spinal tap in the bottom of my back, and for eight straight days, I had to sit there up straight, couldn't lie down, so I never slept for eight days. And every two hours, 24 hours a day, they were coming in, and they would release the excess spinal fluid.

"What your spinal fluid does, is stop any nerves touching your spinal column. So, he said, 'You're gonna be on some kind of pretty bad pain, but there's nothing we can give you for it, because we don't know what's gonna happen'. So I sat there upright for eight days with a drip in my arm and this spinal thing coming out, and them every two hours for eight straight days, opening this thing, this tap, and for 30 minutes while this fluid drained off, me screaming because it felt like my toes were getting chopped off, my knees were getting chopped off, my head was getting chopped in half. Every nerve in my body was getting rattled and it was just like being stabbed constantly. It was serious stuff, it was real serious stuff.

"I went home at Christmas – this was right before Christmas – I went home at Christmas still with a thing coming out, with two bulbs still collecting the fluid. So I got home like 20-something of December, 'Look I've gotta go home for Christmas', 'No you should stay here', 'No. I'm going home. Again, I don't know if I'm gonna make this or not. You've told me that this is whatever it is I could get here – I'm going home'."

If you use this transcription or any portion of it please credit WrestleTalk.com and link to this page.
Regal also detailed the time when he was told that he only had 24 hours to live.
With Regal claiming he's now feeling better than he has in years, and him thriving in his early days in AEW, here are seven potential prodigies for his new alliance.
To make sure you stay updated with all the latest wrestling news, add WrestleTalk.com to your Google Discover feed and follow us on Twitter!