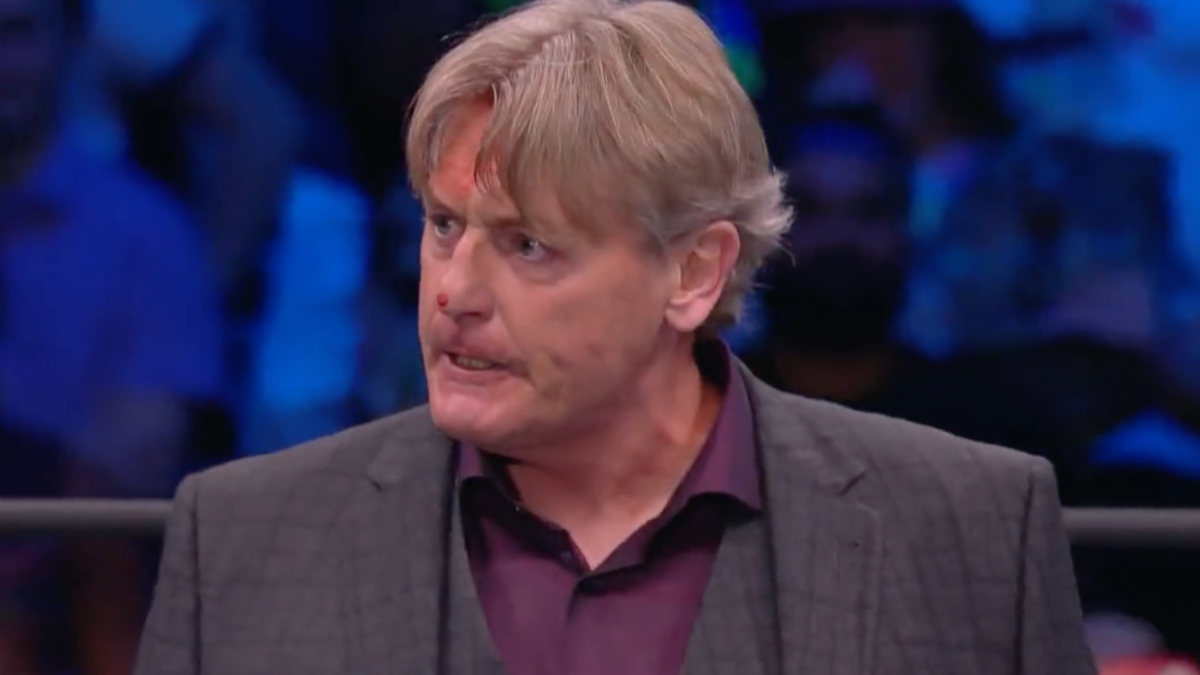 William Regal has given his recount of losing 40% vision in his left eye after falling down an escalator in Costa Rica.
In an eye-opening interview on Talk Is Jericho podcast, William Regal talked about his time in NXT, favorite feuds and a number of health issues, including an accident in Costa Rica that led to a crazy three weeks after.
Regal revealed:

"So 2018, go to Costa Rica. I got off the plane, this is March, beginning of March. Ryan Katz is waiting for me, he'd come on a different plane, I'd come straight from Atlanta, four-hour flight. I come off the plane, I'm feeling a bit dizzy, but not bad. And just so anybody knows – no drinking, no anything before anybody might think… this is all things with my heart.

"As soon as you come off the plane, it's like a rush of people trying to get down one escalator, you know how people start pushing. I've got my carry-on bag and it's on wheels, and this is what I think happened. I just remember being at the top of the escalator, this is 1 O'Clock in the afternoon. I'm going to watch a South American wrestling tournament for three days or something, because we might be might be going… (might need to find talent).


"I get off the plane, feel a bit light, not quite right, I go with the bag, it catches – all I can remember is it felt like something caught, the wheel, caught the actual banister thing, the rubber thing, and next thing I feel 'smash', and that's all I can remember.

"I fell forward, I fell down the escalator. Luckily, I hit the rubber rail, it completely shattered my left eye socket. Knocked me out. Luckily, Ryan Katz heard the commotion and come and found me. I had three weeks of amnesia after that, I have no idea what happened. I was in hospital for a week in Costa Rica, and I'd shattered my eye socket, had three weeks amnesia, I lost 40% vision in my left eye which I still haven't got. Everything's grey – I can see but it's all grey."

If you use this transcription or any portion of it please credit WrestleTalk.com and link to this page.


Regal continued on to describe how it was to recover and having no recollection of the three weeks that followed, saying:

"So, head injury. Finally they got me back home, I was doing some pretty mental things from what my… unfortunately my wife had to go through. No clue what I was doing. I have no recollection of the next three weeks. But doing some really mental things. We haven't got time for that because that three weeks in itself is a full show of insanity. Again, me nearly bleeding to death at one point, losing two pints of blood.

"I go down this thing, I get back home, three weeks of madness at the house, but then I come out and I have to go to all… again, WWE – it's weird because I'm here (in AEW) now, but – WWE got me into, because it was a brain injury, the Shepherd Center in Atlanta, which is, there's three top places in the world, and the Shepherd Center's one of them for brain injuries. That's the one in America. Poor people have got to wait years to get in there, they (WWE) got me in there, and I felt bad about it. Because there was people in there that needed it, and I didn't feel like I did, but I was in there."

If you use this transcription or any portion of it please credit WrestleTalk.com and link to this page.

As previously mentioned, William Regal also admitted to once being given "24 hours to live" during this same interview.
To make sure you stay updated with all the latest wrestling news, add WrestleTalk.com to your Google Discover feed and follow us on Twitter!