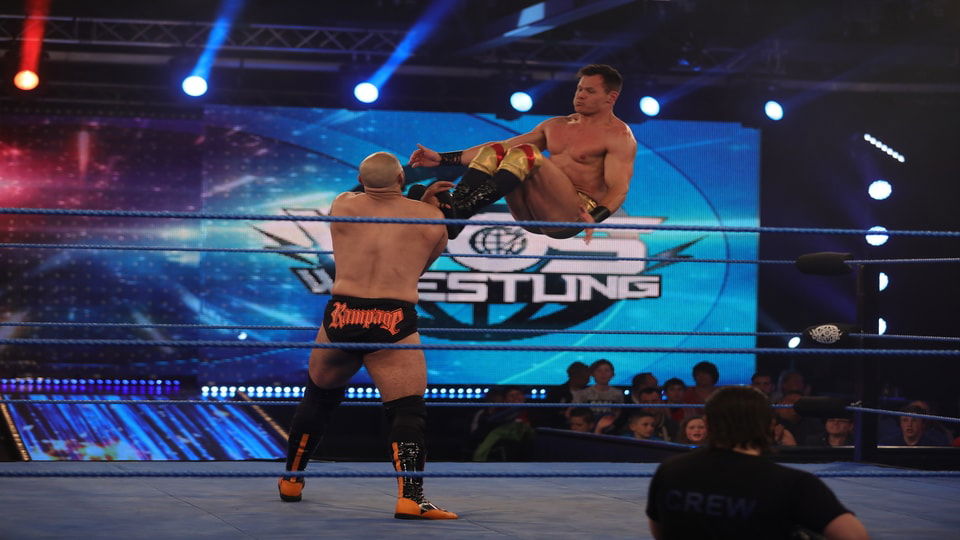 Wow.
What a match. What a series. That was British wrestling at its finest.
After 10 weeks of incredible entertainment, the first series of WOS Wrestling has come to a close, and Justin Sysum and Rampage have left fans with a match that will live long in the memory.
After doing something that many deemed impossible in slamming and defeating Crater, Sysum earned a shot at Rampage's WOS Wrestling Championship. But would be he able to overcome the odds and win the belt that has so far evaded his grasp?
One of Rampage's strengths this series has been the numbers game. His henchmen, Sha Samuels and CJ Banks have flaked the ring in all his victories, and have more often than not helped Rampage continually retain the belt.
And for a while, it looked like Sysum may be the latest man to fall victim. But grit and determination prevailed, and the referee made the call to evict both Samuels and Banks from ringside, making the match one on one as it should be.
What followed was a battle of power vs power. Sysum's athleticism looked to be giving him the upper hand, but Rampage wasn't the champion for no reason, and his sheer brutality gave him the advantage.
Sysum looked to have ruined his chances when Rampage ducked a clothesline from hell, and Justin inadvertently hit the referee. This was the cue for Sha Samuels to run down and attack Sysum, and Rampage grabbed his belt and looked to be preparing to use it as a weapon.
WOS Executive Stu Bennett had said before the match that there had to be a winner, and therefore called for another official to come to the ring. The official wrestle the belt from Rampage, who was then thrown into exposed turnbuckle, hit with the discuss lariat, then the 450 splash and…1…2…3.
Biggest moment of my career. Thank you everyone for your support!!!#Champion #WOSWrestling #superhuman

— Justin Sysum (@JustinSysum) September 29, 2018

Justin Sysum is your new WOS Wrestling Champion.
If this isn't proof that British wrestling is the home of some of the most talented superstars in the world, then I don't know what is.
Elsewhere on the show, the unlikely surprise pairing of Grado and Davey Boy Smith Jr shocked the crowd to defeat Kip Sabian and Iestyn Rees and win the WOS Wrestling tag titles. This was a real feel good moment to end the series, and I think it's safe to say that anyone who has seen this series will be dying to find out what happens next.