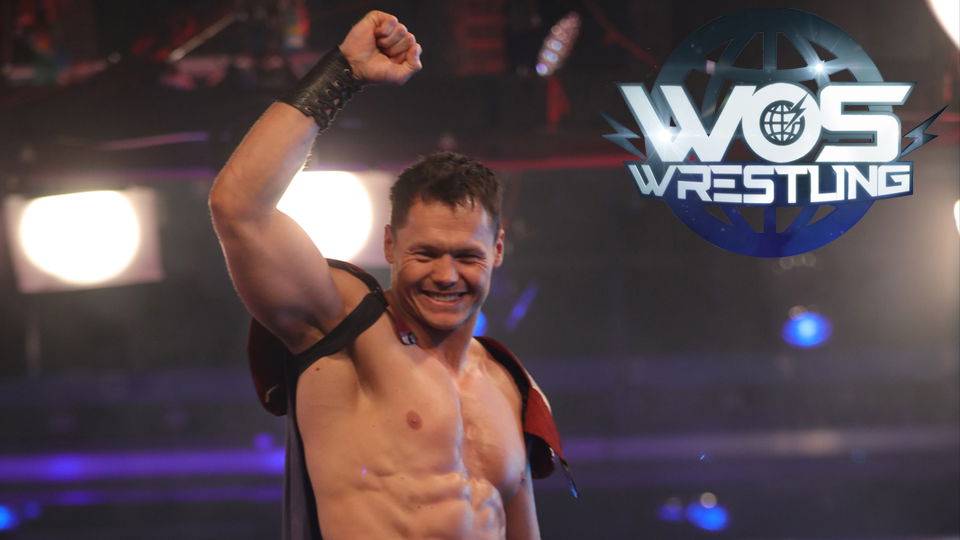 Get ready for the match of the series when WOS Wrestling reaches its exciting finale this Saturday on ITV.
The show is headlined by a long-awaited showdown for the WOS Championship. Hated champion Rampage puts his title on the line against 'Buzzer Battle' winner 'Superhuman' Justin Sysum and the challenger says it's a clash not to be missed.
Sysum said the bout will be a "pay-per-view quality match on Saturday afternoon TV" after weeks of televised build-up to his hard-earned title shot.
A long road
The 33-year-old powerhouse from Gloucester had to battle through 15 opponents to win the first ever Buzzer Battle screened on last week's episode – the victory gaining him his big opportunity this Saturday.
The Buzzer Battle – a unique combination of a multi-person elimination tag team match and Battle Royal – ended with Sysum delivering a body slam to the 36 stone masked man Crater before he dispatched 'The Monster' over the top rope to win.
Victory guaranteed him a shot at hard man Rampage, who won the WOS Championship off crowd favourite Grado in Week 1 of the programme which has thrilled TV audiences since its debut in July.
The Yorkshire bruiser has since made successful televised title defences against Joe Hendry and British Bulldog Jnr, the son of the late great former WWE superstar 'The British Bulldog' Davey Boy Smith.
But Rampage has been assisted along the way by his cohorts Sha Samuels and CJ Banks. The duo helped the champion defeat Sysum in their first one-on-one championship encounter in Week 3.
'Another level'
Since then the caped hero has fought the odds to get himself a rematch with the villainous champ. He says their climactic encounter will put an exclamation mark on the series – which has marked British wrestling's return to ITV for the first time in 30 years.
"You're going to see us go to another level and put on a pay-per-view style match on Saturday afternoon TV for the whole country to see," said Sysum.

"The thing about Rampage is, we all know he doesn't need CJ and Sha. He's the best wrestler in the country but he's got them there as a safety net. He's not yet got to the point where he's been pushed to his limit because before that happens, CJ and Sha get involved. We know he's got that extra gear but so do I."
Sysum said it's been a "privilege" to be such a major part of the historic TV show.
"Considering how much talent there is in the UK at the moment, to be in the position I've been given is a real honour.

"Being a role model for all the kids watching is something I don't take very lightly.

"They say in wrestling that you should be yourself but with the volume turned up. That's what I do. I really am the kind of guy who would come out and defend somebody who was being beaten up."
'A bit special'
Sysum was unable to take part in the WOS Wrestling pilot episode, screened on ITV on New Year's Eve 2016. He says that setback will fuel him for Saturday's big fight with Rampage.
"I missed the opportunity to be on the New Year's Eve 2016 pilot show because I was touring with Marvel Universe Live! I was bitterly disappointed," said the multi-talented superstar, who played Hawkeye in the touring live superhero stunt show which played to packed arenas all over Europe.

"So to be in the main event in the last match of the series is a bit special."
Justin, who was born and still lives in Gloucester, attended the Crypt School in the city where he was a stand-out sportsman.
He then attended the University of Southampton from 2004-07, studying biology. There he played for Southampton Stags American Football team, scoring two touchdowns as they won the national university final.
Sysum also competed in the hammer at the British national athletics championships. He was trained at Gloucester Athletics Club by Commonwealth gold medallist hammer thrower Lorraine Shaw.
Justin turned his hand to pro wrestling six years ago and quickly rose up the ranks to become one of the best in Britain.
You can see Rampage vs Justin Sysum for the WOS Wrestling Championship in the stunning finale to the series this Saturday at 2.30pm on ITV.
Alpha Bad defend their belts
There will be more championship gold defended elsewhere on the broadcast as WOS Tag Team Champions Alpha Bad (Kip Sabian and Iestyn Rees) put up their titles against internationally renowned duo Grado and British Bulldog Jr.
Rees and Sabian won the championships earlier in the series by defeating Nathan Cruz and Adam Maxted in a tournament final.
The 6ft3in, 17 stone 4 lbs Rees said being part of the ITV programme has changed his life.
"I've been recognised in the street a few times, a lot of people have done double-takes.

"When you set out to be a wrestler you want to be part of a nationally televised series like WOS. It's what I've been working towards for 12-13 years since I started.

"British Bulldog Jnr's dad, 'The British Bulldog' Davey Boy Smith, was one of my favourite wrestlers as a kid. But Kip and I work very well together as a team. I've every confidence we'll be coming out of the TV show as the WOS Tag Team Champions."
The stars of WOS will be taking part in a UK tour next year:
18/1 – Southampton Guildhall
19/1 – Newport Centre
20/1 – Bournemouth BIC Solent Hall
25/1 – Victoria Hall Stoke-on-Trent
26/1 – Blackpool Tower Ballroom
27/1 – BHGE Arena Aberdeen
1/2 – Scarborough Spa
2/2 – Derngate Theatre Northampton
3/2 – York Hall Bethnal Green
Tickets are available from https://www.gigsandtours.com/tour/wos-wrestling/.
See www.woswrestling.co.uk , facebook.com/woswrestling and @WOSWrestling on Twitter for more.