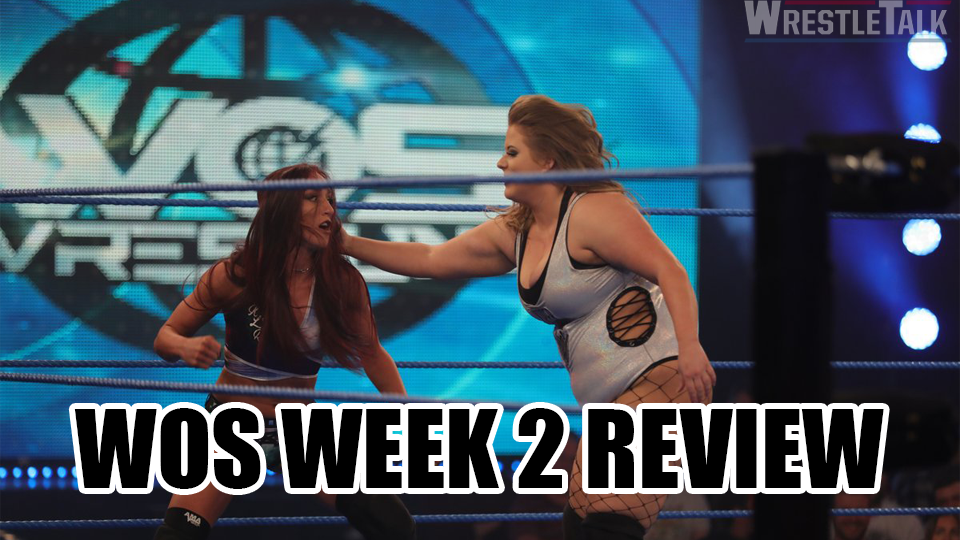 Another week gone and another incredible show from WOS Wrestling.
Powering on from the success of last week's show and shock of Grado dropping his WOS Championship to Rampage, fans were left with plenty more to cheer about after week two.
The show's promo video showed that we would be seeing the first ever WOS Women's Champion crowned in a triple threat between Viper, Kay Lee Ray and Bea Priestley in a historic moment for the promotion.
An undisclosed "huge opportunity" was also up for grabs for the winner of a four man ladder match, the winner of which would have to scale a ladder and pull down a briefcase.
British wrestling legends Doug Williams and HT Drake faced Adam Maxted and Nathan Cruz in the latest round of the tag title tournament, and Rampage would have to defend his title in a surprise match against Joe Hendry.
The show started with new champion Rampage, flanked by his cronies CJ Banks and Sha Samuels, head to the ring to gloat following the former's victory over Grado last week. But there was a man in the back who had seen enough and they were soon interrupted by (sing it with me) Joe Hendry! Hendry told Rampage to prove that he was a worthy champion, challenging him to a title match. Executive Stu Bennett confirmed the match, telling the timekeeper to ring the bell.
What followed was a battle between speed and agility and raw power. Despite several glimpses at glory, Hendry would eventually fall to the numbers game, as Banks and Samuels interfered several times. Hendry looked to have the match and title won, locking in the Hendry Lock twice, but a spike DDT out of nowhere from Rampage proved too much for the Scot and the match was over.
Despite the disappointment for Hendry, he will now go on to try and exact some revenge against Martin Kirby, the man who betrayed him in the tag tournament match last week. This could be a classic.
Next up was the ladder match, and no this isn't WWE, but the competitors; Liam Slater, Robbie X, Gabriel Kidd and Lionheart had to scale a ladder and pull down a briefcase to win.
The was an absolutely frantic match that left even the fans breathless. It was difficult to know where to look because there was always something incredible going on. The moment of the match came when Robbie X, who put in an incredible performance, scaled a ladder before hitting an incredible moonsault on Lionheart and Slater.
But it was Kidd that would pick up the victory, knocking Lionheart off a ladder to claim the briefcase and earn the mysterious opportunity. We are still unaware what this opportunity is, and will likely have to tune in next week to find out.
In the second match of the tag title tournament, it was a case of legends vs upstarts, and in what could be seen as a passing of the baton, the young and egotistical pairing of Adam Maxted and Nathan Cruz would upset the odds to defeat Doug Williams and HT Drake.
The young pair used great ring intelligence and some 'interesting' tactics to gain the upper hand, with the victory coming after Maxted hit an incredible springboard neck-breaker on Drake. The duo join Iestyn Rees and Kip Sabian in the next round of this exciting tournament.
And then it was time for the main event. And what a main event it was.
The first ever WOS women's champion was crowned, and what a moment in was for veteran Kay Lee Ray, fighting off the always dangerous Viper and Bea Priestley.
As expected due to her sheer power advantage, Viper dominated for large periods of the match, and Ray and Priestley eventually had to work together to get their opponent off her feet. This allowed for a brilliant back and forth battle between the two while Viper was out of the running. However, you can't ignore a sleeping snake, and Viper was soon back in the action. But Kay Lee Ray's heart pulled her through and she was able to pin Viper to become the first ever WOS Wrestling Women's Champion.
Another thrilling night of action on ITV, and it's safe to say that this is just a sign of what is to come for WOS Wrestling.