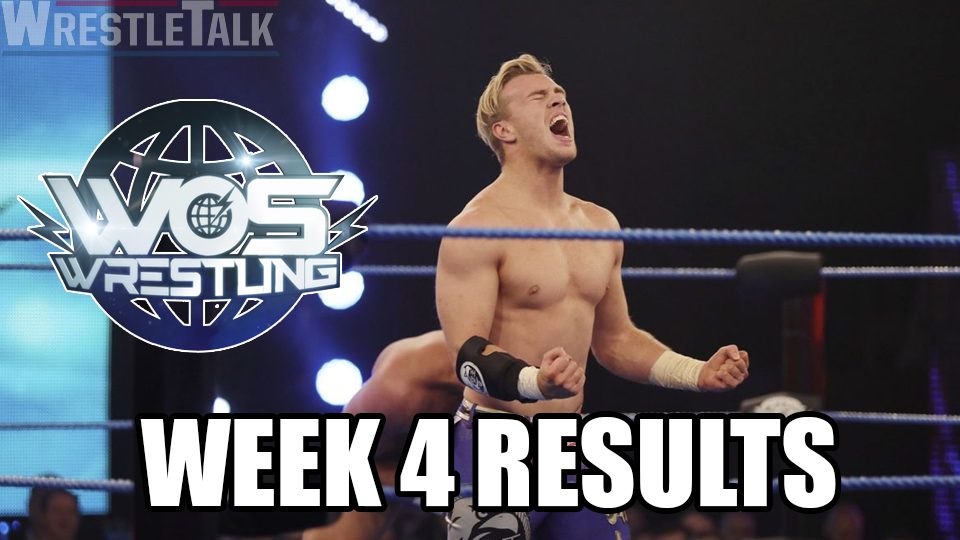 Week 4 of WOS Wrestling was an action-packed show which continued to tell stories and develop characters as we head towards the halfway point of the historic 10-part ITV British wrestling series.
This week's episode began with Kay Lee Ray's first title defence against one of the women she defeated to win the WOS Women's Championship, Bea Priestley. Just as this was warming up nicely, the bout was interrupted by Kay Lee's other rival from her title victory, Viper. The Megaton Barbie attacked both women until Ayesha arrived at ringside for her WOS debut. An all-out brawl between the four women was halted by WOS Executive Stu Bennett who announced that Kay Lee would put her Women's Title on the line next week in a battle royal.
We then went backstage where Bennett and Grado were still having issues. The former Wade Barrett ticked off The People's Champ for reverting to his cheeky chappie persona and attire after flirting with a more corporate outlook during last week's victory over Sha Samuels. Grado begged Bennett for another opportunity and was granted a chance to enter the WOS Tag Team Title Tournament…if he could find a partner.
Next up was arguably the best match of the series so far. 'The Aerial Assassin' Will Ospreay defeated Martin Kirby in a terrific fast-paced bout packed with hard strikes, high flying and innovative counters. Oli and Luke hit the nail on the head in the above edition of WrestleRamble – Ospreay is a special attraction in WOS and he's turning heads every time he appears with his supremely unique talent.
The last quarter-final of the Tag Team Title Tournament saw the unlikely duo of Crater and Robbie X team up against Grado and his partner…British Bulldog Jnr! The match ended with a Grado Cutter on Robbie X and then the lovable Scotsman and his partner – the son of the late great Davey Boy Smith – shielded the beaten Robbie X from the wrath of the 35-stone masked monster. Crater, for me, has been one of the big success stories of the show and is doing a marvellous job as the company's monster heel.
Interviewer Rachel Stringer was backstage trying to grab a word with WOS Champion Rampage, who as always was flanked by his cohorts Sha Samuels and CJ Banks. Samuels did all the talking as usual, getting right up in the camera and doing a fine job of bursting through the TV screen as a larger-than-life star.
This week's main event was supposed to be a triple threat between Joe Hendry, Adam Maxted and Justin Sysum, but the cocky Nathan Cruz told his 'Bromance' partner Adam that he should take his place so the Belfast man's handsome face was not damaged. Hendry vs Cruz vs Sysum was another strong bout, which included an impressive running, leaping outside-to-inside spear by Sysum on Cruz. It ended when 'Superhuman' Justin pinned Cruz after a spinning forearm shot.
Next week, aside from the women's battle royal, you can see both WOS Tag Team Title Tournament semi-finals and Crater in two-on-one handicap match action.
Tune in at 5pm on ITV1 on Saturday, August 25.
Related Content
Hendry And Kirby Steal The Show As WOS Rocks ITV
WOS Wrestling Returns To ITV With A Bang
WOS Wrestling Puts On Another Blockbuster On ITV

Did you enjoy this week's WOS Wrestling? What are you looking forward to next? Let us know in the comments below or on Twitter here. You can also join us on Discord to chat with Oli, Luke, the magazine team, the website writers and each other here!