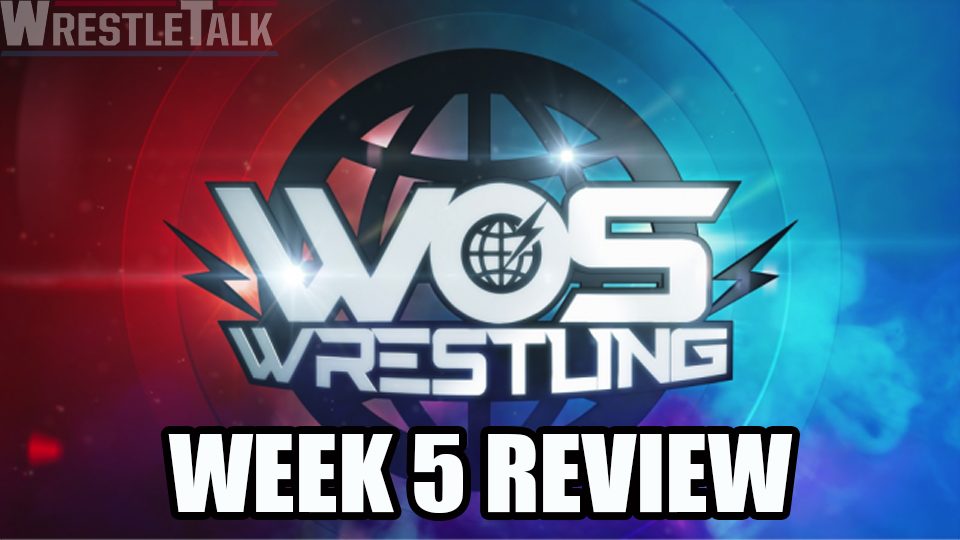 We're into Week 5 of WOS Wrestling and that means we're at the halfway point of the 10-part series. It feels like the show is improving week on week as characters become more defined and stories develop in a simple, effective and easy to understand manner. And that was certainly the case with this week's episode.
The semi-finals of the tournament to crown the first ever WOS Wrestling Tag Team Champions were up first and this meant 'Superbad' Kip Sabian and 'Alpha Male' Iestyn Rees vs Stevie Boy and BT Gunn. This was a fun and all-action tag team match between the mouthy Sabian and his powerhouse partner, and the ICW regulars from Scotland. Lots of fast-paced moves, hard strikes and double-teaming on show, ending with the Scots suffering a pinfall defeat at the hands of a Sabian flying neckbreaker-Rees power bomb double-team finisher. AlphaBad advances!
WOS Exclusive backstage report with @RachStringer and our tag team finalists @Iestyn_Rees and @TheKipSabian pic.twitter.com/hfnFxzAGli

— WOS Wrestling (@WOSWrestling) August 27, 2018
One of the big success stories of the WOS show so far has been the masked monster Crater. The commentary team of Alex Shane, So Cal Val and Stu Bennett, the presentation and the booking all put the behemoth over as an absolute beast and the man formerly known as Cyanide plays the menacing role to perfection. This week was no exception. His three-way match with underdogs Gabriel Kidd (his ribs taped from Crater's assault two weeks ago) and Liam Slater was booked perfectly as the big man waited menacingly outside the ring, watching his prey, for the first few minutes as Kidd and Slater went at it in energetic if wary style. Then when Crater interjected himself, Slater and Kidd teamed up in an effort to survive and almost toppled the monster. But in the end, Crater was too strong and he ended a destruction job (which included an impressive-looking double choke slam) by splashing both opponents for the three count. Who can stop the big man's reign of terror in WOS?
The second semi-final in the tag team tournament saw something of an upset. The Bromance defeated Grado and British Bulldog Jnr when Grado tapped out to a Nathan Cruz figure four leglock. This wasn't the only story though as there appeared to be issues between Cruz and his partner Adam Maxted. The Belfast man seemed unhappy with The Showstealer's eagerness to take advantage of Grado's knee injury as he was reluctant to follow Nathan's orders during the match after the Clown Prince of British Wrestling hurt himself mid-way through. After his team had won, Maxted showed concern for the fallen Grado and Cruz seemed apologetic (although no doubt disingenuously) for his actions. Trouble in Bromance paradise! The issues between Cruz and Maxted will add an interesting aspect to the upcoming heel vs heel tag team title tournament final against AlphaBad.
https://www.youtube.com/watch?v=T-A-FU3bBaE
The show closed with a Women's Battle Royal starring WOS Women's Champion Kay Lee Ray, and challengers Viper, Ayesha, Bea Priestley and the debuting Kasey Owens. Kay Lee retained the title lastly eliminating Viper to a hugely positive reaction from the TV studio audience.
Next week episode 6 will feature the tag team tournament final, WOS Champion Rampage vs British Bulldog Jnr, and Joe Hendry vs Martin Kirby in a submission match!
Related Content
WOS Wrestling Week 4: Will Ospreay vs Kirby shines and Grado finds a partner
Hendry And Kirby Steal The Show As WOS Rocks ITV
WOS Wrestling Puts On Another Blockbuster On ITV
What did you think of WOS Wrestling Episode 5? Let us know! You can contact us on Twitter and Discord today.