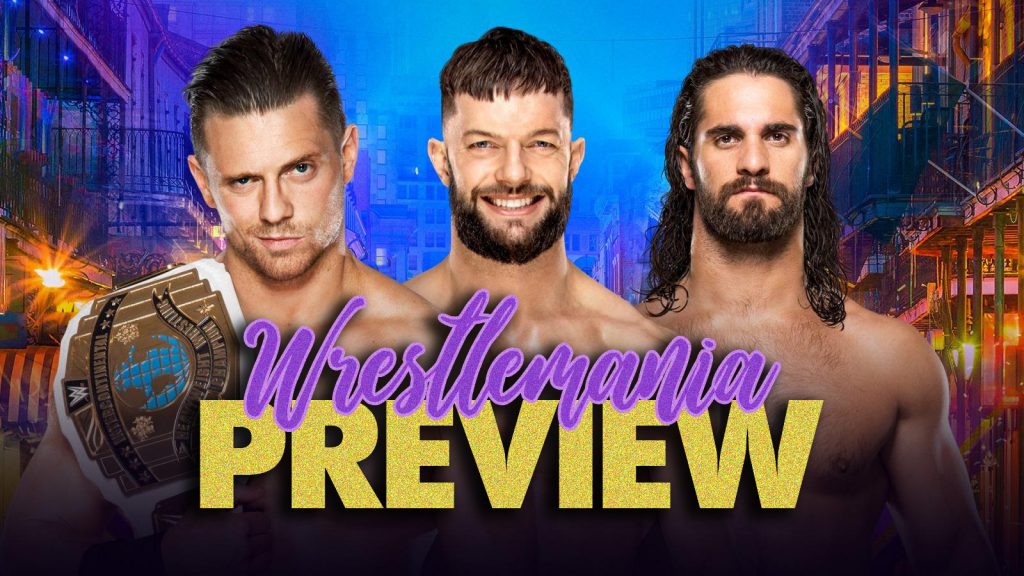 The WWE Intercontinental Championship stands as one of the promotion's most prestigious titles, perhaps behind only the WWE Championship itself.
Since it's creation in September 1979, the title has been held by a plethora of WWE wrestling legends: starting with the title's first champion WWE Hall Of Famer Pat Patterson, the longest reigning title-holder Don Muraco, to legends like Mr. Perfect, Roddy Piper, Bret Hart, Shawn Michaels, The Rock, Chris Benoit, Ric Flair, Edge, Chris Jericho, Daniel Bryan and the list goes on.
Today, it continues to be a major benchmark for a wrestler's career and a championship with a heritage and stature by which WWE's superstars can use to transcend into an iconic status within the squared-circle, cementing themselves forever in the history books among some of the biggest names in wrestling.
Tonight, the world will see the latest chapter of the title's illustrious history unfold, as the Mercedez-Benz Superdome in New Orleans again hosts the 'Grandest Stage of Them All' WrestleMania 34. In what some are strongly suggesting is a potential show-stealing match up, the current defending WWE Intercontinental Champion The Miz is set to square off against both Seth Rollins and Finn Bálor in a triple threat match. The sheer thought of these three finally facing off with the title on the line literally makes your hairs stand on end.
The rivalry between the three combatants has been building ever-increasingly along the road to WrestleMania, with multifaceted and intertwining journeys on all fronts, all culminating in this match at New Orleans. Who will come out on top?
https://www.youtube.com/watch?v=1vYTHArVb7s
WWE Intercontinental Champion The Miz, arguably one of the greatest heels of the modern era, boasts one of the most consistent championship records of anyone on the current WWE roster, for he is seldom seen without a title in his hands. A WrestleMania veteran, he's headlined the event once before, defeating John Cena in a WWE Championship match at WrestleMania XXVII.
He's a two-time WWE United States Championship holder, a six-time WWE Tag Team Champion and currently an eight-time WWE Intercontinental Champion. Impressive as that resume may be, many of The Miz's victories have come courtesy of a little assistance from his wife Maryse (pre-pregnancy) or more recently, via interference from the Miztourage (Bo Dallas and Curtis Axel).
That is why this triple threat match is exactly the kind of situation where the Miz can thrive: with no disqualifications or count-outs, he's expected to take full advantage and use every trick in the book to keep hold of his title at WrestleMania. As has been noted in the past with triple threat matches, however, it could all go pear-shaped as he doesn't even have to be the one pinned to lose, meaning he potentially has no control over his fate as champion whatsoever, which to him is FAR from "awesome."
Seth. Freakin'. Rollins. No stranger to the spotlight, the 'Architect' has amassed an impressive number of titles during his run in the WWE, establishing himself as one of the most gifted athletes of the modern era. A former NXT Champion, WWE United States Champion, two-time WWE Champion and three-time WWE Tag Team Champion, Rollins is looking to leave New Orleans this Sunday with the missing piece of the puzzle that will earn him 'Grand-Slam' status.
Despite achieving somewhat of a renaissance over this past couple of months, Rollins endured many highs and lows on his path to WrestleMania: the reformation of the Shield came to a halt courtesy of Dean Ambrose' tricep injury, so too did his frustrating yet successful Raw Tag Team Championship run with Jason Jordan following the latter's neck injury.
He has rediscovered incredible form as a singles competitor as of late, however, and truly earned the new moniker of 'Monday Night Rollins.' He had one HELL of a showing in the Raw gauntlet match on the 'go-home' episode leading up to February's Elimination Chamber, defeating both Roman Reigns AND John Cena before losing to Elias after lasting over an hour in the match – setting a record in the process. Rollins will be looking to continue his fine form going into WrestleMania and will be looking to walk out of New Orleans as the new WWE Intercontinental Champion
https://www.youtube.com/watch?v=tBkgLvwKxZ4
They say three's a crowd, but in this case, that's certainly not true, because the third person in question is Finn Bálor. Despite not being on the WWE roster for as long as his opponents, Bálor is not the odd man out when it comes to talent. Not only is he the longest reigning NXT Champion, but he was also crowned as the first ever WWE Universal Champion in 2016, beating – who else – Seth Rollins to make history. The heated rivalry between the two leaves the prospect of them again competing for gold – although this time on the 'Grandest Stage of Them All' – nothing short of mouth-watering. Furthermore, given their in-ring chemistry, adding the Miz to the mix only makes things even more interesting and that's why this match has the potential to steal WrestleMania!
Dismissed by many, Bálor has steadily and defiantly grown in stature among the WWE Universe; couple that with the rising popularity of Bálor Club, an incredible impromptu TLC 2017 match against current WWE Champion AJ Styles and an impressive iron-man performance at this year's Royal Rumble, Finn Bálor has become a serious contender and undeniable fan favorite.
In an ideal world, it would be good to see Bálor have his WrestleMania moment with the Miz being able to take advantage of his rematch clause and potentially equal Chris Jericho as a record nine-time WWE Intercontinental Champion down the line. Bálor could use the momentum to finally get his long-awaited chance to reclaim the WWE Universal Championship he never truly lost, having had to relinquish it through injury. Also, Rollins could indeed get his 'Grand-Slam' status and could use the victory to propel himself into a potential feud with the WWE Universal Champion, whoever that may be on Monday (it'll be Roman).
With so many possible outcomes for this match, it'll no doubt be one of the standout contests showcased this coming Sunday and one that will go down in WrestleMania history.
Prediction: Finn Bálor
What do you think about this match? Who's leaving New Orleans with the 'WWE Workhorse Championship'? Let us know in the comments below or on Twitter here.