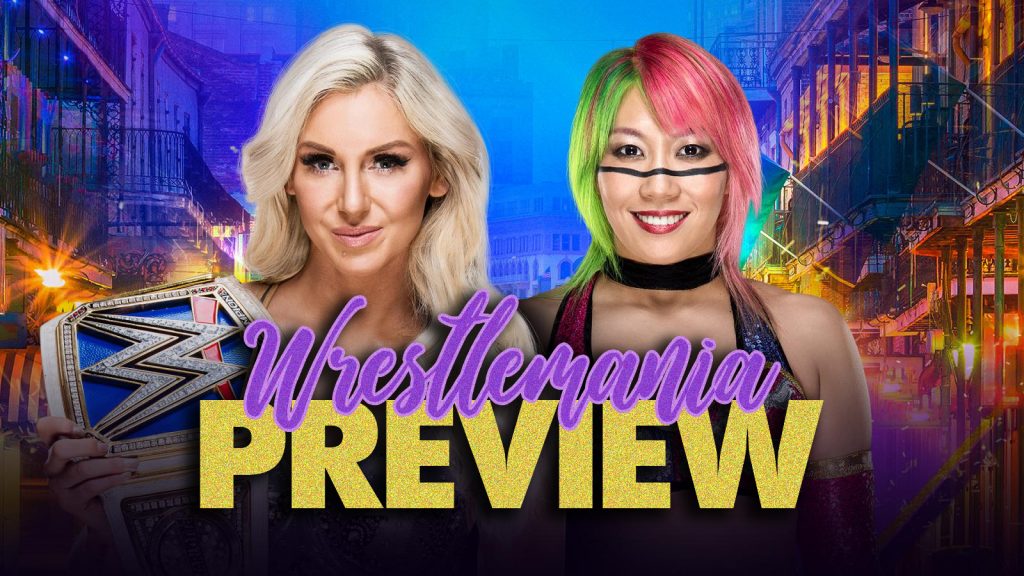 It's about time the Women's division had a chance of stealing the show at Wrestlemania. The women's revolution has certainly done a lot for the division, but unfortunately, they haven't had any show-stealing matches at a Wrestlemania yet.
It took a while for us to get the official word on whether this dream match would go ahead, following Asuka's victory at the first-ever women's Royal Rumble back in January, but many had suspected that we would see Asuka vs. Charlotte at this year's WrestleMania – 'The Streak vs. The Genetically Superior Athlete.'
Much like the way WWE has handled a lot of this year's match setups for Wrestlemania, the build has been strange for this one. Asuka has been built on both Raw and SmackDown Live as being completely unbeatable. In fact, since Asuka joined WWE in 2015 she hasn't lost a match (except that battle royal in NXT but that doesn't count).
Both of the Royal Rumble builds this year started quite late, with Asuka not officially challenging Charlotte until three weeks ago at the Fastlane event on the WWE Network. This hasn't given them much time to craft this feud, however, the match didn't really need much build. Many had predicted this as a WrestleMania match back before the Women's Rumble had even been announced, so it comes as a very little surprise to be where we have found ourselves… but can Asuka dethrone the 'Queen'?
The short answer is yes, especially if we are talking about a clean win, the most likely option is for Asuka to get the victory. She has been built for over two years as completely unbeatable, therefore if she lost this match it wouldn't necessarily destroy her momentum but I certainly can't see a clean loss in her near future. A win by submission is plausible, they'll definitely play a game of trading submissions at some point, but a pin victory is the cleanest way to maintain everyone's momentum as we leave Wrestlemania.
Honestly, it's hard to bet against Asuka in this match because of the strength of her winning streak. It isn't impossible, however, Charlotte is a Flair after all and Vince McMahon does love to ruin storylines as and when he can, especially when they're not his.
Asuka is definitely Charlotte's most formidable opponent to date, but Charlotte has a lot of momentum so we can't discount her. There is definitely a chance that she'll walk out of the 'Show of Shows' with her WWE SmackDown Women's championship reign intact.
If Asuka was going to lose her streak, the best place to lose it would be at Wrestlemania. Charlotte has gone into this match as strong as possible. A clean win from Charlotte would be a surprise, but a heel turn or interruption isn't completely out of the question… I'm looking at you, Carmella.
'Ms. Money in the Bank' is the wildcard in this situation and could enter the match towards the end and cash-in her money in the bank briefcase, making it a triple threat. If she then managed to somehow get the pin over Charlotte and take the title, the heat would be nuclear.
If this happens – and that's a big if – it keeps the belt out of Asuka's hands, because honestly, she doesn't need it. It also keeps the streak alive, when worded that "she has never been pinned or submitted."
For Charlotte, it gives her something to push for after Wrestlemania, potentially getting her belt back at the next pay-per-view. Finally, we could get a rematch between Charlotte and Asuka at Summerslam to determine the true winner.
In the short term, Carmella could do more with the title than Charlotte or Asuka. On either of them, the belt would become stale and pointless. If Asuka wins, no one is going to believe she can lose at any pay-per-view until next years Wrestlemania. If Charlotte wins then she has beaten the undefeated streak of Asuka, meaning that she takes on some of the prestige of Auska's streak – can she really lose to anyone soon after that?
The title on Carmella puts it back into contention for others moving forward and leaves the potential for Asuka and Charlotte to battle it out towards a later payoff which isn't focused on the title. Most of all, it has been teased over the last few weeks that she intends to cash in the title as soon as she can, so perhaps it isn't the craziest idea.
Prediction: Carmella (but really Asuka because seriously Asuka is winning)
What do you think of this match? Will we see a cash-in on Sunday? Let us know in the comments below or on Twitter here.