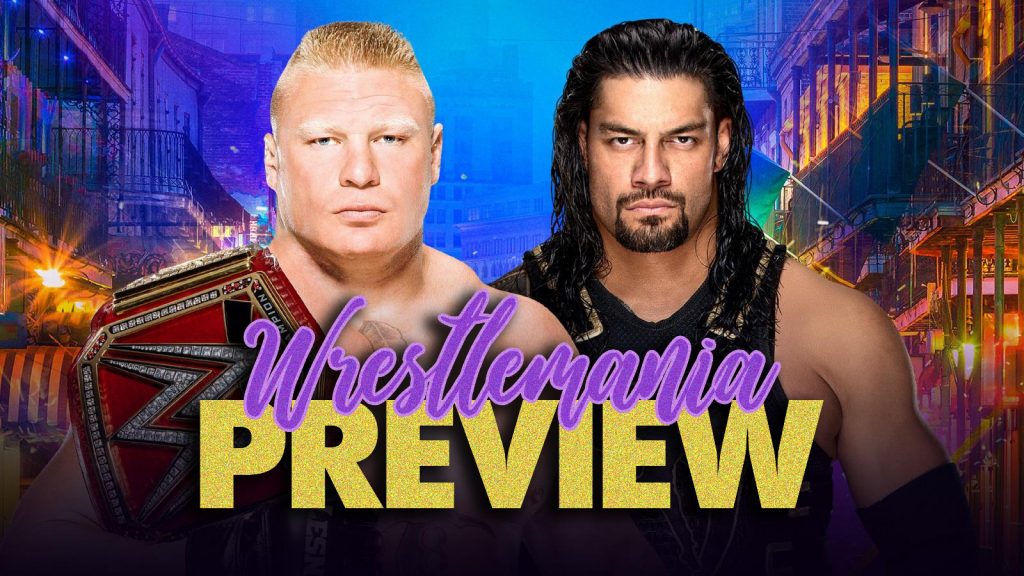 It's been a match in the making for over three years; the WWE Universal Championship is on the line in the main event of WrestleMania 34, and boy oh boy, it's been one hell of a ride to get here.
Let's cast our minds back to March 19, 2015, WrestleMania 31. Brock Lesnar vs. Roman Reigns, for the WWE Championship. In January that year, Roman Reigns had won the Royal Rumble, much to the behest of pretty much everybody who cared about wrestling, and earned his championship opportunity at the 'Show of Shows'. We all thought that was Reigns' time. It was Roman Reigns' time to slay the beast and become the new face of the WWE.
What we got, however, was much, much better.
"Maybe they aren't pulling the trigger on Reigns after all," we thought, maybe more in hope than expectation. Well, here we are three years later, and absolutely nothing has changed.
Brock Lesnar is still the 'Beast', the 'Conqueror', the "Reigning, Defending, Undisputed, Universal Heavyweight Champion". Roman Reigns is still the man that Vince McMahon himself has been grooming to take the "figurehead" mantle that John Cena will soon be leaving behind. And we, the fans, still aren't on board with the idea.
Lesnar has been the WWE Universal Champion since WrestleMania 33, where he beat then-champion and 2018 Hall of Famer, Goldberg. During that time Lesnar has made only four defenses (excluding WWE Live events), and for a lot of fans, that's a huge issue. Over his 12-month reign, Lesnar has fended off the likes of Samoa Joe and Braun Strowman in singles competition at Great Balls of Fire (July) and No Mercy (September) respectively last year. He also defended his strap at Summerslam 2017 (August) in a fatal four way against Joe, Strowman, and Reigns himself.
His most recent defense came at Royal Rumble in January 2018, where he picked up the victory against Kane and Strowman in a triple threat match to head in to 'Mania the defending Universal Champion.
There is an argument to be made though, that because of his sparing appearances, when Lesnar does turn up, it feels like a massive deal and adds a lot of prestige to the occasion. However, for a lot of fans, the WWE Universal Champion should be someone who works their butt off and puts their body on the line day in and day out, for our entertainment.
Step up Roman Reigns. Or not.
I don't think we have a problem with the man himself, just how he's been presented as if he's the hero we all need. He's this all-conquering juggernaut who destroys anyone who gets in his way. Hell, his signature move is called the 'Superman Punch'. It's not even a secret that they're trying to portray him as an immortal warrior who has been sent from God himself to save us all from the evil forces on this earth.
Roman's road to his crowning moment has been, shall we say, a bumpy ride. He won the Royal Rumble in 2015, a huge misjudgment from the powers that be. Even The Rock, THE ROCK HIMSELF, couldn't change our minds that we hated this guy.
And then there was last year. Roman Reigns defeated the Undertaker at WrestleMania 33. A feat that, while it was huge because it ostensibly signified the retirement of the 'Deadman', would have meant so much more if a certain somebody hadn't already done it three years prior; a seemingly inadvertent but beautiful piece of storytelling.
These two men have absolutely dominated WWE for the last four years and it looks as if it's all going to culminate at the 'Showcase of the Immortals'. The result seems an obvious one. Vince McMahon has spent the last four years building Roman Reigns to the point where he is "the one". Lesnar's contract ends very shortly after his WrestleMania 34 match, and by the looks of it, he's back off to UFC.
https://www.instagram.com/p/BfpAfwjnc-u/?taken-by=danawhite
While Lesnar was taking pictures with the president of UFC, Dana White, Roman Reigns was winning the 2018 men's Elimination Chamber to earn a shot at the 'Beast's crown.
A fantastic promo from Roman Reigns, something that he has sorely been missing, laid a brilliant foundation to tell a story of how he will embrace the top prize in sports entertainment, while defending it regularly, being a fighting champion and not a part-timer who lets the fame get to his head and carries himself with a sense of entitlement.
More recently though, in my view at least, the story has been a bit lazy. We're meant to feel sorry for Roman Reigns because Brock Lesnar keeps beating him up with chairs. Trying to turn the 'Big Dog' into an underdog has not, and will not work. Roman Reigns is not Daniel Bryan, no matter how much they try to convince us. You can't have someone commit attempted murder via an ambulance, then try and make us feel sorry for him when Brock Lesnar gently drops him on some stairs.
Given the circumstances, the general understanding is that this is one of the most predictable matches we've ever seen at 'Mania. Brock has all but left the company and Roman has been built up for years for this very match; it's nigh on a certainty he goes on to become the new WWE Universal Champion.
However, this is WWE. This is Vince McMahon. There is always the possibility McMahon will wake up on the morning of April 8, (if he even sleeps, which I don't think he does), and eloquently proclaim "The people don't like him, Goddamit!" and have Lesnar retain. Lesnar's 'advocate' and real-life friend Paul Heyman has gone on record saying Lesnar could easily balance multiple projects at once.
They couldn't, could they? Surely not.
Prediction: Roman Reigns
What do you think of this match? Is there even the slightest chance of Brock retaining and maybe getting jumped by Bobby Lashley after the match? Let us know in the comments below or on Twitter here.