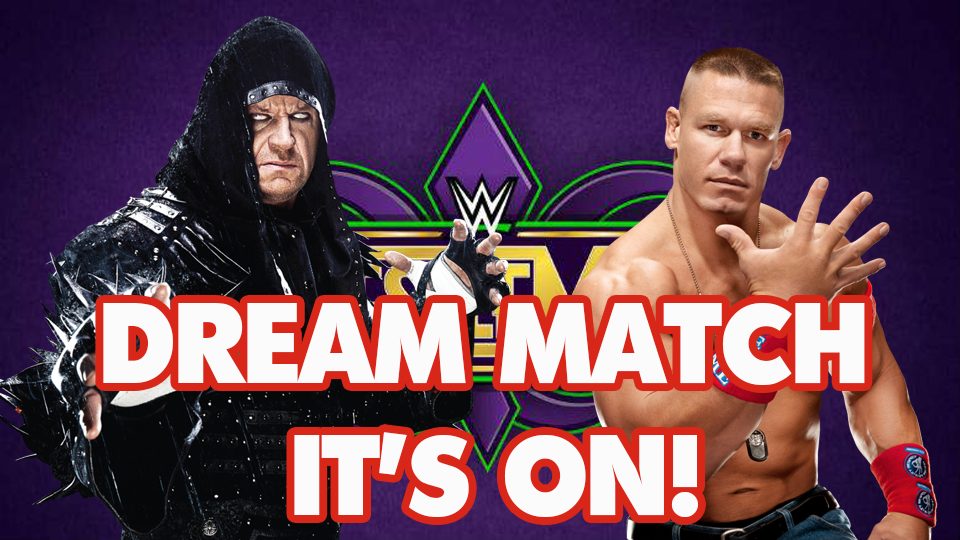 The Undertaker vs. John Cena is happening on 'the Grandest Stage of Them All'! Despite there being no official announcement by WWE, the wrestling world knows this dream match has been the final destination for both men on the road to WrestleMania 34.
After several unsuccessful attempts to reach this year's biggest event, including losing the men's Royal Rumble, failing to prevail in the men's Elimination Chamber, and again in WWE Fastlane's Six-Pack Challenge main event, 'Big Match John' finally called out The Undertaker on last night's Raw. This comes just two weeks after Cena himself told us a match with 'the Deadman' was impossible… You liar, John!
The brilliantly scathing promo not only laid down the gauntlet to The Undertaker for another outing on April 8 but saw Cena take deliciously heelish shots at the legend's ego, lambasting him for not overcoming hurdles – most notably Brock Lesnar and Roman Reigns – as he had done. Leaving the decision in Taker's court, Cena beautifully blurred the lines between face and heel, knowing the reaction he will receive when stepping into the ring to oppose a true legend at WrestleMania 34.
This isn't WWE's first attempt to put the pair together on the biggest night of the grappling calendar, but it will be their last. It was originally penciled in to steal the show at WrestleMania 32 before John Cena was sidelined with a shoulder injury and replaced by Shane McMahon. Last year, WWE also highlighted it as the main event of WrestleMania 33, nixing the idea in favor of Undertaker vs Roman Reigns and John Cena's marriage proposal to Nikki Bella.
https://www.youtube.com/watch?v=CAN3zhgND-Y
Interestingly, the two icons haven't locked horns on pay-per-view in singles competition since Vengeance 2003 when 'the American Badass' version of The Undertaker defeated Cena in a noteworthy outing, though they have done battle on television several times. Now, however, at what many speculate to be the very end of 'the Phenom's illustrious career – though we have been here before and he is rumored for the mammoth 100,000-seat Australian show in October – we are finally getting one of the biggest dream matches in WrestleMania history.