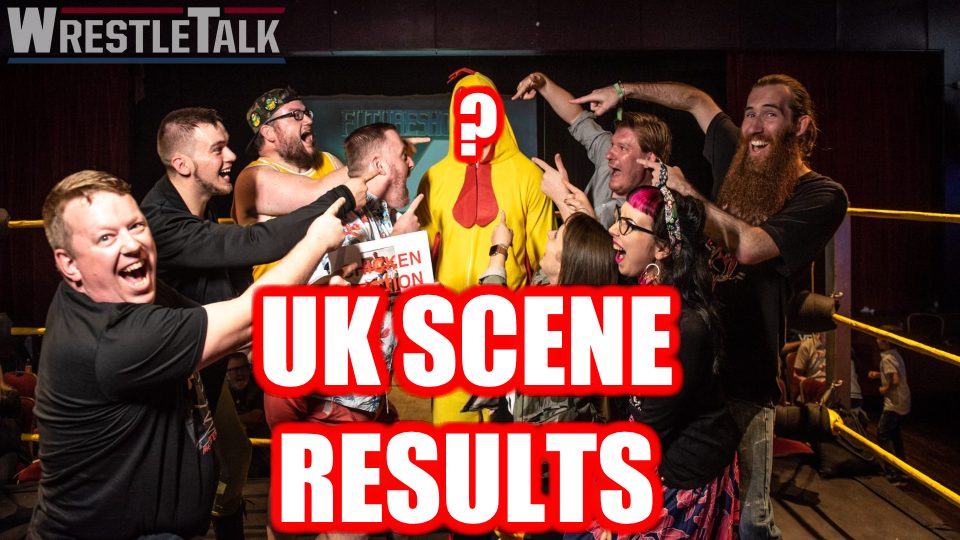 British wrestling is on fire right now and this past weekend was no exception thanks to a number of thrilling shows up and down the country – containing a mixture of terrific in-ring action and the hilariously bizarre.
Revolution Pro Wrestling held its annual Summer Sizzler at the historic York Hall in Bethnal Green on Friday night. Before we get to the results, here's their preview video for the event.
https://www.youtube.com/watch?v=YDsnEhA2g0Q
Rev Pro bills itself as "pro wrestling at its best" and thanks to the south of England-based group's agreement with New Japan and regular use of some of the world's best unsigned talent, their York Hall shows have become must-see events. Summer Sizzler was no exception.
The main event saw Tomohiro Ishii defeat WALTER with a brain buster to become number one contender to his fellow NJPW star Minoru Suzuki's Undisputed British Heavyweight Championship.
Also on the show, David Starr retained his Undisputed British Cruiserweight Championship with a shenanigans-laced victory over El Phantasmo.
The charismatic Dutchman Jurn Simmons impressed on his York Hall debut in a losing effort against Lance Archer, while KUSHIDA beat the talented Australian heel Adam Brooks.
Match of the night, according to the Wrestling Observer review of the show was the tag team match between Aussie Open and CCK. Kyle Fletcher and Mark Davis defeated Jonathan Gresham and Chris Brookes in a bout reviewer Adam Dagnall called "one of the best I've ever seen".
Promoter Andy Quildan also announced that Rev Pro's next TV tapings in September at York Hall will feature KUSHIDA and Jushin 'Thunder' Liger in addition to the already advertised Zack Sabre Jnr and Roppongi 3K .
Meanwhile it was a busy weekend up in the North West of England as PCW celebrated its seventh anniversary with three shows.
The weekend was built around two of UK wrestling's best-kept secrets, 'Magnificent' Matthew Brooks and Tel Banham, as well as British veterans Lionheart and Dean Allmark.
Brooks, a classically-trained opera singer with a powerful physique, defeated his arch-rival Banham, a Miz-like heat magnet, in a unique Fans Bring the Musical Instruments Match at the Seventh Anniversary Show at Evoque in Preston on Saturday night. This wild arena-wide brawl saw use of such weapons as a keyboard, a triangle and even a didgeridoo!
But the hated Tel had the last laugh on the PCW fans when he ended the show by cashing in his contract for a guaranteed title match, just moments after Allmark defeated Lionheart for the PCW Championship. As a result Allmark, who was also PCW Cruiserweight Champion, lost both titles to Banham within seconds of becoming a double singles titleholder.
The Allmark-Lionheart bout was also notable as it saw the Scotsman use the Styles Clash for the first time in PCW since he suffered an almost career-ending broken neck four years ago after taking the move from AJ Styles in the same ring.
The 'Stairway to Seven' event also saw a nostalgic moment as Doug Williams joined Jody Fleisch and Jonny Storm (picture courtesy of PCW) to raise both their hands moments after Fleisch had defeated Storm. This may be the final time we ever see three of the modern-day British wrestling scene's greatest pioneers together in the same ring – as former IMPACT, ROH and Pro Wrestling NOAH star Williams is facing what could be his final bout at PROGRESS' Wembley Arena event on September 30. If The Ambassador loses to Trent Seven that night, he must retire.
Also on Saturday night, FutureShock Wrestling marked its 14th birthday with an event at The Longfield Suite in Prestwich near Manchester.
The main event saw the FutureShock Title change into the massive hands of Cyanide – now better known as WOS Wrestling's resident masked monster Crater. The mastodon defeated NXT UK's Ashton Smith to prove beyond question that monsters are real.
Meanwhile Scotland's Molly Spartan retained the FutureShock Women's Championship after defeating NXT UK star and Mae Young Classic competitor Toni Storm. This came at the end of an Adrenaline Rush Women's Rumble which also featured WOS stars Kasey Owens and Viper.
One of the UK's most talented stars not signed to either WOS or NXT UK is Joey Hayes. The 16-year pro from Manchester won the FutureShock Adrenaline Title after defeating Sam Bailey, Wolfgang, Chris Ridgeway, Callum Corrie, Chris Egan and Chris Brookes in a scramble match.
Finally in the most unusual sight of the night, North West veteran Damon Leigh lost a Loser Wears a Chicken Suit match to JJ Webb, delighting a group of fans who call themselves 'The Chicken Section' (see below, photo courtesy of the FutureShock Wrestling Facebook page ).
And don't they look clucking happy about it!
Look out too for our round-up of Ring of Honor's UK shows from this past week – coming soon to WrestleTalk.
Related Content
British Wrestling Legends CONFIRMED For ROH Honor Reunited
HUGE Match Set For Rev Pro Summer Sizzler
Jushin Liger to face World's Best Cruiserweights in Wrestling MediaCon tournament