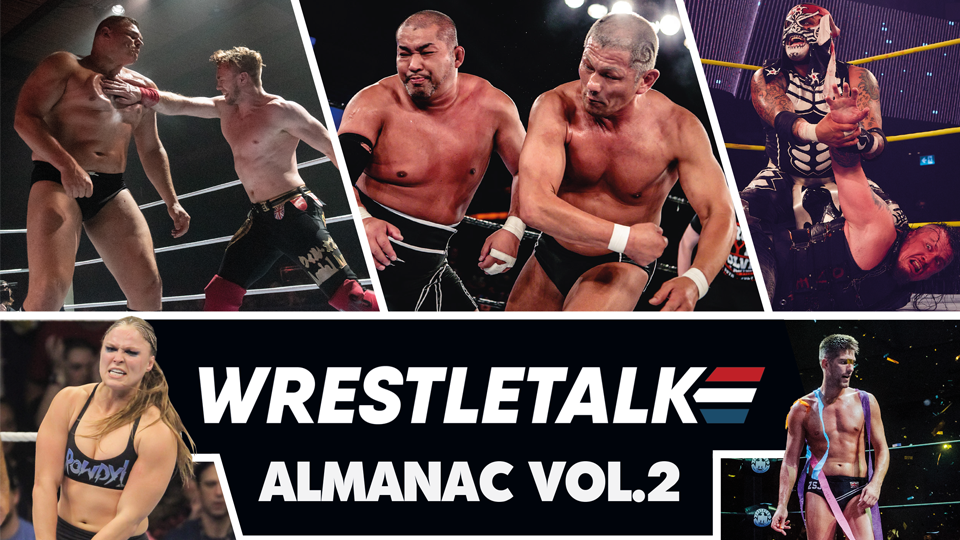 ***AVAILABLE NOW***
—THE FIRST 100 PURCHASES INCLUDES A FREE SIGNED 8X10 OF OLI DAVIS AND LUKE OWEN—
From the creators of WrestleTalk Magazine comes WrestleTalk's second annual bookazine.
The most comprehensive guide to wrestling in 2018 that you will find anywhere on the planet.
168 full-colour pages making this year's edition bigger and better than ever.
Included in this year's edition:
Over 250 shows from over 30 promotions reviewed, with results, attendances, match times, star ratings and analysis
A comprehensive listing of over 2000 major shows throughout history (double the size of last year's list), now ordered by promotion and ranked by their average star rating score
Day by day news stories and detailed analysis of all the major ones from Greg Lambert
A comprehensive list of over 1000 notable active wrestlers with heights, weights, real names, hometowns, ages, promotion and years active
In-depth guides to every major wrestling tournament of 2018 plus a listing of historic winners and runners up, including the AJPW Champion Carnival, NJPW G1 Climax, WWE Mae Young Classic 2, PROGRESS SSS16, wXw 16 Carat Gold, and dozens more
A quick and easy guide to the must-see matches of the year from around the world
The ultimate Pro-Wrestling Hall of Fame, amalgamating HoF'ers from 19 wrestling halls around the world
Week-by-week television results from WWE, ROH, NJPW, NGW, MLW, RPW, Defiant, 5 Star Wrestling, Ring Warriors, Lucha Underground, Impact Wrestling and many more, with star ratings.
Television ratings with comparisons to 2017's numbers for Raw, SmackDown, Lucha Underground, Impact Wrestling, WOS Wrestling, Total Divas and Total Bellas. Plus a breakdown of current and historical WWE television and WWE Network numbers
Obituaries for those the wrestling world lost in 2018
New feature: Television/supercard win/loss records for every wrestler in all of the major promotions including WWE, ROH, NJPW, PROGRESS and Impact Wrestling
New feature: Every major title change of the year from around the world, the date the title changed hands, the reign number, the amount of days the title was held and where the change took place.