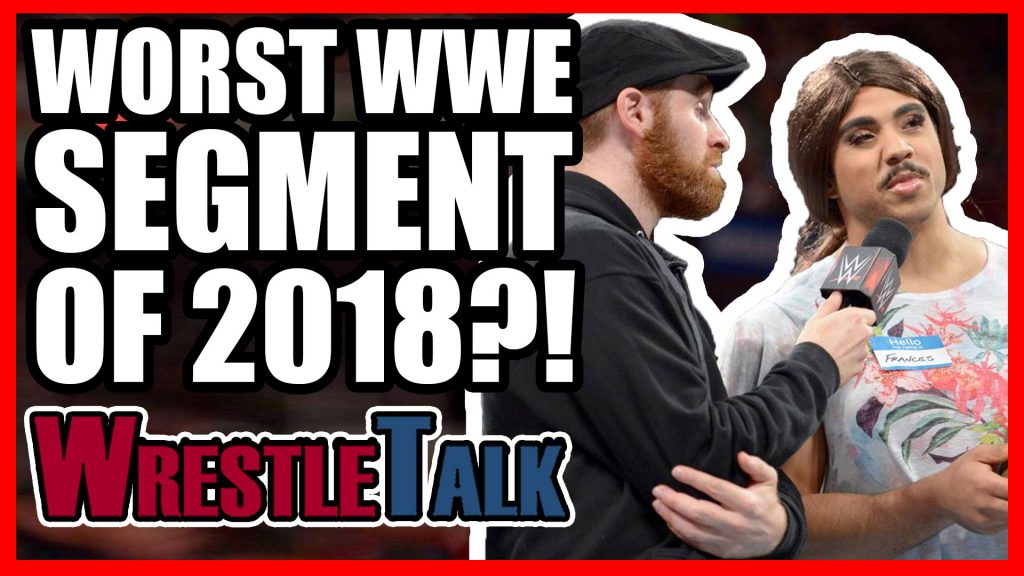 WATCH Oli's WrestleTalk News RAW REVIEW here and don't forget to SUBSCRIBE…HERE
Stephanie McMahon returns! Alexa Bliss is suddenly an expert on the decline of the Roman Empire. No, not that one. And Bobby Lashley beats up three men dressed as his sisters.
Stephanie McMahon Returns
Kurt Angle barely got through three floppy wrist gestures to open Raw when Stephanie McMahon's entrance music hit. 
Stephanie immediately hit her Emasculator finishing move on Angle and effectively took over the show.
Cue Roman Reigns moaning about not having the Universal Championship. And then Kevin Owens came out to praise the Authority for looking past his feud with Vince McMahon last year to bring him to Raw.
Roman Reigns beat Kevin Owens (DQ)
This turned into a very good Kevin Owens / Roman Reigns match, until Jinder Mahal attacked the Big Dawg on the outside. One Seth Rollins save later and we've got a tag team match, playas.
Seth Rollins & Roman Reigns beat Kevin Owens & Jinder Mahal
Which was even better than the preceding singles bout, mainly because of Seth's incredible hot body, I mean tag – eventually pinning Owens with a Curbstomp for the second time in two weeks. In an impressive bit of misdirection, the just-beaten Mahal managed to get behind the TitanTron to attack a celebrating Roman and Rollins with a steel chair. And then it was made official: Reigns vs Jinder has been announced for Money in the Bank, probably one of the most unappealing feuds in modern times.
Hold my beer, says WWE.
The Truth Behind Bobby Lashley's Sisters
Because then we had 2018's winner of WWE's Worst Segment of the Year award.
Hot off the already awful Bobby Lashley interview segment from two weeks ago, where he spoke about loving his three sisters – EMASCULATOR FROM OUT OF NOWHERE! – which they played again here just in case you forgot how terrible it was, Sami Zayn led a segment exposing the truth behind Bobby's supposed good family man character.
This came in the form of three men in drag revealing Lashley actually bullied them all as kids. It wasn't just the live crowd who were audibly not into this, not just myself watching through seething rage at home; but Sami Zayn himself. That is the face of a man who knows how bad this is.
Somehow even more insulting was how Bobby no-sold it all as a joke, going on his own hilarious monologue about three men pretending to be his sisters, rather than just destroying everyone like this segment deserved.
Things got physical with Sami running away and the three 'sisters' attacking Bobby, where Lashley proceeded to beat each one up – including one with an army helmet, which Bobby put on the guy's head, to then punch him on the helmet on his head.
It's a protective helmet you F'N IDIOT!
This was atrocious, and set both Bobby's WWE character and the mustachioed women back about a decade.
Ember Moon beat Alexa Bliss
For more character inconsistency, Alexa Bliss then cut a wholly contrived promo about Visigoths and Romans. Ember Moon won their following match despite some attempted Mickie James interference.
Baron Corbin beat No Way Jose
Baron Corbin and No Way Jose fighting each other week after week is almost like a metaphysical conga line joke on me.
The B Team beat Breezeango
The B Team celebrated big time as their undefeated streak continued against Breezeango… again.
Ronda Rousey & Nia Jax Contract Signing
Stephanie played Ronda Rousey and Nia Jax against each other for their Money in the Bank contract signing, possibly forshadowing Nia turning heel with McMahon.
Dolph Ziggler beat Chad Gable
Despite Dolph Ziggler and Chad Gable getting jobber entrances, they put on an interesting, amateur wrestling-influenced match for the time they were given.
Natalya beat Dana Brooke, Sarah Logan & Liv Morgan
Natalya became the latest lady person to qualify for Money in the Bank, where her post-match interview was more focused on putting over Ronda Rousey. They're best friends! That always works out…
Elias beat Bobby Roode
This is the fourth time we've had Elias vs Bobby Roode in just over a month. The Drifter ineffectively won here despite Bobby being the one going to Money in the Bank, a bad piece of booking that was completely saved by Braun Strowman running over Elias on the entrance ramp to start the next match.
Braun Strowman beat Finn Balor
In a main event made by Stephanie earlier on – which involved an apple getting a hand – Braun took on Finn Balor in one of Strowman's best ever matches.
Braun worked over Balor for the majority, but the drama really kicked in when Finn started to get the better of him – countering Strowman's running charge into a Slingblade and hitting a Coup De Grace on the outside. We even got the terrific visual of Braun rising from the dead behind an oblivious Finn.
Strowman won in the end, but showed Finn respect by putting him in the corner instead of delivering more powerslams.
A good close to an otherwise bad show. Although I enjoyed the opening, everything in between was either lazily repeating matches, Alexa Bliss talking about Visigoths or the awful Bobby Lashley segment.
This week's Raw is Poor.