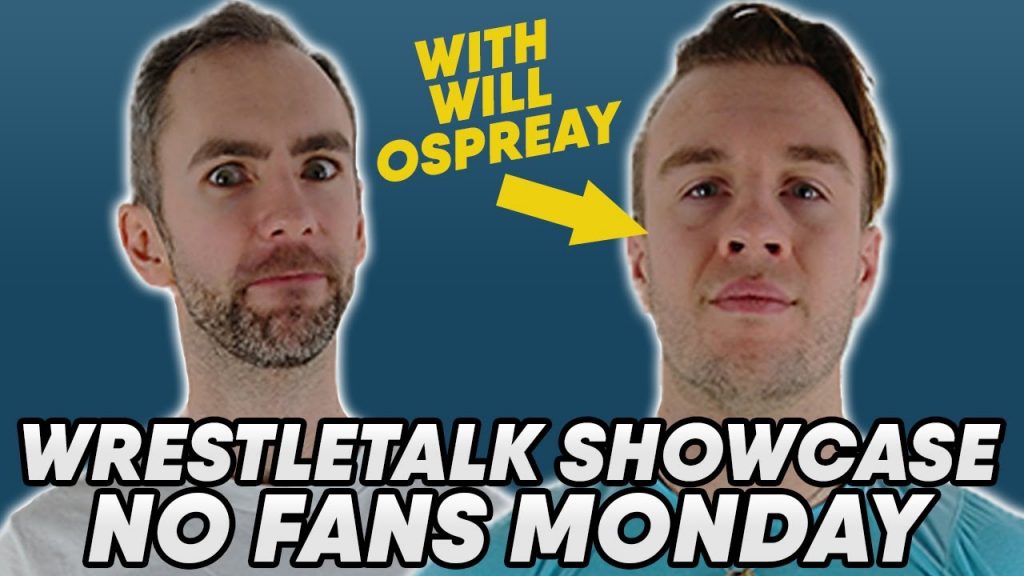 As first announced on WrestleTalk's YouTube channel…
WrestleTalk have partnered with former NJPW Junior Heavyweight Champion and current RevPro British Heavyweight Champion Will Ospreay for a special live event on Monday 16th, 2020.
Coronavirus has impacted the world, with many live events being either cancelled or postponed. This has hit the wrestling world, with several companies announcing their live events will not be going ahead as planned. Not only has this been disappointing for fans, it also means that wrestlers will not be getting the paydays they need in order to pay their bills and feed their families.
Will Ospreay approached WrestleTalk – a leader in supporting British wrestling and YouTube wrestling content – with the idea to put on a "no fan event", where wrestlers would put on a show to an empty crowd that would be streamed live on YouTube, with any money made being split amongst the talent and crew who will be working for free.
This became WrestleTalk Showcase: No Fans Monday, a special event that will take place in 229 The Venue in London at 7pm GMT/ 3pm EST / 12pm PST on Monday 16th, 2020, where Will Ospreay, Rampage Brown, Robbie X, Bea Priestley, Nathan Cruz, WrestleTalk Scholarship winner Callum Newman, The OJMO and other leading British independent wrestlers will put on a supercard of dream matches for free on YouTube. Fans will be able to donate to the wrestlers throughout the show using YouTube's Superchat system, with all profits made during the event split amongst the talent equally.
Announced for the show:
David Starr vs. Callum Newman
The OJMO vs. Paul Robinson
Kyle Fletcher vs. Connor Mills
Rampage Brown & Nathan Cruz vs. Robbie X & Kid Lykos IIand, in a first-time main event, Will Ospreay vs. Bea Priestley. It's boyfriend vs. girlfriend!*
Not only that, but together they will be releasing the limited edition "Support WrestleTalk! Screw Cornoavirus" t-shirt, with all profits again being split amongst talent and crew. You can view the t-shirt here.
This is the second time Will Ospreay and WrestleTalk have worked together, after his apprentice Callum Newman was selected as the first ever WrestleTalk scholarship winner last year as part of an ongoing campaign to support independent wrestling. Monday's event is a continuation of that campaign.
You can watch the announcement video with Will Ospreay and WrestleTalk's Oli Davis here.
WrestleTalk Showcase: No Fans Monday will stream live on WrestleTalk's YouTube channel for free on Monday 16th, 2020 at 7pm GMT/ 3pm EST / 12pm PST.
Support Wrestling. Screw Coronavirus.
For press enquiries, please email luke@wrestletalk.com.