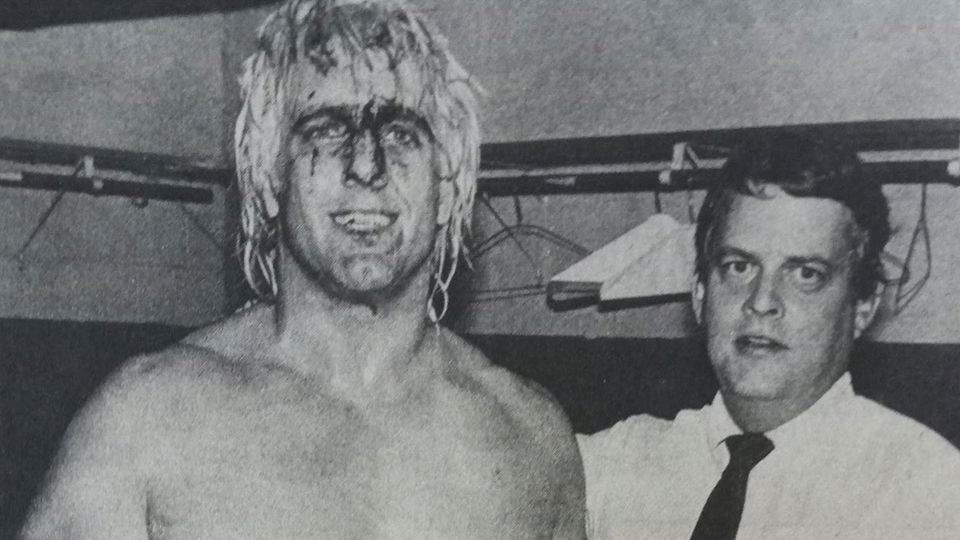 Last night it was reported that legendary wrestling promoter Jim Crockett Jr. had passed away at the age of 76. Since then there has been an outpouring of respect on social media honoring the memory of Crockett.
WWE has released a full statement on his passing, but many of the top talents in wrestling history have posted their own tributes to Jim Crockett Jr. Among them were Ric Flair, Tony Schiavone and Lex Luger who worked for Crockett in the 80s.
Here are a number of the tweets sent out in tribute of Jim Crockett Jr.:
I Moved To Charlotte In 1974 With $150 In My Pocket. Jimmy Crockett Was My Friend And My Boss. I Can't Put Into Words How Much He Did For Me And My Career. His Influence And Persistence Helped Me Become The World Champion. My Thoughts And Prayers Are With The Crockett Family! ?? pic.twitter.com/qbcyubrtkI

— Ric Flair® (@RicFlairNatrBoy) March 4, 2021
Today my heart breaks with the passing of Jim Crockett. Everything I have become, professionally is because of him and his family. His sister, Frances, hired me to do baseball in 1982, a year later, Jimmy decided to give me a shot at wrestling. He made me what I am today. pic.twitter.com/jbGZuzYeQ4

— Tony Schiavone (@tonyschiavone24) March 4, 2021
RIP Jim Crockett Jr. Your contributions to our business are immeasurable. Godspeed sir.

— Frankie Kazarian (@FrankieKazarian) March 4, 2021
Jim Crockett Jr. signed me to my first Wrestling contract. I'm so thankful he believed in me and put me on the path to success just as he did with so may others in the Wrestling Industry. He will be greatly missed. My earnest prayers and condolences to his family ??? pic.twitter.com/BDgqQjMtwf

— Lex Luger (@GenuineLexLuger) March 4, 2021
If not for my love of Jim Crockett promotions I doubt I ever would have considered a pro wrestling career.
Thank you Jim Crockett jr.
May you Rest In Peace.

— Lance Storm (@LanceStorm) March 4, 2021
R.I.P. Jim Crockett Jr.

Thank you for moving the pro wrestling business forward & expanding its reach.

— MATT HARDY (@MATTHARDYBRAND) March 4, 2021
Rest in Peace Jim Crockett Jr. Thank you for all you and your family gave to the business. Such a tremendous loss! pic.twitter.com/N7hEo6KloW

— Brian Heffron aka The Blue Meanie (@BlueMeanieBWO) March 4, 2021
The NWA is saddened to learn that Jim Crockett Jr. has passed away. A 3x president of the NWA, Crockett was a titan in the wrestling industry who introduced countless legends to the world. We extend our deepest sympathies to his family, friends, and fans.#RIPJimCrockettJr pic.twitter.com/IOpl74syNb

— NWA (@nwa) March 4, 2021
Jim Crockett gave opportunity to so many
Crockett promotions supplied me with millions of hours of entertainment
Sorry to hear of his passing #NWA #WCW pic.twitter.com/0mXP2m4uwx

— Tommy Dreamer (@THETOMMYDREAMER) March 4, 2021
Crockett worked as the promoter of Jim Crockett Promotions in the 80s and served as the President of the National Wrestling Alliance for several terms. During his time promoting he had many of the top talents in wrestling history, working with the likes of the Four Horsemen, Dusty Rhodes, Ricky Steamboat, and the Road Warriors.
We here at WrestleTalk continue to extend our deepest condolences to Crockett's friends, family, and fans.