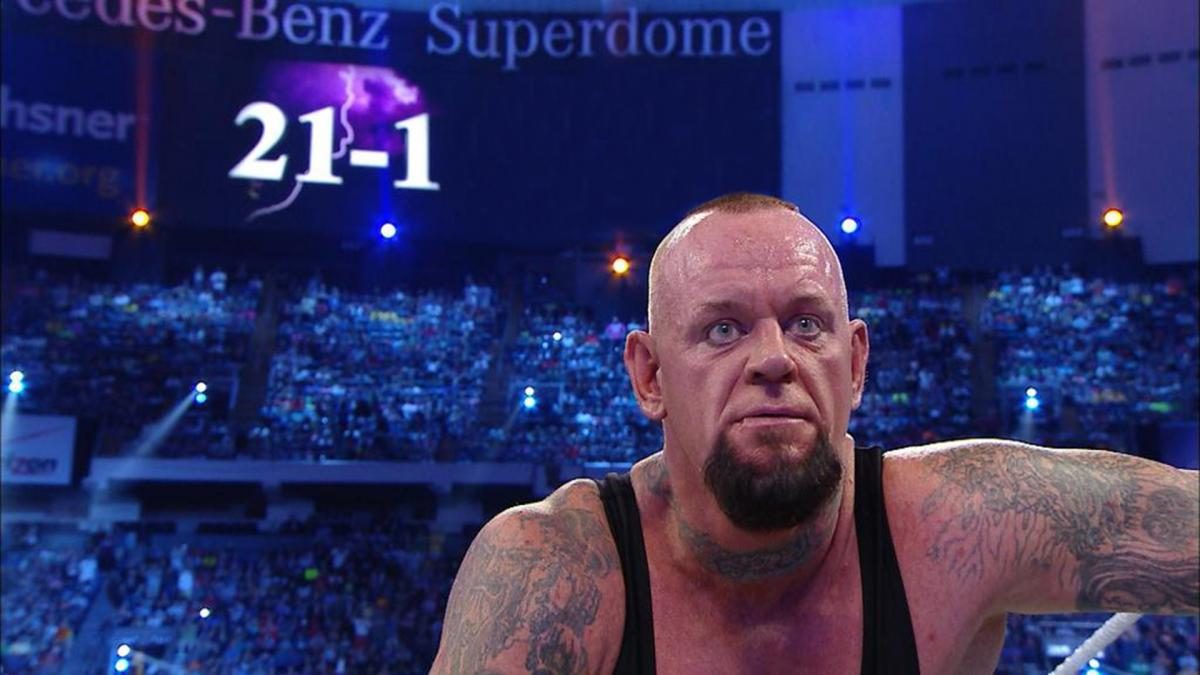 Ahead of this year's most stupendous edition of WrestleMania in history, WWE has compiled a list of the 38 greatest WrestleMania moments in the history of the event.
The list saw Brock Lesnar's shocking snapping of the Undertaker's undefeated streak back at WrestleMania XXX take the top spot, with Seth Rolins' 'Heist of the Century', Hulk Hogan's slam on Andre the Giant, Becky Lynch's main event victory and Shawn Michaels and Bret Hart's Iron Man match rounding out the top 5.
You can see the full list below:
38. Roman Reigns defeats The Undertaker (WrestleMania 33)
37. Andre the Giant slams Big John Studd (WrestleMania 1)
36. Snoop Dogg performs Sasha Banks' WrestleMania entrance (WrestleMania 32)
35. Brock Lesnar defeats Kurt Angle (WrestleMania XIX)
34. The Dr. of Thuganomics returns (WrestleMania 35)
33. The Ultimate Warrior defeats Hulk Hogan (WrestleMania VI)
32. Randy Orton's super RKO on Seth Rollins (WrestleMania 31)
31. Kane attacks MLB legend Pete Rose (WrestleMania XIV)
30. Triple H saves his career against Batista (WrestleMania 35)
29. Stone Cold and Mr. McMahon join forces (WrestleMania X-Seven)
28. Ronda Rousey submits Stephanie McMahon (WrestleMania 34)
27. The Rock defeats Erick Rowan in fastest WrestleMania match (WrestleMania 32)
26. Edge wins first Money In The Bank match (WrestleMania 21)
25. D-Generation X vs. The nWo (WrestleMania 31)
24. Randy Savage wins the WWE Title (WrestleMania IV)
23. The Hardy Boyz surprise return (WrestleMania 33)
22. Roman Reigns wins WWE Title from Triple H (WrestleMania 32)
21. Razor Ramon wins iconic ladder match (WrestleMania X)
20. Mr. McMahon gets his head shaved (WrestleMania 23)
19. Bianca Belair wins SmackDown Women's Title in main event (WrestleMania 37)
18. John Cena wins first WWE Title from JBL (WrestleMania 21)
17. Ricky Steamboat wins Intercontinental Title (WrestleMania 3)
16. The Undertaker retires Shawn Michaels (WrestleMania XXVI)
15. Daniel Bryan and Yestlemania (WrestleMania XXX)
14. The Rock beats John Cena (WrestleMania XXVIII)
13. The Undertaker returns as The Deadman (WrestleMania XX)
12. Charlotte Flair ends Asuka's undefeated streak (WrestleMania 34)
11. Stone Cold wins first WWE Championship (WrestleMania 14)
10. Edge spears Jeff Hardy in mid-air (WrestleMania X-Seven)
9. Rey Mysterio wins World Title for Eddie Guerrero (WrestleMania 22)
8. Randy Savage and Miss Elizabeth reunite (WrestleMania VII)
7. Kofi Kingston wins WWE Title and Kofimania (WrestleMania 35)
6. The Rock defeats Hollywood Hogan (WrestleMania X-8)
5. Shawn Michaels beats Bret Hart in sudden death after 60-minute Iron Man Match (WrestleMania 12)
4. Becky Lynch wins first women's main event match (WrestleMania 35)
3. Hulk Hogan slams Andre The Giant (WrestleMania 3)
2. Seth Rollins' surprise main event cash-in (WrestleMania 31)
1. Brock Lesnar ends Undertaker's streak (WrestleMania XXX)
You can watch the full video below:
To make sure you stay updated with all the latest wrestling news, add WrestleTalk.com to your Google Discover feed and follow us on Twitter!