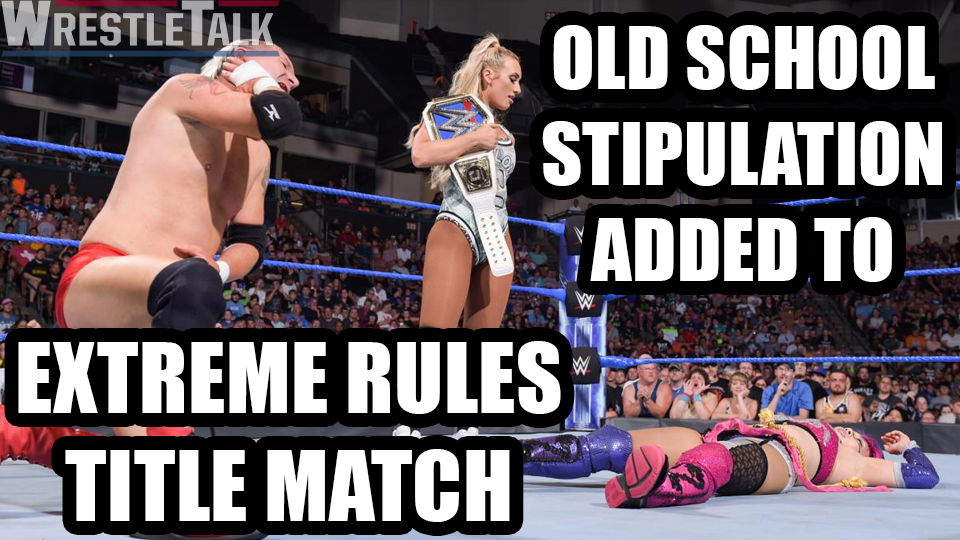 WWE is going old school at Extreme Rules with the announcement of a Shark Cage stipulation for the WWE SmackDown Women's Title bout between champion Carmella and challenger Asuka.
Blue brand General Manager Paige announced the stip on last night's show, declaring that Carmella's manager/valet/hanger-on James Ellsworth would be suspended above the ring in the tiny cage as a way to prevent him for interfering in the match, as he did at Money In The Bank.
Popularized in the territories and used fairly regularly by the NWA/WCW, the shark cage was used sparingly in WWE prior to being wheeled out in front of the television audience in 1995 when Jerry Lawler was hoisted above the ring during a Bret Hart vs. Isaac Yankem DDS cage match on Raw. Lawler, claiming vertigo, suffered from a (worked) nosebleed throughout.
The stip was used several times afterwards, most notably for Paul Bearer during a Mankind vs. Undertaker bout at Survivor Series '96 and to keep Chyna at bay in an Owen Hart vs. Triple H match at Unforgiven '98. The latter failed – Chyna broke through the bars and was still able to help Hunter to victory.
The shark cage disappeared for several years until Mattel released a new action figure playset featuring the suspended prison, which led to a raft of bouts featuring the stip, now known as the Crash Cage.
The first was at NXT TakeOver: Toronto when Authors Of Pain manager Paul Ellering – no strange to the shark cage himself – was locked above the ring to prevent him from interjecting himself in AOP's clash with TM-61. It was used again at Royal Rumble '17 to keep Chris Jericho out of the Kevin Owens vs. Roman Reigns Universal Title match.
The most recent use of the cage was at last year's SummerSlam when Enzo Amore was confined to keep him out of a (horrible) match between Big Show and Big Cass. As with Chyna the cage failed to do its job, with Enzo greasing himself up and slipping out, only to get pulverized as soon as he hit the ring.
No doubt Ellsworth will be involved in some sort of shenanigan this coming Sunday when he becomes the latest unfortunate meddler trapped high in the sky.