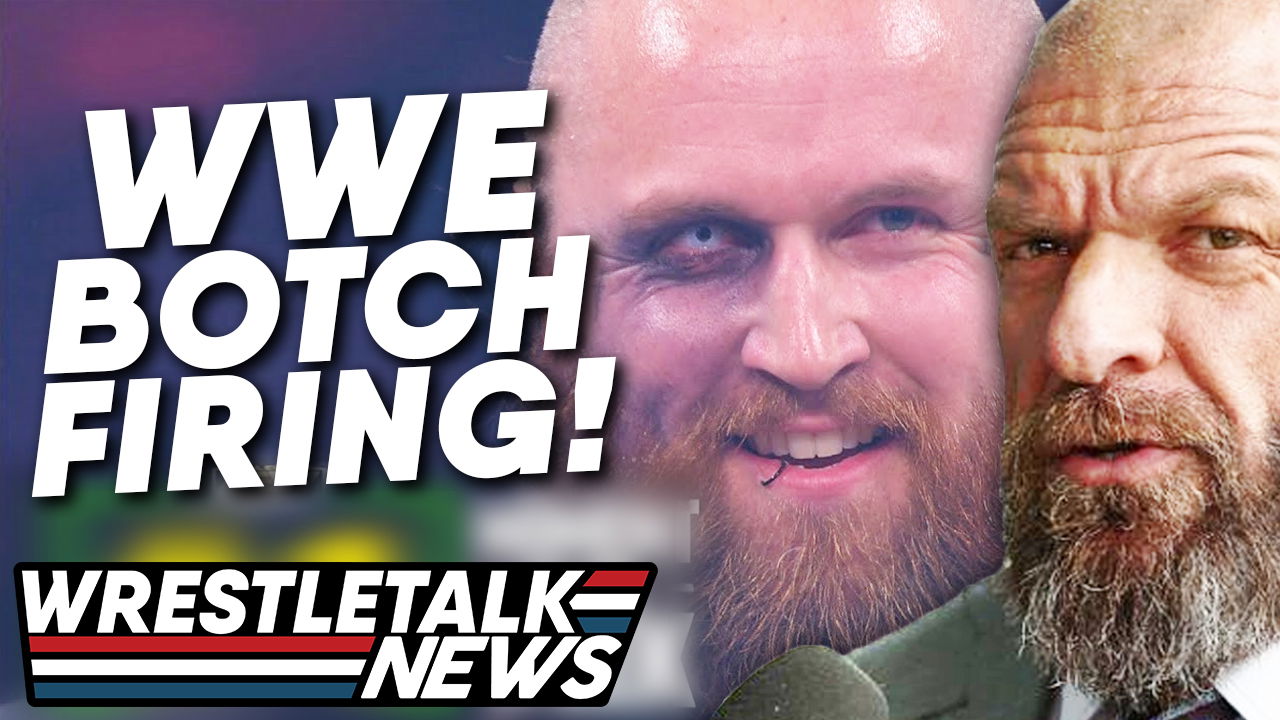 In this WrestleTalk News – Aleister Black debuts for AEW, Chris Jericho punches a fan, my review of last night's Dynamite and this special message.
Looking back on where we first met, I can not escape and I cannot forget, Southgate you're the one, you still turn me on, football's coming home again.
Subscribe for daily wrestling videos for football to come home.
Last night's AEW Dynamite was the first show back on the road in front of live fans for over 16 months, and they had a huge surprise to kick off their tour: the huge WWE star defection… Brock Lesnar fan guy! That's a big signing.
And, also, Aleister Black.
After a fakeout with the lights cutting out in the show's Cody Rhodes vs QT Marshall strap match opener, which the commentators put down to a power outage caused by bad weather – a similar red herring tactic All In used before Chris Jericho made his shock appearance in 2018 – the lights cut out again during an Arn Anderson promo later on, plunging the arena into black, to come up revealing Aleister Black standing in the ring in a black suit to hit a Black Mass on Arn and a Black Mass on Cody!
Because ex WWE stars can't debut in AEW unless it's directly in a feud with Cody.
JR called him by his pre-WWE name Tommy End, but then Excalibur said this isn't anything like that Tommy. It's a possessed-style character called Malakai Black.
This follows on from the high production 5 minute short film The Devil Made Me Do It Tommy End had posted on Instagram earlier that day – aka, doing a Moxley – with the quote: ""I often wondered how many more there were, like in my head? Those voices. I don't know which I prefer, the endless silence or the constant dialogue. I find them both equally frightening."
The short film itself shows him having being locked up in an institution for five years – coincidentally the same amount of time he was with WWE – where he refuses treatment, seemingly becomes possessed, and murders both his doctors and smothers their blood over his face. Jeez, Tommy, you're not with the PG company anymore. Let loose a little. 
But Black was only released by WWE 35 days ago, which should mean he can't show up for any other promotions until his main roster 90 day non compete clause had expired. Well it turns out, WWE apparently screwed up.
According to PWInsider, a clerical error on WWE's part is how Black was able to show up so quickly – as when he was moved from NXT to the main roster back in 2019, they simply forgot to update his contract, so he still had the 30-day non-compete clause that NXT talent have. Couldn't have happened to a nicer company.
Fightful Select had reported earlier in the day that talent backstage in AEW were speculating End would be debuting that night, with rumours spreading he was in Miami. Their report notes that "multiple people that have been released in the past couple of months have gained and been granted early releases from those clauses, including one name who will be popping up for other companies in the next few weeks" – which you'd assume would be IMPACT's Slammiversary show next Saturday. 
It had been reported many in WWE thought Black's release was a mistake, and some were pushing for him to be re-signed. Of course, his real life wife Zelina Vega returned to the company on Friday's SmackDown. 
Chris Jericho Punches Fan
Black's debut wasn't the only shocking thing to happen on Road Rager, as AEW didn't just let fans in the crowd, they nearly let them into the ring.
During the MJF and Chris Jericho segment, one fan got a little rowdy while Judas was playing for Jericho's entrance and tried to get on stage. Security and Justin Roberts restrained him while Jericho seemingly got a stiff punch to his face before the segment continued.
It's Judas effective. The fan was then seen being dragged out on the floor.
Lowest Raw Viewership Ever
Meanwhile, over in WWE, Raw just recorded its lowest viewership. Ever. This week's episode drew a reported 1.472 million viewers according to Brandon Thurston of Wrestlenomics.
But now, it's Thursday, you know what that means – my review of last night's AEW Road Rager, in about 5 minutes.
Dynamite's big comeback tour in front of fans started off with Cody Rhodes immediately shaking fans' hands at ringside. Screw you Covid, we've solved it! And then Dustin Rhodes brawled into the crowd with the Nightmare Factory. Yep, it's definitely not a thing anymore.
In an experiment to see if the current Cody backlash isn't just online, he wrestled QT – who didn't even get an entrance – in the presumed blowoff to their feud in a strap match. It was well worked, and the crowd were into certain spots, but Cody's definitely not as hot as he was last year – winning with a paltry three CrossRhodes.
Don Callis and Kenny Omega then came out for an in-ring interview with Tony Schiavone to say there's no-one left to beat. Evil Uno of the Dark Order begged to differ, but still nobody actually mentioned Page by name, letting the crowd organically chant 'we want Hangman'. That's the mark of a perfectly executed story right there.
A quick Elite vs Dark Order brawl followed, which brought down Page to clear house, clotheslining Gallows over the top rope so he ended up outside. He hopped onto the apron, and then all of a sudden, there we were again, Revolution 2020, over a year ago, where Hangman found himself in the Buckshot Lariat position on Omega. It resonated with the crowd before they even got a chance to consciously realise it, letting loose one of those spontaneous, cathartic pops of excitement. But Page just stepped through the ropes, had a face off, and Kenny ran away.
This was an awesome show, and this was my favourite thing on it.
JR conducted a sitdown interview with Ethan Page and Darby Allin, where both guys were pretty civil about wanting to end each others' careers in next week's Coffin match.
The Inner Circle vs Pinnacle feud had its latest chapter with Wardlow and FTR beating Jake Hager, Santana and Ortiz. Hager and Wardlow continue to be big slabs of sexy meat, and Tully Blanchard took out Konnan afterwards. Which, to be fair, Konnan had just tried attempted murder on Wardlow by wacking him in the base of the skull with a pool ball in a sock.
Karl Anderson set up an IWGP United States title match against Jon Moxley for next week, wanting to bring the championship back home to the Elite.
Another reason we've all missed crowds, Jericho's entrance getting lip-synced right into my soul by this guy in the crowd. From now on, he should do Jericho's entrance like Scarlett Bordeaux sings for Karrion Kross.
MJF and Jericho had a fun back and forth promo, where MJF set up the Labours of Jericho to get a third match with him. Chris must first beat four opponents in stipulations of MJF's choosing, inverting how Jericho forced Moxley to beat all the Inner Circle ahead of their title match last year.
Here's my pitch… it's not the Pinnacle. That's too obvious. It's the Inner Circle. They've got that rogue's code of honour where they wouldn't just lay down for each other. Jericho can ask each one to give it their all, and he has to beat his own faction to get a final go at MJF.
Jericho laid him out at the end with a Judas Elbow.
Andrade made his in-ring debut in a solid match against Matt Sydal, but, just like Miro's initial run in the company, he's not reaching the fans deservedly high expectations.
Then everything went-
There was a recap from before the show started, of Ricky Starks seemingly splitting with Team Taz, as opposed to Brian Cage. A heel turn on the heels. We'll see what happens in their match next week.
Orange Cassidy and Kris Statlander beat the Bunny and the Blade in a fun intergender tag. That is all the women you will get on this show.
The famed MMA gym America's Top Team was represented in the crowd by Dan Lambert, Amanda Nunes and Jorge Masvidal, where Lambert then cut an excellent heel Cornette promo on the crowd and how crap wrestling is these days. Lance Archer then came out and hit a Blackout on him.
This is likely just a one-off spot because they were in town, but Lambert is fantastic, as we know from his work in IMPACT. I would not mind if they stuck around.
And the main event saw the Bucks debut yet another new look, dressed up in denim hotpants and doorags with sadly no moustaches, for a tag team title Street Fight against Penta and Eddie Kingston.
This was the exact right amount of chaotic fun, with sentons on trashcans, Canadian Destroyers through tables, loads of interference, and thumbtacks.
The best spot was when Kingston has Matt in a choke, so Nick gets to top rope to break it up – but just like their leader Kenny did with PAC and Cassidy at Double or Nothing, you can't assume Kingston will let go if you hit him… so Nick took out the referee with a 450 splash instead!!! 
There were plenty of visible pins for the babyfaces, and it worked so well, I genuinely wanted them to win even though I think it's too early for the Bucks to lose. That is so rare for me to experience, where my wrestling heart drowns out my wrestling head.
But the Bucks won in the end, filling Kingston's mouth with tacks, and then superkicking him. 
What did you think of Dynamite? Let me know in the comments and vote in the poll on a pole match on our community tab, where 90% of you went for Aleister Black Tommy Ended up in AEW. Ey, ey, see what I did there?
This was an incredible show. A great main event, the shocking Black debut, and that Page vs Omega moment. How could it be anything other than five out of five.
To make sure you stay updated with all the latest wrestling news, add WrestleTalk.com to your Google Discover feed and follow us on Twitter!