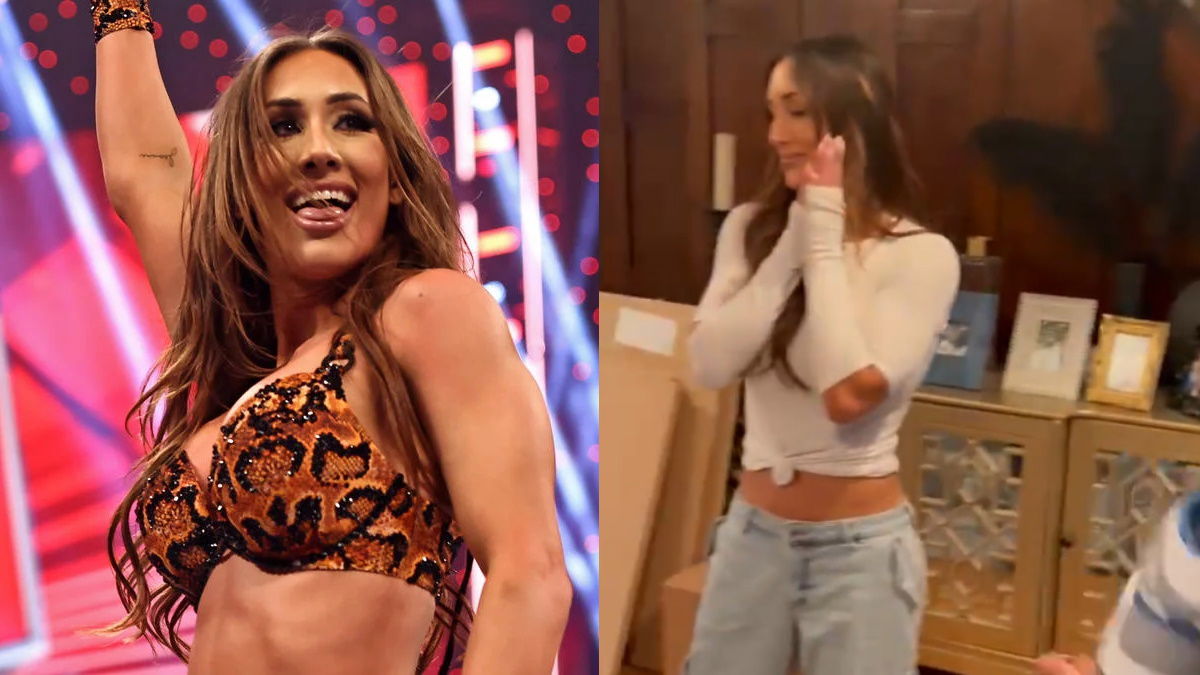 A new viral video shows Carmella surprising her stepchildren with the announcement of her pregnancy.
As previously reported, the wrestling world were pleasantly surprised with the news of Carmella, real name Leah Van Dale, announcing that she and Corey Graves, real name Matthew Polinsky, are expecting their first child together.
Carmella announced her pregnancy on Good Morning America on Monday (May 1).
The WWE star, who had gone through two previous miscarriages including an ectopic pregnancy last year, said:
"It's just all been such a whirlwind. I think because of my past, it was hard to get excited off the bat about this one, but I was cautiously optimistic.
"I try to have a good mindset, a positive mindset this time around, and it's working. So I'm very happy about that.
"After the first (test), I'm like, 'Oh, are we sure? Are we sure?' … I mean, I took (additional tests) for weeks just to make sure they still said positive.
"So it's really just been such a mind work to get my head around. But the fact that I'm here, I'm on the other side of it, I'm almost out of the first trimester at this point … it's been quite a journey."
"When it happened again with the ectopic, I just (felt) like this is so crazy. I just thought you get pregnant, you have a baby.
"Of course, you've heard of miscarriage, but I don't know anyone personally that has gone through it, especially multiple times.
"So, when I went through it the second time, and it was a health issue for me as well, and not just the fact that I was losing a baby, I mean, my life was on the line.
"It was just traumatizing and the most devastating thing that I've gone through, because you're not only going through this extreme medical condition, but you're also going through the loss of your child."
WWE has now posted a video of the former SmackDown Women's Champion telling the news to Corey's children in a unique way.
Van Dale gave her stepchildren new sneakers and then had them take another smaller pair for a baby before telling them she was pregnant.
The news would likely explain Carmella's recent absence from WWE TV.
She was set for the four-way tag team match at WrestleMania but Sonya Deville replaced her as Chelsea Green's tag partner.
We wish Carmella and Graves all the best all the best in this exciting new chapter of their lives.
You can see the touching video of Mella letting her stepchildren know about her pregnancy news below:
How @CarmellaWWE surprised her stepkids with the news that she and @WWEGraves are expecting a baby! 🥹❤️ pic.twitter.com/jyL3JVbDq3

— WWE (@WWE) May 2, 2023
If you want to stay fully updated on all the latest wrestling news, click the red bell in the bottom right of your screen to receive notifications from WrestleTalk.com straight to your device!