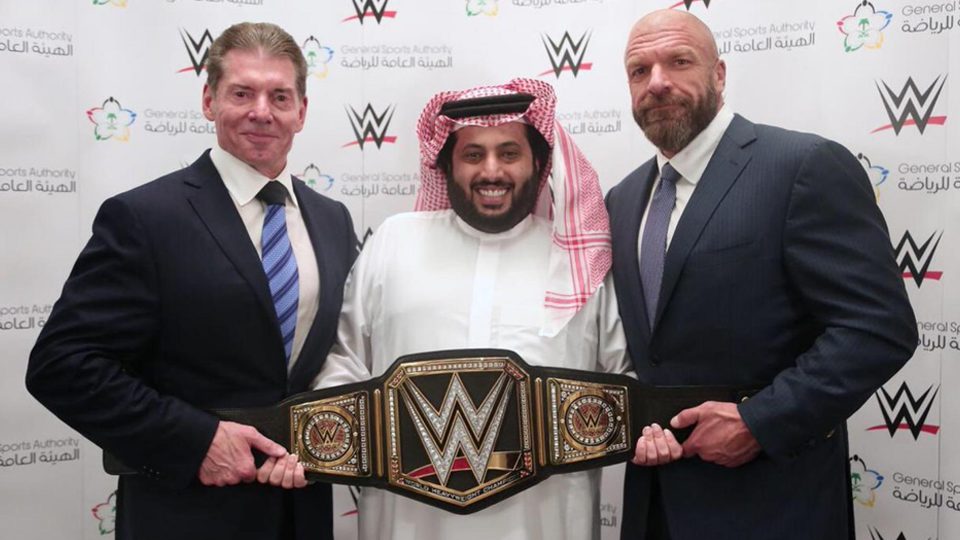 According to the latest report on Wrestling Observer Radio, WWE plans to dig its heels in and go ahead with controversial Saudi Arabia show Crown Jewel.
Pressure has been mounting on all sides from senior politicians and the mainstream media, calling for WWE to postpone or cancel their deal with the Saudi regime.
However, Dave Meltzer notes that unless WWE is expressly told by the Trump Administration not to go ahead with the show – which is almost certain not to happen – then they will proceed as planned.
As you might expect, several of the talent are deeply concerned about the prospect of having to travel to and wrestle in Saudi Arabia in the current climate. Although nobody has – or is likely to – come out in public and say as such, most in the locker room do not want to travel to the country.
The worldwide political tensions with Saudi Arabia came about about the suspected murder of outspoken anti-regime journalist Jamal Khashoggi in the Saudi consulate in Turkey recently. The controversy over his disappearance has led to several leading business figures pulling out of a conference in Riyadh later this month.
WWE has been left in a difficult position due to the nature of their deal with the country (significant millions over 10 years) and their typically stubborn reluctance to cave into pressure from the outside world.
There could be significant repercussions for WWE should they go ahead. Although nothing has yet been said to this effect, there is a very real chance sponsors will pull out of working with them, that FOX will reconsider their mammoth TV deal and that the mainstream media will loudly decry their actions.
In Meltzer's view, it could be the most significant PR black eye the company has endured since the Chris Benoit tragedy nearly tanked the promotion in 2007.
The latest on the Khashoggi situation is that Saudi Arabia's King Salman has ordered a "full investigation" into the case. Turkey, meanwhile, is expected to search the Saudi consulate in Istanbul today, looking to find evidence that Khashoggi was murdered by a Saudi assassination team.
Do you think WWE will cancel Crown Jewel? Let us know in the comments below.