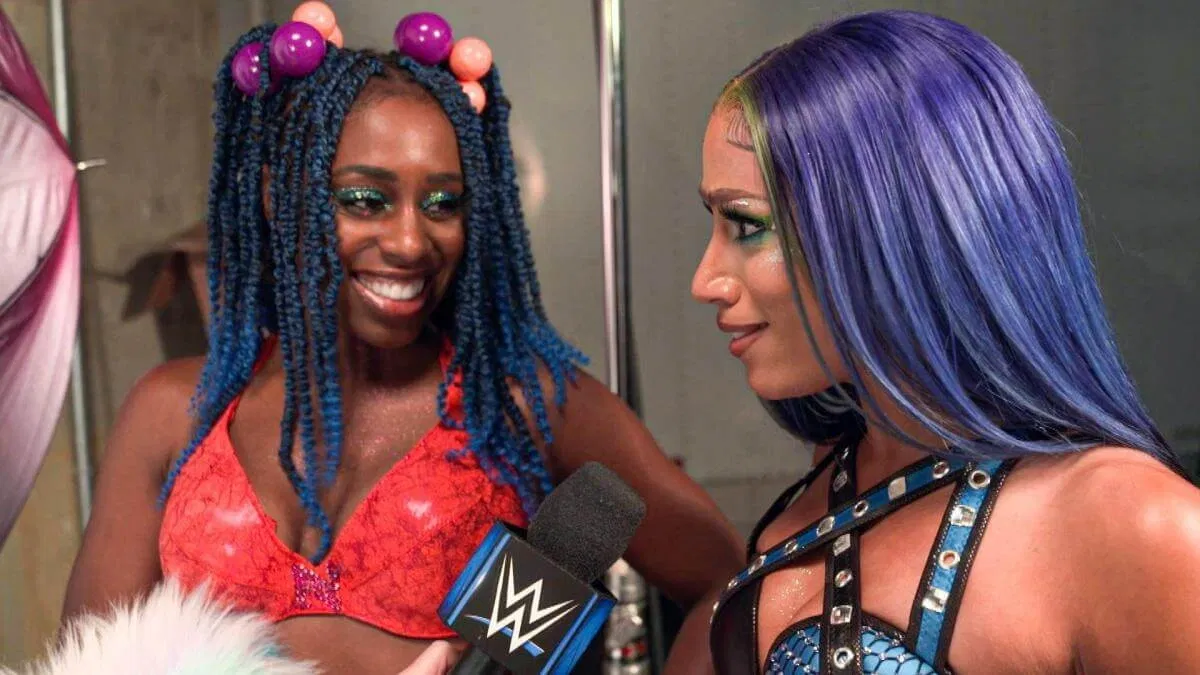 WWE asks fans about Sasha Banks and Naomi, a huge potential AEW spoiler, WWE stars frustrated backstage, and more.
It's Monday morning and what better way to start the week than getting caught up on all the latest wrestling news – I'm Liam Winnard for WrestleTalk, and this is our news bulletin for July 18, 2022
Unfortunately I'm ill and can't record audio today, so you'll just have to read it instead. Sorry.
WWE Asks Fans About Sasha Banks & Naomi
Despite still being listed on the SmackDown roster on WWE.com, all signs have pointed towards Naomi and especially Sasha Banks having been released by WWE, including them no longer being listed on them company's internal roster.
However, it seems WWE is very hesitant to confirm anything publicly, and that's something that looks to be continuing.
WWE recently sent out a survey to fans asking them to grade a list of WWE talent as – 'One of my Favorites', 'Very Good', 'Good', 'Fair', 'Poor', and 'Unfamiliar'.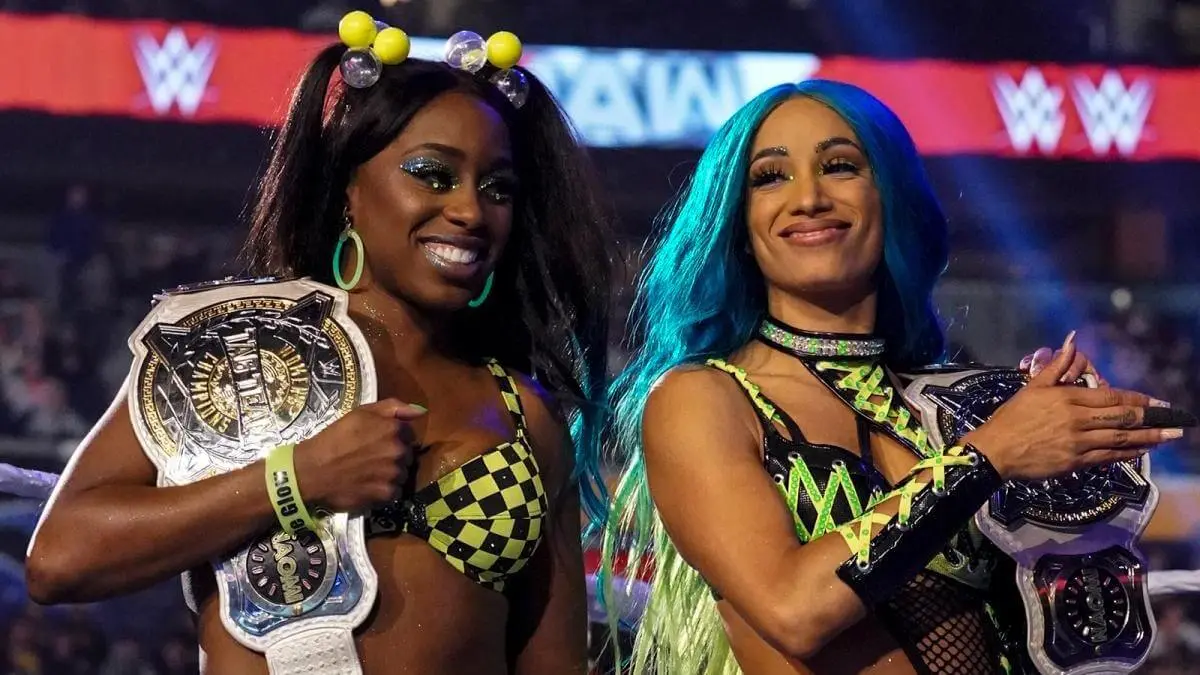 Notably included on the list were indeed Sasha Banks and Naomi.
We've covered recently that Banks has been taking bookings outside of WWE and it's been remarked that it wouldn't be happening to this extent if she hadn't been released.
However, Banks is sticking to non-wrestling appearances until January 2023. It's not known whether this is due to a contractual clause or just a personal choice.
Huge Potential AEW Spoiler
A potential huge AEW spoiler has emerged – this is your last warning to stop reading now if you don't want anything spoiled for you.
On this past Friday's AEW Rampage, an ROH World Championship match was set up for Death Before Dishonor with Jonathan Gresham defending against Claudio Castagnoli.
It appears that the latest set of AEW Dark tapings may have spoiled the result of this match.
Gresham worked the tapings and when he made his entrance, he didn't have the ROH World Championship belt with him.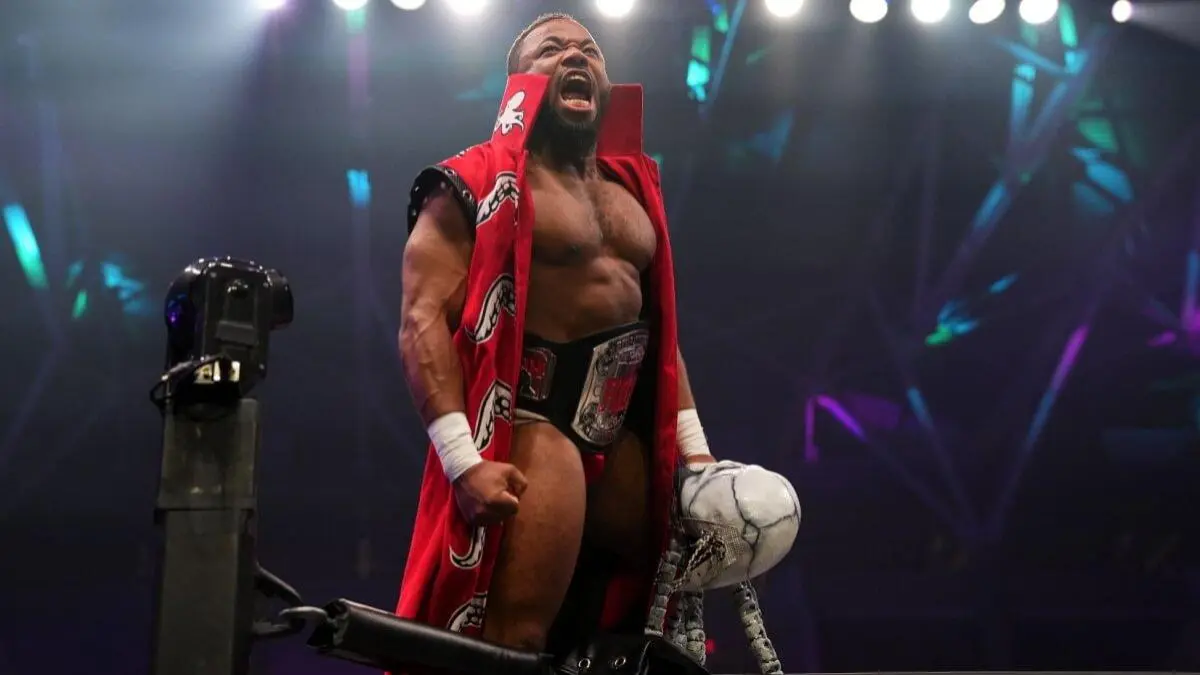 Because Dark is taped ahead of time, many fans have theorised this is because his match will air after Death Before Dishonor, and he's set to lose the title.
As a side note on the Gresham/Castagnoli match, Dave Meltzer reported that this match was actually the original plan for Castagnoli's debut before he was brought in early to replace Bryan Danielson at Forbidden Door.
In a couple of other notes from the Dark tapings, Cole Karter, the former Troy 'Two Dimes' Donovan in NXT appeared. He was recently released by WWE for failing a drugs test and had worked in AEW a number of times before joining NXT.
And Parker Boudreaux, the former Harland in NXT, also made his AEW debut. He formed a faction with Ariya Daivari and Slim J.
WWE Stars Frustrated Backstage
A new report has come out regarding WWE's women's division and the frustration backstage about the booking of the division, especially on SmackDown this past Spring.
Fightful Select reported that a number of female talents were unhappy with how they were being used on SmackDown, but they were waiting to see "where the chips fell" before taking it up with management.
Over the past couple of months, there have been more opportunities afforded for new faces on the brand. The likes of Aliyah and Shotzi started being used more, and Raquel Gonzalez was called up from NXT.
Charlotte Flair, Sasha Banks and Naomi all being absent left some gaps that needed filling, which allowed to WWE to use the full depth of its women's roster.
It was also noted by sources that Ronda Rousey has been "more than willing" to work with a variety of talent on the show.
One source also made a claim that, more recently, last month after the first Wall Street Journal story on Vince McMahon came out, McMahon was more concerned with getting himself on the show than making sure female talent was booked protected.
Other Stuff
In other little bits of news…
PWInsider reports that several mainstream media outlets are working on more Vince McMahon allegation stories.
PWInsider also reported that Bayley is scheduled to be in Nashville for SummerSlam weekend as she gets closer and closer to returning.
Fightful reported that Santana, who has reportedly had a falling out with Ortiz, is expected to be out injured for 8-12 months. Santana himself tweeted "I'll speak soon".
Andrade El Idolo is also injured but he said it's nothing serious and he'll be back in a week or two.
Jake Paul said "maybe" he'll join his brother Logan Paul in WWE some day, he just can't afford to risk injury right now.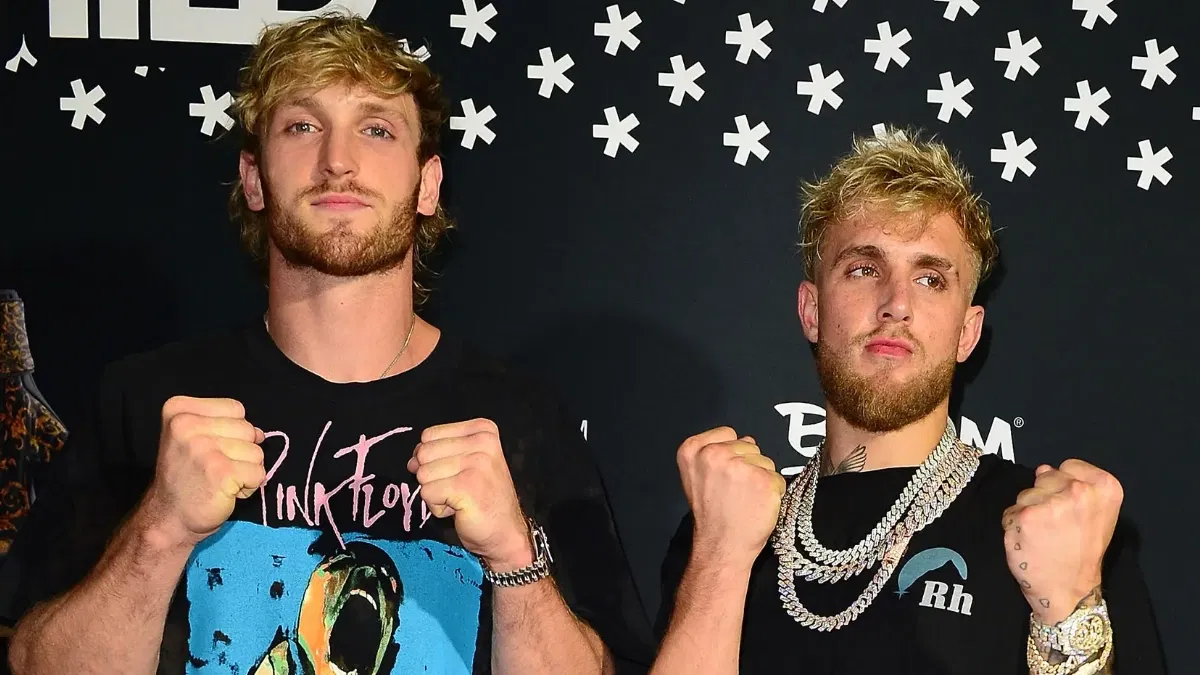 It was announced on the latest episode of SmackDown that Max Dupri's sister Maxxine Dupri will debut in next week's Maximum Male Models segment. Many fans are of the belief Maxxine Dupri will be portrayed by NXT UK's Jinny, as her gimmick already revolved around fashion, and she's in a real-life relationship with SmackDown's Gunther.
Also on SmackDown, it was confirmed that Jeff Jarrett will be the special guest referee for the Street Profits vs the Usos at SummerSlam.
Killer Kross, the former Karrion Kross, said he'd pitched the idea of bringing back the Corporate Ministry in WWE and a number of writers were on board with the idea.
It appears WWE may be planning a Goldberg anniversary show, as the September 23 episode of SmackDown has been booked for Salt Lake City, Utah. Goldberg's first WCW Nitro match took place on September 22 in Salt Lake City, Utah 25 years ago.
Goldberg told the New York Post that he is still under contract with WWE even though he's fulfilled his obligation for the number of matches he signed for.
PWInsider has confirmed that Track and Field star Anna Keefer, and football player Trevor Robbins, will be at the upcoming WWE tryouts at SummerSlam weekend.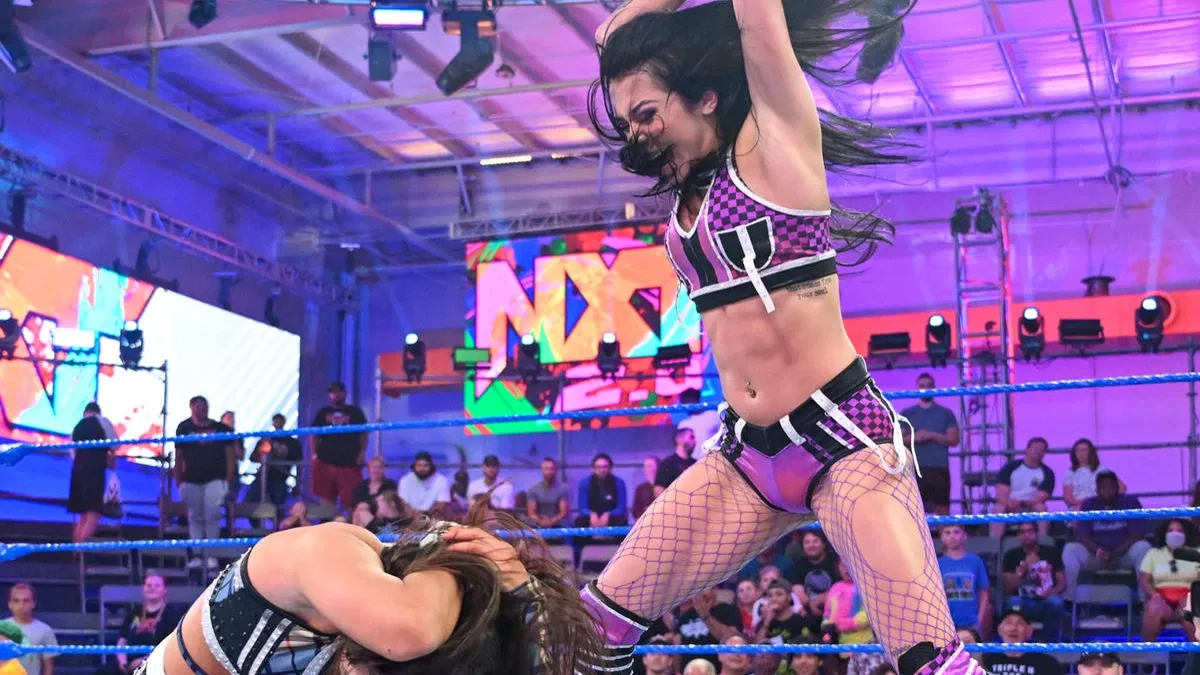 Dave Meltzer reported in the Wrestling Observer Newsletter that the seemingly rushed heel turn of Cora Jade on Roxanne Perez was actually always planned to happen the week after they won the tag title.
Also in the Observer, Meltzer wrote that it was a USA Network decision to change Raw to TV-14, not a WWE decision. There's still no confirmation on the date of the change.
Adam Cole has chosen not to undergo surgery for his torn labrum, and is instead doing therapy for it.
There is said to be a "major angle" planned for the Young Bucks in the near future that does NOT involve FTR.
Natalya responded to rumors that there's heat on her backstage in WWE after the incident with Liv Morgan last week, and claims about her backstage attitude in general, by calling them "complete s**t".
Fightful reports that Kevin Owens is set to return to Raw tonight for the first time in several weeks after dealing with a minor injury.
And WWE taped a brawl between NXT stars Solo Sikoa and Von Wagner at SmackDown this past Friday, suggesting they could be next in line for main roster call-ups.
To make sure you stay updated with all the latest wrestling news, add WrestleTalk.com to your Google Discover feed and follow us on Twitter!