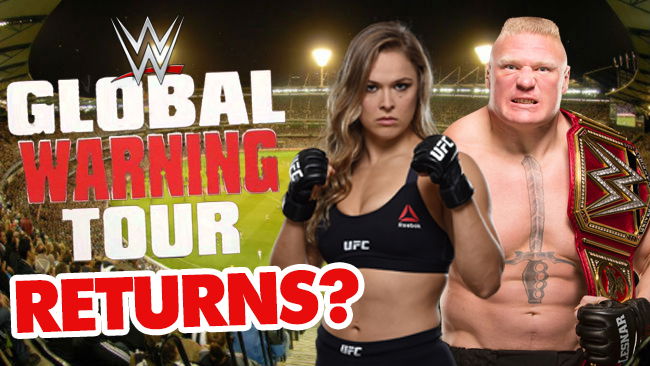 According to the Wrestling Observer Newsletter, talks are underway between WWE and the 100,000-seat Melboune Cricket Grounds in Australia for a Global Warning show in October.
Global Warning was an event last held by WWE in Australia back in 2002. The promotion drew 56,734 fans to Colonial Stadium in Melbourne with a card headlined by a three-way between Brock Lesnar vs. The Rock vs. Triple H. Also on the show were bouts between Edge and Chris Jericho, Kurt Angle and Test, and Jamie Noble and Hurricane Helms. It is one of the dozen or so WWE pay-per-views not currently available on the WWE Network.
https://www.youtube.com/watch?v=lHAaDCBz6IA
Perhaps incredibly, 14 of the 25 competitors on that card – which was 16 years ago, remember – have appeared in some capacity for WWE this year.
If Global Warning is to return, WWE could break their legitimate attendance record by selling out the show. Obvious candidates to headline would be Brock Lesnar (who as noted headlined 16 years ago in front of that mammoth crowd) or Ronda Rousey (who main evented in the same stadium as the 2002 event against Holly Holm for UFC in 2015), though it is too early to make any realistic predictions just yet.