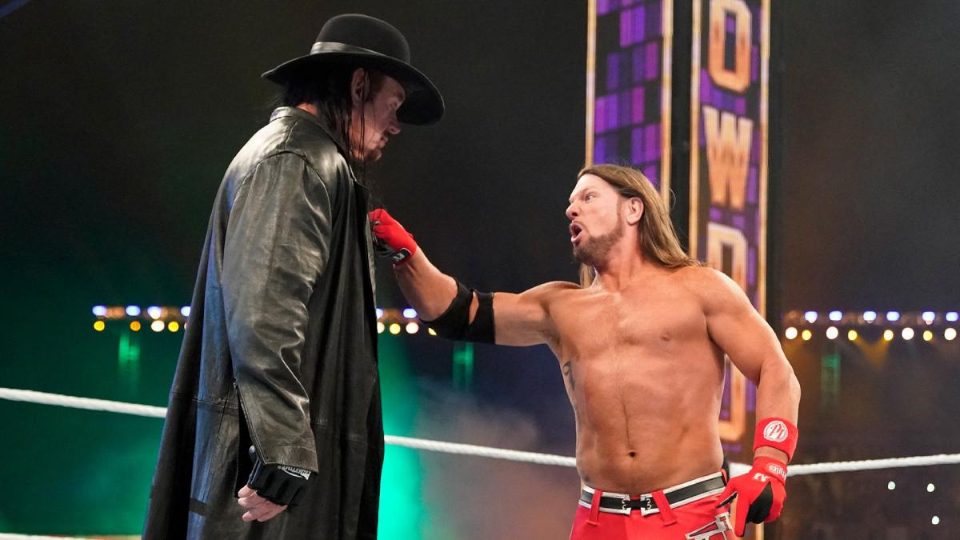 At WrestleMania 36, AJ Styles and The Undertaker took part in a Boneyard match. Had WrestleMania been held under normal circumstances, we likely would have seen a normal match between them. Now, WWE Hall of Famer Ric Flair has said he wants to see them go one more time.
Flair spoke to Metro UK about The Undertaker as WWE continues to run The Last Ride docuseries. He mentioned that he believes Undertaker will continue to wrestle and he would like to see him take on Styles one more time. Here is the full quote:
"Whatever he elects to do – and I feel like he's gonna wrestle again, I have no idea, I haven't asked him. But I think he's gonna want to go out one more time and tear it down. This year, prior to the health issues and the COVID – when I saw he was gonna wrestle AJ I was like, 'Man that is the guy!' [Styles is] the closest guy to Shawn [Michaels] in our business right now, and it'll be everything and more because AJ gets it. He wouldn't be out there trying to have a wrestling match, he'd be out there to enhance this phenomenal character that's a once in a lifetime entity in this business. I hope to have the rematch because that's the match. That to me – I wouldn't miss it and I don't think anyone else would. I just feel like it's not done yet."
With the pandemic in full swing, it would seem unlikely that we would see The Undertaker return until this is over.
Do you want to see AJ Styles vs. The Undertaker again? Let us know on Twitter!