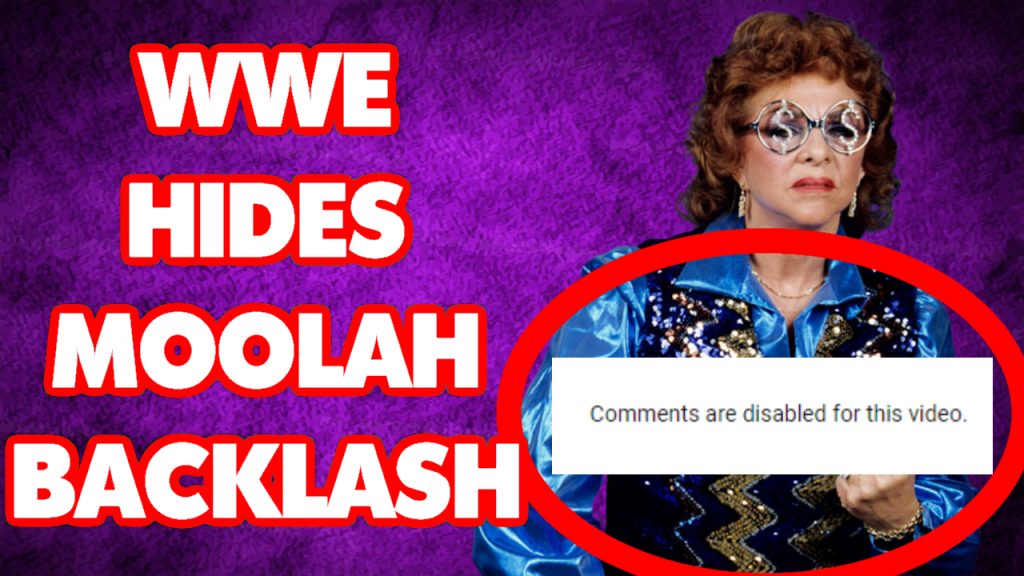 ***PLEASE NOTE, THE YOUTUBE VIDEO HAS SINCE BEEN REMOVED AND THE NAME OF THE BATTLE ROYAL HAS BEEN CHANGED***
A few days ago on the March 12 edition of WWE RAW, it was controversially announced that WrestleMania 34 would play host to the first ever Fabulous Moolah Memorial Battle Royal – You can see WWE's YouTube video of that announcement here:
https://www.youtube.com/watch?v=4upD8cJtsZ8
If you access this video via YouTube however, you will notice that the comments have been disabled, therefore demonstrating that WWE themselves even know that the decision to even mention such a controversial figure, never mind name an entire match after her, was one that would be ridiculed throughout the world.
It's interesting to note that as you can see below, WWE have chosen not to hide the Like/Dislike ratio of the video, despite it making for some pretty awkward viewing.
If you're wondering why there is such outrage among the WWE Universe, some pretty shocking allegations have been made about Moolah. I'm not going to say too much but you can check out the accusations outlined by a Reddit user here – it really is worth a read.
It seems like typical WWE to make such a big deal out of something so meaningless like a multi-person Battle Royal, which has the sole aim of getting bodies on the card.
They have also previously disabled comments on the below video, which was uploaded shortly after the incident involving Xavier Woods and Paige, though you will notice they have been re-enabled now that the scandal has somewhat died down.
Regardless, history shows that WWE have no issue with completely ignoring its fans and wishing the WWE Universe's opinions all the best in their future endeavors, and they will continue to do so for as long as they want because they are WWE, so what exactly are you going to do about it?
What do you think of the Fabulous Moolah Memorial Battle Royal? Let us know in the comments below or on Twitter here, and as always, have a spiffing day.