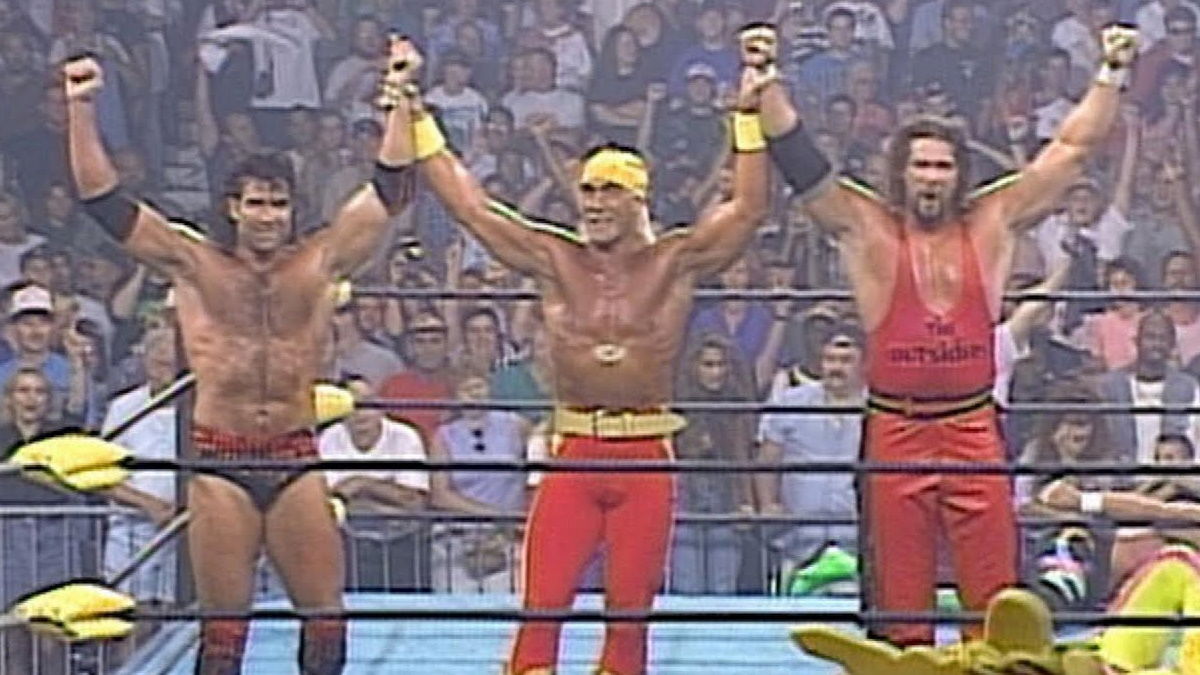 A WWE Hall of Famer has commented on the NWO A&E documentary.
On A&E's Biography: WWE Legends series, the famed New World Order stable was chronicled with various important figures interviewed for the project, including Hulk Hogan, Kevin Nash and Eric Bischoff.
During the latest edition of the "83 Weeks" podcast, Bischoff talked about the documentary and Hulk Hogan saying on the show that it was his idea to go head-to-head with WWF Raw. He said:
"I was so grateful for it because I think the producers did a phenomenal job of capturing the story. I can't say anything other than thank you."
"That's how I feel about it. Just thank you to A&E and everybody involved in it. Kevin moved me, you know, Kevin Nash. He was himself and was really authentic. I don't know what else to say."
"I learned a few things. You know, I learned that it was basically Hulk Hogan's idea to go head to head with WWE, which, you know, that was a surprise, but I get it. Look, you know, and I say that kind of half jokingly, but actually not."
Bischoff continued on to reflect on his story about a wrestling fan named Amanda, saying:
"But look, even in that show, at the very end of the show when I talked about Amanda, the young lady who I met at a convention, and you know, the A&E producers found that footage, which I didn't even know existed, by the way."
"That's what a great job they did on the details that made that story come to life as much as it did. But even in my interview at the very end when I told that story about Amanda when she explained to me about her situation with her father, and I said it on A&E and I'm so disappointed in myself for saying it, but I described the tough life that Amanda had, and the time that she got to spend with her father."
"I said, when I was describing how tough her life was, I said her father was an alcoholic. That's not true. I didn't say that for any reason other than I thought that's what she had told me. I feel so horrible about that."
Reflecting on his mistake in what he said, Bischoff said:
"It just makes me realize that, look, people say things, sometimes maliciously, sometimes because they have an agenda, sometimes because they just need to feel better about themselves, and sometimes they say things that may or may not be true, but sometimes people just make mistakes as I did, because there was no benefit to me in throwing that little nugget of misinformation into that interview."
"There was no agenda, There was no benefit to it. The story was compelling and is compelling enough on its own. I didn't have to color it up any to make it more compelling."
"But I made a mistake, and sometimes I hear things in these interviews that I don't quite remember that way. Or in some cases, I know that it just didn't happen. But I don't get upset about it because I understand it. Hell, I was guilty of it myself."
"So I know I've done a couple interviews with people now that caught some of those same things that you know, Hulk said that, you know, threw a flag on it because they're so used to doing that."
"Look man, it's all good. It's all good. I am so grateful that I got to sit in my chair 28 years or whatever it's been after all that stuff went down and see such a phenomenal story taking place that I got to be a part of, that none of the rest of the stuff matters to me. It really doesn't."
Transcription via Wrestling News
Think you're a wrestling mastermind? Well you can prove it by taking quizzes in our brand new quiz section! Don't forget to tweet us your results!