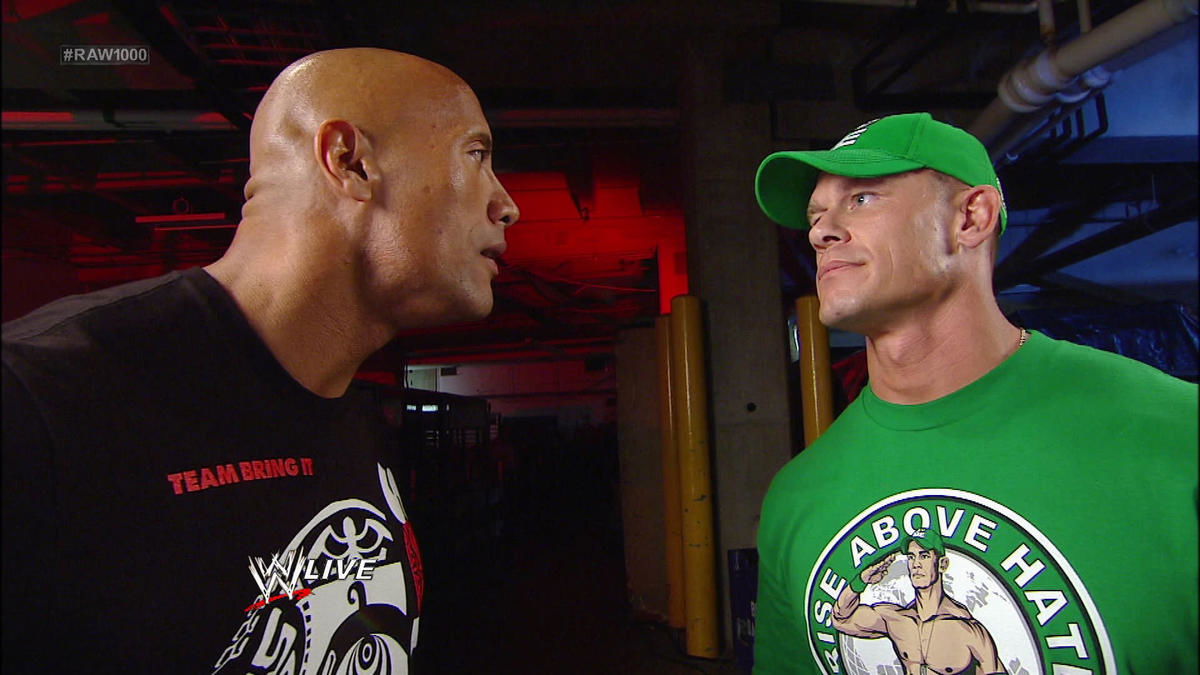 John Cena has recently revealed the real-life issues that he had with The Rock during their time in WWE together.
Speaking about the run up to their main event match at WrestleMania XVIII in April 2012, the match was built from the previous year's event where Dwayne "The Rock" Johnson served as host.
Johnson, at the time of WrestleMania XVIII, was already taking Hollywood by storm with his appearance in 2011's Fast Five helping to cement his tough guy credentials, along with a back catalogue of more family-friendly movie roles.
Cena, by contrast, was still a WWE regular with most of his movie credits at the time being WWE Studios productions.
With their encounter at WrestleMania XVIII being the biggest match on the card and hyped as "Once In A Lifetime", the stakes were very high for Cena from a personal and professional point of view, which led to tense times between him and The Rock.
Speaking on the NotSam Wrestling podcast, Cena revealed:
"The thing with our matchup, and I think the thing that some people might not have seen, was it is supposed to be Michael Jordan (and) LeBron James, both in their prime. To do that, in this scenario, you do not have to elevate The Rock. He is, and always will be, in his own universe. I don't have to give any more steam to that rocket. To make the billing the billing, you need to elevate John. So I was punching from underneath, but still punching.
"And once again, Dwayne was doing so many things, like he always does. He splits atoms and makes it work. All I was doing was WWE, that's it. Laser focused, and realizing this is the opportunity of a lifetime, and realizing also that this isn't Mike Tyson (vs) Muhammad Ali, right now this is Mike Tyson (vs) Peter McNeeley, and this isn't gonna draw money. So, 'F it', here we go.
"And of course there are ramifications, and it led to some genuine emotions between the two of us, but when it all began to melt away was when we decided the path of the match the day before. And Dwayne could see how easy… not only how easy I was to work with, but how adamant I wanted to… 'These are great ideas, let's do them, let's do whatever man. I wanna make sure you're comfortable. I can do this, but I don't know, what do you think?'.
"And then afterwards, not in the performance, not being too smart or winking at the camera – being fully invested in the whole body of work, losing with humility, with embarrassment, and staying there, and being degraded and humiliated in front of a stadium to give Rock his moment."
If you use this transcription or any portion of it, please credit WrestleTalk.com and link to this page
Cena would also reveal how the icy relationship between the two stars began to thaw, adding:
"The moment the ice began to melt was right after, when the first thing I did was went to apologize to his mom, and said, 'Being in the business, I hope now you can understand, I just wanted to sell tickets. And I'm sorry if I made you feel a certain way, that was not my intention, but also from my perspective, it was kinda like a surprise party where if I told you the gig, I think maybe we would have ruined some stuff'.
"She gave me a great hug and told me thank you, and then the next thing, I went and said the exact same thing to Dwayne. And he couldn't have been more gracious. And I know that the build wasn't easy on him. He has the world in the palm of his hand, and to come back and be kicked in the nuts by some cheap shot kid who's trying to make a name for himself, that sucks."
If you use this transcription or any portion of it, please credit WrestleTalk.com and link to this page
Cena would conclude by explaining how approaching the same issue from seemingly opposing perspectives was the issue that rocked their relationship, concluding:
"He's trying to give to the business, like, 'What is this guy (doing)?'. I get his perspective. 'What the F is this guy doing? I'm trying to do the business a favor here'. But then I explained my perspective to him, and obviously I couldn't just be like, 'I'm authentic' – I had to prove it out there. Prove my authenticity.
"And then say, 'Hey man, I just wanted to pack the place, and I just wanted people to be interested, and I did it the wrong way. We should have collaborated, we should have talked, in hindsight. And I should have asked you, 'What's the best way to make us equals?'. Instead, I did it myself, and in turn, created a huge space between us and that was my fault."
If you use this transcription or any portion of it, please credit WrestleTalk.com and link to this page
The match (which can be seen in full below this news story) saw The Rock victorious over John Cena.
With the fans going home after seeing a "Once In A Lifetime" encounter between two of WWE's biggest modern-day stars, it probably came as something of a surprise that WrestleMania 29 would feature The Rock vs John Cena in the main event once again.
If you want to stay fully updated on all the latest wrestling news, click the red bell in the bottom right of your screen to receive notifications from WrestleTalk.com straight to your device!