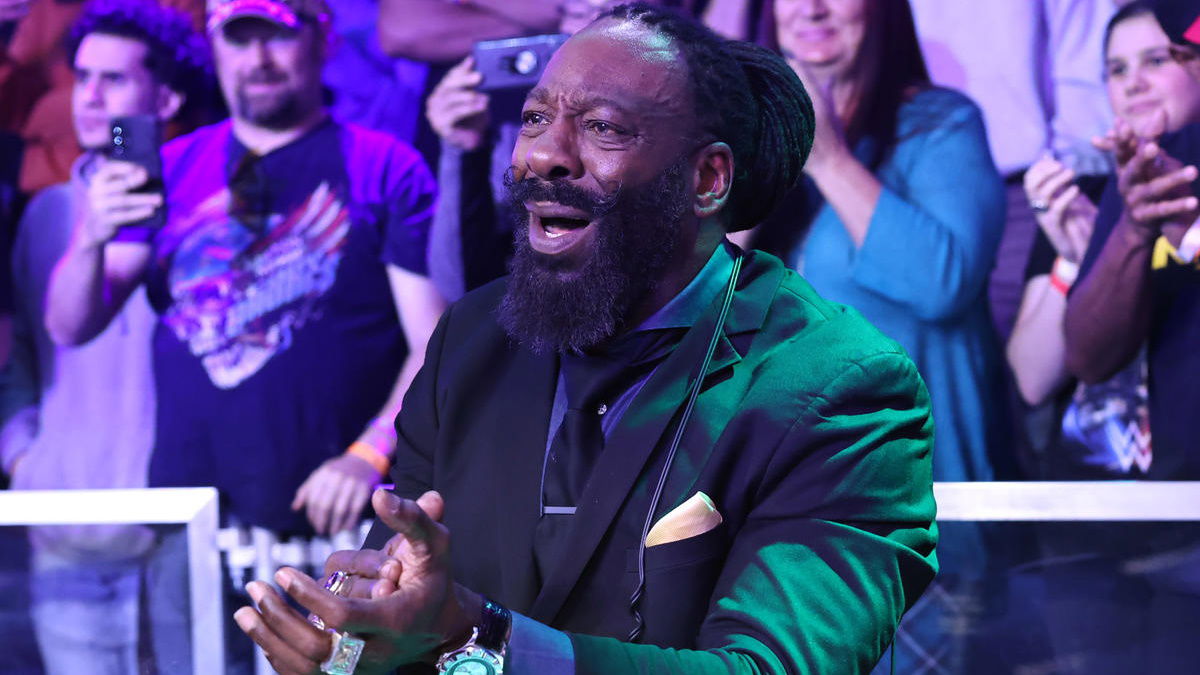 A WWE legend's son has discussed joining Booker T's Reality of Wrestling training school.
The top faction in WWE is currently The Bloodline who is represented by the Anoa'i family with Undisputed WWE Universal Champion Roman Reigns serving as "The Head of the Table". Also, Undisputed WWE Tag Team Champions The Usos and Solo Sikoa represent the highly touted stable.
All three are the sons of WWE Hall of Famer Rikishi and the nephews of the late Umaga. The latter WWE legend has an heir to his legacy in Zilla Fatu who is currently pursuing a career in the family business.
In a new interview with MuscleManMalcolm, Zilla Fatu reflected on his journey from being in prison to giving wrestling a shot after seeing his family at the top of the industry. He said:
"To be honest, when I was in prison, I really didn't have it (wrestling) on my mind, you know? But when I came home and I seen that my family was on top of the business, I'm thinking why not?"
"And I don't know if you know or anybody else knows, my dad didn't want none of us to do wrestling, like at all. So that was kind of hard on going against what my dad's wishes was. But right now, I'm like man, why not bro? So I gotta do it."
Reflecting on his time in prison and feeling lost at that time, Zilla stated:
"So, what led up to me going to prison, I'ma say, just me not having a plan, just me being lost bro, being a kid and obviously at that time, my mom or anybody I was dealing with, we're just living in poverty, you know?"
"And when you're being in poverty, there's so much things that's going on that's out of your control and obviously, when I lost my dad — I don't wanna use it as an excuse but it was kind of big on not just me and my whole family but after my dad died, we went downhill from here."
"But, going in there and seeing that prison is not a joke, that a lot of people (do) not make it home, a lot of people die in there, I didn't want that for me and I wanted to come out and regroup and re-establish myself into a better man and a man that my mom and my dad just grew to raise me."
Discussing how it was to readjust to society following his prison stint, Fatu said:
"But the after experience which is right now, it was kind of hard for me to readjust back into society and the reason why I say that is because you say that I was institutionalized for a long time, so me coming home and have to deal with stuff that had nothing to do with the penitentiary rules was kind of hard because it's a different world in there versus out here."
"But, obviously right now, I'm doing real good. Obviously I'm staying out of trouble. I'm doing whatever my parole officer tells me to do but like I say, when I first came home, it was kind of hard because I didn't know how to readjust back into society but right now, I'm doing good. I'm just taking it one day at a time uce."
On choosing Booker T's Reality of Wrestling training school, Fatu said:
"(I chose Reality of Wrestling) because it's in Houston. You know, I'm on parole so I can't leave the state (Fatu smiled). But most importantly uce, he's [Booker T] a really close friend to the family. Before my dad was Umaga, my dad been knowing Booker since then so that's a long time so, it was an easy choice for me to choose."
"When I came home and I had that discussion with Booker two months after being home, we talked about it and he was just like, 'Just focus on your parole stuff first.'"
"So when I got some of my parole classes done — because when you're on parole, you have to do certain classes and you have to graduate from them and you know, I'm very happy that I did successfully complete my classes on parole."
"So that's when I hit Booker up and I was, 'Aye uce, I'm ready,' and he was like, 'Man, pull up.' So I pulled up. He wasn't there but I talked to one of his main, main trainers which was Kevin [Bernhardt]… I was talking to Kevin and yeah, it was an experience."
"So, and then I wanna say the following week, that's when Booker showed up, on Thursday and yeah, we talked and he was just like, 'Man, uce, just handle your business. Handle your business' and I was like, 'Say less.'
Transcription via POST Wrestling
Think you're a wrestling mastermind? Well you can prove it by taking quizzes in our brand new quiz section! Don't forget to tweet us your results!