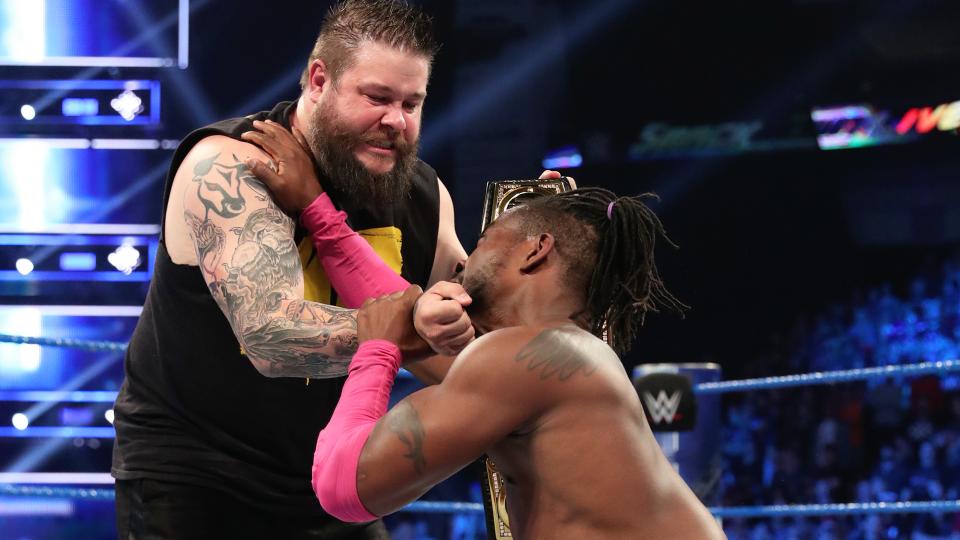 WWE has been forced to change some of its long term plans for Money In The Bank and SmackDown Live due to the undisclosed injury that has kept Daniel Bryan on the shelf since WrestleMania.
The former WWE Champion was originally scheduled to wrestle Kofi Kingston in a title rematch at Money In The Bank but with his future uncertain WWE had to change plans and go with Kevin Owen in the spot.
A heel turn was not the original plan for Owens, who was originally figured to be the number two babyface on SmackDown behind Roman Reigns following the Shakeup.
The videos promoting his return that aired in January and February portrayed him as a junk food-eating guy-next-door babyface who loved his kids and family and was just a regular Joe like everyone else – only he was also able to kick ass. He was even given Steve Austin's Stunner as his new finisher to hammer home the point.
Owens was scheduled to face Daniel Bryan for the title at WrestleMania, which made sense because Bryan was doing a character rallying against consumerism who deplored junk food and the various vices of modern life. Owens was to be the antithesis of that.
However, the rise in popularity of Daniel Bryan led to plans changing and Kofi getting the WrestleMania match instead. Post-Mania, with WWE officials knowing that Bryan could be out for some time, the decision was made to turn Owens. From the moment he was put with New Day as honorary member Big O, it was obvious that a turn was coming sooner rather than later.
The match is not official yet, but Kofi Kingston vs. Kevin Owens is the planned match for Money In The Bank. Of course, this is WWE and plans can change on a whim from week to week but this one looks to be a fairly safe bet.
Issue 9 of WrestleTalk Magazine is available NOW worldwide. Order your print or digital copy or subscribe to the next six issues at this link